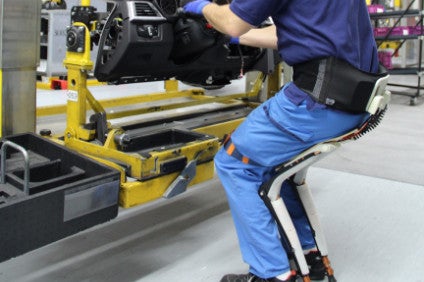 One of the many things I enjoy about covering BMW's annual financial results press conference (reports here, here, here and here) is the 'show and tell' side trips – such as the Leipzig i3 'factory within a factory' in 2014. This year, rather than travel to the former east Germany, we needed only to cross the road from BMW Welt in the northern outskirts of Munich to the company's oldest factory – built 'out in the country' in 1922 (to make aero engines, with an airport across the road on what became the 1976 Olympics site), and now landlocked by the much-expanded city, requiring ingenious solutions for further expansion, such as the new paint shop (of which more later).
Ageing workforce
BMW has long been mindful of its ageing workforce, noting, in its new, in-house museum's centenary exhibition, that the average age will soon reach 49 but such workers are well worth retaining for their maturity, reliability, extensive knowledge and skills, and will remain productive and happy if given some help with on-the-job aids that make demanding and repetitive assembly line work as easy as possible.
I've seen this enlightened approach by this automaker before. Several years ago, I visited a dashtop trim plant near Munich at which workstations, tools and processes were all designed for older, less mobile workers with operating heights at the optimum, tools and parts bins positioned to minimise bending, turning and stretching and, judging by the cheerful smiles and comments, a resulting happy workforce. In the interim, judging from this week's show and tell, plant ergonomics and logistics developers have not stood still and there have been many more innovations to support such initial steps.
Exoskeleton 'chairless chair'
The development that intrigued me the most was the 'chairless chair' currently being trialled in Plant Munich assembly sections. It consists of flexible splints which can be locked in different positions and it straps to a worker's legs and torso. Demonstrated by an engineer, it reminded me of the leg splints school friends who'd had polio (yes, I'm that old) would wear either for some years, or for life, and the principle is essentially the same – give the old bones that can't cope entirely on their own some help. BMW says this 'exoskeleton' "improves a worker's posture just like a chair and relieves the strain on the body during assembly tasks that have to be carried out bent over or in other unhealthy positions. Even long periods of standing can be transformed into relaxed sitting through this artificial leg support, making working conditions more comfortable and flexible for the people."
Details were a little sketchy but construction is largely using a tough nylon-like plastic, the manufacturer is Swiss and the clever gadget costs about EUR8,000 a shot. Apparently it takes a little familiarisation to learn how best to lock it into seating position and maintain balance but, once learned, is an invaluable aid. We were shown a video of two workers installing parts on each side of an axle sub-assembly; one younger man 'chairless chair'-equipped while his companion (older) worker was not; the contrast in postures and required bending/stretching to install the same parts and fasteners was notable.
ProGloves
BMW is also testing 'ProGloves' in production. Now in at least their 12th iteration, according to a display chart, these portable scanners can be fixed directly to workers' gloves (with a thumb-activated switch aligned with the index finger) to save people unnecessary hand and finger movement. The device can improve and accelerate certain production processes as the scanning of parts is not a separate step in the production process any more, leading to an increase in process quality and work ergonomics.
Previously, the assembly worker would have a separate scanner handy in a pocket or in a holster on the workstation. A sub-assembly would glide into place, worker would pick scanner up, scan assembly, scan and pick parts to attach, receive on-screen confirmation of correct parts picked, put scanner down, grab parts and fixing tools, attach, scan as complete, repeat. With scanner gloves, the scanning is integrated into the workstation process flow and numerous pick-up-and-put-down scanner movements per shift are eliminated.
Ergonomic workwear
BMW supplies its people with workwear that supports human ergonomics. Specifically developed designs for shirts and supportive lower leg-length hosiery using similar manufacturing techniques as used for medical support hosiery and undergarments "facilitate certain movements and give production workers greater comfort in handling their tasks", the automaker said. The shirts have additional elasticised inserts around the upper arms and shoulders and the hosiery provides additional support for certain leg muscles – all of this developed in conjunction with specialist clothing manufacturers.
As well as constantly improving ergonomics, the automaking group is also developing its production with 'digitalisation' and 'sustainability' – the overall goal being "a production system with stable, efficient and flexible processes and a strong focus on top quality".
"The application of digital technologies in the BMW Group's production areas helps us improve quality and create a modern work environment. Our employees benefit from digitalisation in many areas as these innovations can relieve the burden on staff and enable them to handle complex tasks. At the same time, we invest in ergonomically optimised workstations and focus strongly on producing sustainably," said production chief Oliver Zipse.
Digitalisation
For digitalisation, BMW has prioritised four different "promising" fields:
Data and data analysis. The use of automated data analysis increases process safety and leads to major progress in quality and efficiency management, the automaker claims. "It is most of all the sum of many small measures that helps plants to optimise processes. By analysing standard process curves, we can identify and remedy data deviations early on, without interrupting the production process. The application of intelligent planning and control systems does not only improve process safety but also supports workers in handling complex procedures".

For example – the analysis of screw bonding process curves which automatically structures and analyses the data of a stable standard process so deviations from the process standard are immediately identified, in real time, on the assembly line (say to ensure the correct thread alignment and tightening torque of a critical bolt) so process improvement can be initiated immediately with a full electronic record for engineers to scrutinise. This basic approach, BMW says, can be expanded to include many different cases.

In another application, digital data is used to record actual factory structures in 3D. This process offers significant advantages over the two-dimensional, manual standard approach, making the planning and control of production processes considerably more efficient. An example: It took only one weekend to measure the Rolls-Royce plant in Goodwood, England, and to record it down to an accuracy of only a few millimetres with a special 3D scanner and high-resolution digital cameras. So as a first, the site now has a three-dimensional likeness of its production facility for planning purposes; the need for a laborious CAD reconstruction of actual structures and manual recording on-site is eliminated. Contrary to the traditional two-dimensional plans, any spatial change can now be simulated and assessed.

Digitalisation provides a precise and comprehensive, up-to-date database for quick and flexible adaptations in production. Another example for digital data and analysis technologies are augmented reality apps. Using inexpensive high-performance tablet computers [medium and newly launched larger size iPad Pro in the demo I saw], real environments can be overlaid with virtual data, similar to the head-up display in a car. In production, the display shows workers relevant data and information referring to individual production processes or components.

This process makes it possible to realise an object in 3D target geometry and to match it with virtual data on the acceptable tolerances. Workers can check their tablet to find out if a part produced adheres to the CAD target parameters. As a result, quality problems or defects can be identified and remedied early on. The group already applies these augmented reality apps in the early concept validation phase and in initial sampling processes, including tool acceptance procedures at suppliers.


Smart logistics. Smart data technologies make it possible to determine the exact position of a consignment in the global logistics chains in real time. In case of problems in transit, the respective unit is sent a message by the system and can respond immediately. These smart logistics technologies increase the transparency in the BMW group's international supply network and optimise supply chains. The development of the Smart Transport Robot is an important milestone for the group for digitalisation and 'autonomisation' in production logistics. The self-driving robot moves autonomously through the logistics hall, flanked by radio transmitters and equipped with a digital map. With the help of sensors, it identifies critical situations and can respond accordingly, sharing the route with people and other vehicles.

For the group, the automaker says, a transport robot designed specifically to meet the demands of supply logistics and production supply is a top priority. Besides custom-fit measurements for the containers to be transported, the vehicle also has sufficient battery capacity as the developers have drawn on the experience gained with EV model line batteries previously fitted in BMW i3s and which will be "sustainably" reused in the near future. This innovation makes an important contribution to enhancing the agility of supply chains which have to be able to adapt quickly and flexibly to changing requirements in logistics and production, BMW claims.


Innovative automation technologies and smart tools make everyday working life easier for production staff as they can directly assist people in their tasks and simplify complex procedures. Today, specifically developed lightweight robots can work side by side with people without any safety fence; demanding and non-ergonomic tasks can now be carried out by these systems. As early as 2013, the group started to use a new generation of much smaller and light weight robots for a variety of tasks, such as fixing the sound insulation to the inside of the doors under precise and steady high pressure or applying adhesive to windscreens. In quality assurance, lightweight robots are used as flexible 'quality gates'. In this area, they are fitted with an HD camera with adjustable zoom and integrated light. This system with only one camera mounted to the mobile robot arm is replacing the former system of fixed camera portals with a number of individual cameras and a larger protective housing. The goal is to check the complete and correct mounting of parts and components and to enhance process planning in assembly.

Another step to improve interactivity in human-robot collaboration is the application of gesture-controlled lightweight robots in assembly; the group is currently running pre-tests. Essentially, specific hand gestures such as a 'wave' or a 'swipe right' give the robot movement orders. If it is safe for a human hand to be close to it, green LED rings illuminate around the static robot. As it responds to human movement instructions, the rings either turn red as a 'keep hands away, I'm moving' warning or blue as an 'about to move as you instructed' caution. BMW says application of such automation (the hand movement sensor on a prototype setup I was shown looked the same as used to record X-Box user gestures) ensures the same high level of quality throughout, especially for repetitive and tedious tasks. BMW says this use of robots controlled via human-oriented interactions creates "more natural man-machine work ergonomics". Besides being gesture-controlled by workers, the robots can also report on their own status via intuitive visual and audio interaction modules. In the long term this automation technology aims at creating a hybrid assembly system that is highly efficient in bringing together the strengths of robots and people.


Additive manufacturing methods have played an important role in the group since 1991. They are becoming better known under the collective term of '3D printing' and are among the key production methods of the future. Additive manufacturing is also applied in many different areas and BMW says "components made with additive manufacturing give us a lot of freedom in the forming process; they can be produced both quickly and at the required quality level. The group sees major potential for the future application in series production as well as for new customer offerings, such as personalised vehicle parts, or the spare parts supply. In the long term, customers will get the option of having individual vehicle components made according to their personal preferences." In mid-2014, the group introduced a 3D-printed ergonomic tool for vehicle assembly that protects workers against excess strains on the thumb joints while carrying out assembly tasks. Each of these flexible devices is a single piece, customised to match the form and size of a specific worker's hand. The company produces these tools, which are similar to orthoses, in-house via additive manufacturing methods.
Sustainability
BMW says it considers environmental aspects early on in investment decision processes and monitors compliance with its "ambitious" targets via key environmental parameters. One example is the e-truck commissioned for the Munich plant last year. This fully electric truck handles the transport of material in public road traffic. Thanks to its alternative drive and the fact that it is only charged with energy from renewable sources, the 40-ton truck causes close-to-zero particle pollution.
Another example is the new paint shop scheduled to start operations in Munich in mid-2017. This facility – built over multiple floors as the plant 'landlocked' by its suburb cannot be expanded outwards – will meet high standards of profitability and efficient use of resources. Innovative, six-axis robots will offer considerably more leeway when it comes to coating technologies, allowing for greater flexibility in responding to customers' special wishes, such as individual colours or matt paint coats. The facility will apply the highly efficient IPP (Integrated Paint Process) technology, another sustainable technique.
Compared to the current paint shop, natural gas consumption and exhaust emissions at the new facility are expected to decrease by about half (48% each), and energy consumption by over a quarter (27%). Emissions of volatile organic compounds will decrease as well thanks to a greater share of exhaust air to be treated. Some cleaning solvents will also be captured and recycled. BMW previously introduced IPP its vehicle production sites in Oxford, UK, Spartanburg, US, Tiexi, China and Dingolfing, Germany.