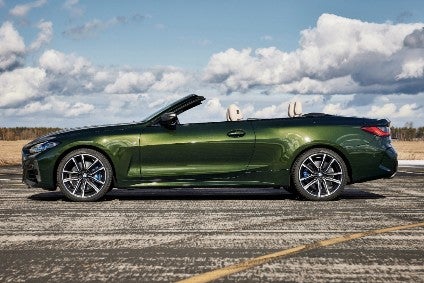 Announcing record sales for the first quarter earlier this month, BMW singled out the 3 Series and 5 Series, along with SUVs as reasons for the big gains. In this first of half a dozen reports on the Group's next generation models, cars take centre stage and that includes the latest developments for existing sedans, wagons, Coupés and convertibles too.
New plug-in hybrids are the latest novelties for the 3 Series range, the 320e, 320e Touring and 320e Touring xDrive having been announced in January. No reason was given for the lack of a four-wheel drive sedan. Each is powered by a 2.0-litre four-cylinder petrol turbo engine with outputs of 120 kW (163 hp). With the addition of what the single motor produces, system output is claimed to be "up to" 150 kW (204 hp) and 350 Nm. The lithium-ion battery offer a gross energy content of 12.0 kWh and a capacity of 34 Ah.
All 3 Series variants are due to be facelifted in 2023 with the next generation due to arrive in 2026.
The current 4 Series Coupé (internal code: G22), as well as the Convertible (G23) and yet to be seen Gran Coupé (G24) use/will use BMW Group's 35up architecture. There is a major change for the convertible, with the folding metal roof of the previous car replaced by a fabric top. The 4,768 mm long (+128 mm) Coupé was revealed online in June 2020 and initial production commenced during the following month with the Convertible announced to the media at the end of September.
BMW stated in July last year that the M440i xDrive Coupé would be the range topper in the G22 line-up, powered by a 275 kW (374 hp) six-cylinder in-line petrol engine. Two four-cylinder petrol engines and a four-cylinder diesel unit would also be available from market launch in October (2020).
Two new diesel versions were announced in January. The first was the 430d xDrive Coupé. This has a 210 kW (286 PS) and 650 Nm in-line 3.0-litre six-cylinder engine. The M440d xDrive Coupé was previewed at the same time and also joined the range in March. This is powered by a 250 kW (340 PS) and 700 Nm 3.0-litre in-line six-cylinder diesel.
The life cycle for the latest 4 Series should extend into 2027 with LCIs (facelifts) for all variants expected in 2024.
Four years on since production of the current 5 Series, BMW continues to expand the line-up. Facelifted versions of the 5 Series Touring (G31) and standard wheelbase sedan (G30) were announced in May last year. Relevant updates for the long-wheelbase sedans were announced four months later by BMW China, premiering at the Beijing motor show. The plug-in hybrid cars built in Munich at that point became: 530e Sedan, 530e Touring, 530e xDrive Sedan, 530e xDrive Touring and 545e xDrive Sedan. The last of the five didn't become available until November 2020.
In January, BMW announced two more plug-in hybrids. These are the 520e and 520e Touring. Each is powered by a 2.0-litre four-cylinder petrol turbo engine with outputs of 120 kW (163 hp). With the addition of what the single motor produces, system output is claimed to be "up to" 150 kW (204 hp) and 350 Nm. The lithium-ion battery offers a gross energy content of 12.0 kWh and a capacity of 34 Ah.
As it's almost three years away, details concerning the eighth generation 5 Series are tentative rather than firm. Having said that, the model codes for the sedan, Touring and long-wheelbase sedan are at least known, being respectively G60, G61 and G68.
BMW stated in July 2020 that it would add an EV to the 5 Series line-up. It is assumed this applies to the existing model as well as the replacement: In addition to the BMW 7 Series, comprehensive electrification will be rolled out throughout the model line-up: Further examples of the "Power of Choice" will be the high-volume BMW X1 and BMW 5 Series, which will also be available in the future with all four drive train variants – fully-electric, plug-in hybrid, diesel and petrol with 48-volt technology.
A media statement made in November 2020 revealed that a future electric 5 Series would be manufactured in Germany at the same plant which makes the existing model: Dingolfing. It is assumed that BMW will also build the electric 5er in Shenyang.
There was an early LCI for the 6 Series GT a year ago but that hasn't done much to lift sales. The line-up was also adjusted in May 2020, becoming as follows: 630i, 640i, 640i xDrive, 620d, 630d, 630d xDrive and 640d xDrive.
Launched in early 2018, the big hatchback could well be quietly discontinued in a year or two with an effective successor likely be one of BMW's future electric cars.
It's now less than 18 months until build of the next 7 Series (G70 & G71) commences. The architecture will be an evolution of the current model's although the name changes from CLAR WE to Flex. This reflects the fact that the platform will be thoroughly re-engineered and compatible with front-, rear- and all-wheel drive applications, along with combustion engines and electrified powertrains.
Speaking at the BMW AG annual general meeting, Oliver Zipse reiterated that there would be a fully electric variant, in addition to other forms of propulsion.
"The next-generation 7 Series will be available with four drivetrain variants: petrol, diesel, plug-in hybrid and fully electric. All drivetrains will be based on a single architecture. And the top, most powerful 7 Series will be fully electric," said the CEO.
Reports for many other manufacturers' future models are grouped in the OEM product strategy summaries section of just-auto.com.
Future platform intelligence
More detail on past, current and forthcoming models can be found in PLDB, the future vehicles database which is part of GlobalData's Automotive Intelligence Center. That includes BMW cars missing from this report.
This is the first of six features in a series which looks at certain current and future models from BMW AG's brands. Next comes SUVs, then M, followed by i division, MINI and Rolls-Royce.