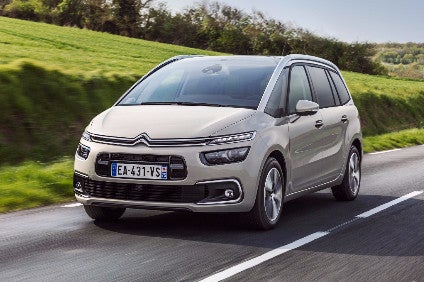 Flippin' typical. The Family was not even finished reviewing the seven seat C4 Grand Picasso when Citroen announced the range – which also includes the five-seat non-Grand version – is getting a facelift this summer. There's a new front end, a silver roof bar option for the Grand and two-tone options for the shorter model plus more personalisation options, a hands-free feature for the current power tailgate, new Citroën Connect Nav and two new petrol engines: PureTech 130 S&S EAT6 (automatic) in C4 Picasso and Grand C4 Picasso and PureTech 110 S&S (stop and start) six-speed manual for the five-seat version.
Oh well, it has been out since 2013 (beginning of '14 in RHD UK), and has sold to over 300,000 customers worldwide before I finally responded to a long-made suggestion from a top PR and got around to booking one in to subject to the mob. Rarely has a car been such a hit with The Family as the fully loaded Exclusive Plus BlueHDi 150 six-speed manual that showed up, costing GBP27,575 on the road in England. The only step up is the same car with an electronically controlled Japanese Aisin six-speed automatic (yes, please) for GBP28,925. The range starts at GBP20,195 and there are also VTR, VTR Plus and Exclusive trim levels, PureTech 130 (I3 turbo) stop/start six speed manual and THP165 (I4, auto only) petrol engines and a Blue HDI 120 turbodiesel. The September update will add an auto option to the PureTech 130. Just how well three pots and 130hp haul lots of people and stuff through a six-speed auto will be interesting to sample and gives me an excuse to book in the facelift for later.
What made the car such a hit with my mob was the sheer amount of stuff within – everyone loved the acres of glass – panoramic windscreen with slide-up panels incorporating sun visors and an electric, slightly transparent sunshade for the main roof panel, powered footrest and massage for the front passenger seat (cue sounds of mum purring), individual rake and reach adjustable centre rear seats, fan-speed adjustable face vents for the outer seats, floor storage bins for toys and teddies, fold-down aircraft style tables with tablet/teddy restraining strap, a reading light and a net seatback pocket below, two more seats behind (with good access via the sensibly folding/moving centre row and their own reading lights and air vents with fan speed control), various moving panels to create a flat floor with no unwanted crevices and a power tailgate that can be easily set to open to any height (hold the operating button for three seconds at the desired opening point). Wide opening rear doors made entry and exit easy and each incorporates a sun shade for the side glass. No surprise then to learn the model won Top Gear magazine's Family Car of the Year 2013 and WhatCar? MPV of the Year 2014 and 2015.
This top-spec model has all sorts of extra, exclusive goodies such as active seatbelts (you feel a reassuring 'just-checking' tug across the shoulder as you move off) and blind spot monitoring, the sunroof, dark tint rear and side glass, 3D effect LED tail lights and front indicators, kerb and interior 'mood' lighting, 12-inch centre display including virtual 'dials', reverse dip mirrors, scented air freshener, park assist, reversing camera and that power tailgate, and driver's seat massage. Options at this level are few – items like radar control for the cruise system and 360-view parking aid. I had great fun with all the standard gadgets which included changing the 'dial' display from conventional round to futuristic fish eye/moving ribbon (harking back to what Citroen used to do with electro-mechancial instruments decades ago) and another combo, all while adding other functions in or out (in place of rev counter and temperature gauge) as needed. You can, if you really want, have two satnav screens (the main one is a separate seven inch display) or display media functions or even a photo off a USB stick. Some users have criticised the lower central display – common to a number of Citroen and Peugeot models – as taking away too many buttons but you soon learn to access other functions (HVAC) when using, say, audio without having to change displays, it's just a case of knowing where on a top bar to press.
Updates
The facelift brings a new front end, standardises 3D-effect rear lights across the range with top trims keeping LEDs, new 17-inch alloy wheels, a silver coloured roof bar option and three new body colours. A new 3D Citroën Connect Nav system is combined with an updated seven-inch touchscreen and this new system also enhances the functionality of the 12-inch HD screen on the upper part of the dashboard. The hands-free tailgate will allow the driver to open the boot with a simple movement of their foot at the rear of the vehicle. I already had my own hands-free in the form of two kids who love electric 'gates and vie to be first to find the catch to 'open for dad'. Then you set opening height to match the kid an remember to duck. The new models keep the three-tiered lights at the front but the chevrons at the front now extend to fully encircle the daytime running lights with chrome trim. The grille, separated into two parts by the body-coloured bumper, has been updated and now has a glossy black registration plate mount and a second air intake. New rear chevrons, finished in gloss black with a chrome surround, give a more modern look at the rear.
We liked the outgoing model's trim but Citroen nonetheless is bringing in three new styles above entry level: Wild Blue Ambience is intended for younger customers with active and sporty lifestyles and "promotes the idea of space and relaxation". It features a fold-flat front passenger seat, massaging front seats, Levanzo Blue cloth upholstery, chrome air vents on the dashboard and chrome door sills.
Dune Beige Ambience is for customers "who place a premium on well-being and comfort" – hello… The included Relax Pack offers extra-support headrest at the front of the car and that current Exclusive Plus front passenger seat with electric powered leg rest. The Dune Beige design scheme comprises Yatago Grey cloth, special protective mats and an ambient fragrance dispenser. It is also available with two-tone black and amber full Nappa Leather upholstery.
Hype Grey'Ambience is designed to deliver a modern 'business class' experience. With elegant Slate Grey half-leather upholstery, this ambience comes complete with rear sunblinds and LED reading lights. We'll see what PSA UK ends up offering for UK cars.
New intelligent driving aids have been added: Coffee Break Alert (mine's a capuccino) will be standard on all models and alerts the driver when they should take a break via a sound alert and a 'cup of coffee' display on the dashboard. Speed Limit Sign Recognition and Recommendation recognises speed limit signs and conveys the information to the driver via the instrument cluster. The speed limit in question can be recorded as a setting for the cruise control/speed limiter system. I've already tried this in the DS4 and a 308 Pure Tech 130 auto and it works well. Driver Attention Alert generates an alert when it detects involuntary lane movement with a 'stay vigilant' visual message display, together with a sound alert. Active Lane Departure Warning system helps to combat driver fatigue or a simple moment of inattention at the wheel at speeds of over 40mph. Using a camera located on the upper part of the windscreen to identify lane markings, the system corrects the course of the vehicle and alerts the driver if it detects the risk of an involuntary lane movement without the indicator being activated. If the driver wants to pursue their original course, they can block the correction by maintaining a firm hold on the steering wheel. Active Blind Spot Monitoring displays a visual warning in the door mirrors if it detects a car in the driver's blind spots. If the lane departure system is activated, and the driver commits to turning regardless of the warning, a load is applied to the wheel to help avoid a collision. Active Cruise Control with Stop Function (only for BlueHDi versions) uses a radar sensor to detect the car ahead and automatically maintain a safe distance pre-set by the driver. This operates until the vehicle comes to a halt by working the brakes and the accelerator. It allows speeds to be set from 18mph up to motorway speeds. Active Safety Brake is an emergency braking system that serves to avoid low-speed collisions. A camera in the upper part of the windscreen detects obstacles, such as vehicles driving slowly in the same direction or at a halt. It works from 3mph and the driver is warned wherever an impact situation is detected. If he or she fails to react, the system brakes automatically. Collision Risk Alert operates from speeds of 18mph and warns the driver their car is at risk of colliding with the vehicle in front.
All of these, some already on other PSA models, bring the C4 Picasso line up to date with new developments introduced since the model line first launched in 2013. And there's more because connected services have been further developed:
Citroën Connect Radio: The new-generation 7-inch touchscreen allows quicker use of all controls and is within easy reach of the driver and the front passenger. This includes the 6-speaker radio with AM, FM and DAB, and the USB-connected Mirror Screen function, which is a connectivity solution compatible with Apple CarPlay and MirrorLink. The driver can enjoy all their multimedia content or easily control their smartphones and compatible apps on the touchscreen.
Citroën Connect Nav: This new 3D, touch-operated and real-time connected navigation system enables users to zoom in with two fingers on the screen and has been upgraded to make route guidance easier through improved mapping. The system informs the driver of speed limits for main roads and motorways. For simplicity and safety, voice recognition is now available for interaction with the navigation, telephone and media functions. The system allows the driver to access text messages and emails, and to send quick messages from the car. Launched previously on the New Citroën SpaceTourer, these new connected services also allow access to real-time traffic information and TomTom alternative route suggestions, the display of local weather forecasts, the display of car parks and petrol service stations with prices and local point-of-interest searches via the Internet.
The Grand Picasso is the closest thing to a US-style minivan European MPV buyers are offered these days since CO2-based taxation led to the demise of the Chrysler Voyager. It's not without rivals – Ford, Opel/Vauxhall, VW Group and rival PSA brand Peugeot all offer some good ones. There's also the category threat: latest JATO Dynamics data shows SUVs again dominated the market last month, counting for 24% of total registrations, up by 2.6% compared to April 2015. This means that SUV volume growth (+22%) was higher than the changes posted by the rest of the segments, except for sports cars (+30%) – MPVs dipped 0.7%. Segment volume nonetheless grew 2% though share fell from 11% to 10%. The top three year to date 2016? BMW's 2 Active Tourer, Ford's S-Max and VW's Touran – one and three are smaller than the Citroen.
All that said, fitness for purpose resonated strongly with The Family. I have since dangled a hybrid SUV and other goodies under picky little noses but they're adamant: "We want a Citroen". "With the air vents in the back." This is how real-world car buying decisions get made.