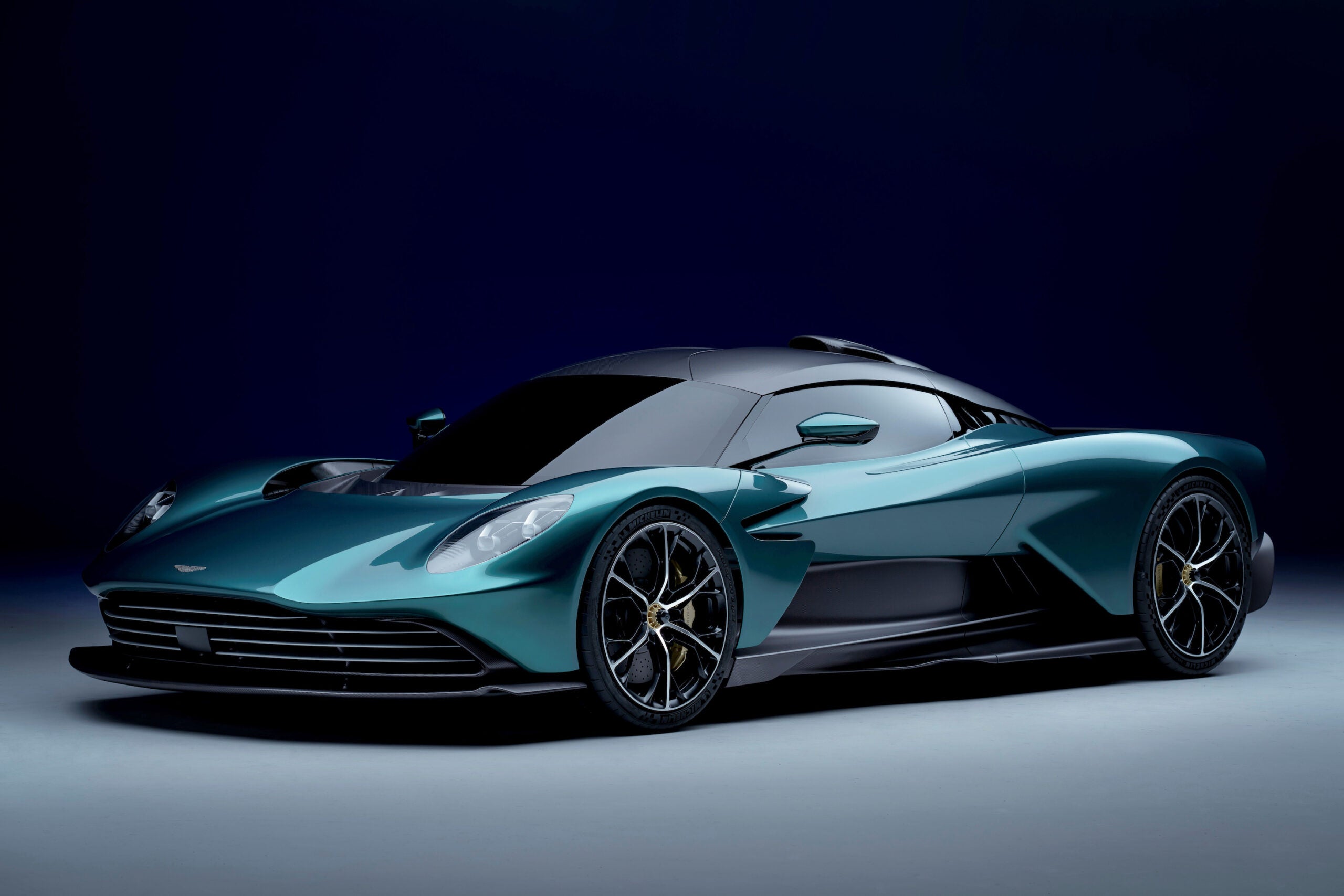 Part of reaching stated goals of delivering circa 10,000 vehicles a year, GBP2.5bn of annual revenue and GBP500m of adjusted EBITDA by 2024/25 depends to a large extent on access to Mercedes-AMG technology. Which has settled the formerly pressing question of how ASTON would be able to raise the necessary cash for a transformation into an electric-era supercar maker.
Should legislation shift in favour of mandating EVs by the early 2030s, Aston Martin would have to adjust its future vehicle programmes accordingly. That would be far from financially crippling though: Mercedes powertrains and platforms will remain state of the art so as long as AML retains access it could even have an advantage over the likes of Ferrari and McLaren.
Let's look now at how the company moves from last year's production (3,394) towards an intention of 6,000 in 2021 and then 4,000 more per annum by mid-decade.
Cars
One of the things being done to lift revenues is to mimic Ferrari's model of announcing low volume, high priced special models at infrequent intervals. The latest of these is the V12 Speedster, a mere 88 examples of which are being built.
Announced in January 2020, the roadster became available from the first quarter of 2021. The engine is a 700 PS and 753 Nm 5.2-litre biturbo linked to an eight-speed ZF automatic transmission.
By contrast to the V12 Speedster, the DBS Superleggera turns three this month and is yet to be evolved in any way. A replacement for the Vanquish, the  4,712 mm long 2+2 has carbon fibre body panels and is powered by a 5.2-litre biturbo V12. Outputs are claimed to be 725 PS and 900 Nm. The top speed is quoted as 211 mph and 0-62 mph is said to take 3.4 seconds. The gearbox is a ZF eight-speed torque converter automatic.
A DBS Superleggera Volante (convertible) was added in April 2019. The company states the same top speed for the open-roof car. Deliveries commenced from the third quarter of 2019.
In time, there will likely be a new Vanquish, at a price above the DBS Superleggera.
Both DBS Superleggera and DBS Superleggera Volante are due to have a mid-cycle facelift in 2022. The successor for the fixed roof car is being planned for release in 2025, to be followed a year later by the next generation DBS Superleggera Volante. Each could be electric with that decision set to be taken within the next six-twelve months.
The DB11 is Aston's oldest car, dating as it does to August 2016 but not yet facelifted. That update is still just under 18 months away.
Initially, this supercar was powered solely by a 5.2-litre biturbo V12 which is codenamed AE31. Like the 5.9-litre AE28 V12, this is made by Ford Werke at its Niehl foundry in Cologne.
The self-developed (i.e. not a modified Mercedes-AMG unit) engine produced a claimed 600 bhp (447 kW) and 700 Nm of torque. Top speed was said to be 200 mph and the 0-100 km/h figure stated as being 3.9 seconds. The V12 has cylinder deactivation and stop-start. An eight-speed ZF automatic transmission is standard, with drive sent to the rear wheels only. The turbochargers are supplied by Mitsubishi Heavy Industries.
The 600 bhp version of the V12 proved to be short lived. A 630 bhp (470 kW) version was announced in May 2018 for the DB11 AMR, which replaced the DB11. As well as the 30 additional brake horsepower, top speed rose to 208 mph and the 0-62 mph time fell to 3.7 seconds. Torque is the same 700 Nm as the former, less powerful 5.2-litre V12.
A V8-powered DB11 was announced by Aston Martin in June 2017 and had its world debut days later at the Goodwood Festival of Speed.
The V8 is a 510 PS version of Mercedes-AMG's 3,982cc biturbo engine. The torque output is 675 Nm. The V8, being lighter and more compact than the V12, contributes to a claimed saving of 115 kg and a kerb weight of 1,760 kg. The eight-cylinder DB11 went on sale worldwide from late 2017.
Exterior differences between the V12 and the V8 include wheels, plus, for the 4.0-litre car, dark headlamp bezels and two bonnet vents instead of the V12's four.
The DB11 was the first car to use Aston Martin's bonded aluminium platform. Distinctive features include a front-hinged clamshell bonnet.
The reason why the model name is DB11 was the ten cars built for the James Bond film Spectre. This model, the DB10, served as a preview of the styling of the then future Vantage, not the DB11.
A convertible ('Volante') would follow in "spring 2018" Aston Martin's Twitter feed stated in September 2016. Thirteen months later, the DB11 Volante was announced. It is, for the moment available only with the V8 engine. A V12 will follow later in the lifecycle of the car and there might be an AMR version too.
The replacement, which should be called DB12, is due in 2025/2026 and will likely be electric.
It can be tricky to know which of the many V-cars is which in the AML armada. Another one will return in 2022, it seems, in the form of a new Vanquish. The powertrain should be a PHEV Mercedes-AMG turbocharged V8 with drive going to both axles.
A mid-engined model was announced by AML's then CEO Andy Palmer at the 2017 Geneva motor show. Originally said to be due for release in 2020 and powered by a V6, it has subsequently been delayed until 2022. This allows some major engineering changes for electrification and resultant adjustments to the aluminium architecture.
Two other cars which start with V are the future Valhalla and Valkyrie. The first of those is to be a plug-in hybrid supercar which is due on sale in 2023.
AML continues to generate publicity and, it hopes, orders, by issuing ever more information about the Valhalla. Just a few days ago, images were released, along with provisional specifications. Pricing will be equivalent to GBP600,000-700,000. For more details, please see the link to PLDB below.
While the Valhalla is more than two years away, the Valkyrie is coming soon. First announced in March 2016, this hypercar started off as a collaboration with the ex-McLaren and Red Bull Formula 1 team engineer Adrian Newey. A total of "between 99 and 150" road cars would be built, as well as 25 track cars, it has been claimed.
Multimatic, which makes the Ford GT, will supply the carbon monocell, while Cosworth will be the source of the 6.5-litre V12 and a seven-speed transmission will come from Ricardo. The normally aspirated engine's outputs are claimed to be 1000 hp and 740 Nm (545 lb ft), while it will rev to 11,200 rpm. Combined with the motor, power rises to a claimed 1,160 bhp (865 kW) with torque of 900 Nm.
Croatia-based Bugatti-Rimac will supply the lightweight hybrid battery system; Robert Bosch will be the source of the ECU, traction control and electronic stability program systems; while Wipac is responsible for the LED headlamps and tail lamps.
The Valkyrie is expected to weigh just 1,030 kg. Production had been due to commence in July 2020 but this didn't happen. Aston Martin's CEO stated in February 2021 that customer deliveries would commence "in mid 2021". Three months later, Tobias Moers then said it would be "the second half of 2021".
AML announced a left-hand drive only track variant in June: the Valkyrie AMR Pro. There will forty of these, two of which are the first prototypes. Then, after the road cars and track cars, there will be a third variant in 2022. This might be a roadster.
SUV
It may seem astonishing that any brand can have so many cars and only one SUV but that is Aston Martin's reality.
A DBX Plug-in Hybrid is coming but not until 2023, Tobias Moers admitted in October 2020.
Some 20-25% of Aston Martins would be electrified by 2024, the CEO claimed in an interview just after Mercedes' intention to gradually lift its tranche of shares from 5% to a one-fifth stake was announced. Lawrence Stroll's Yew Tree Overseas remains AML's largest shareholder.
The DBX is assembled at what was a new plant in South Wales, to the west of Cardiff airport. The first series production examples came off the line a year ago this month for UK-based buyers. It is presumed that the powertrain for the PHEV variant will be sourced from AMG.
The PHEV would most likely be timed to arrive at the same time as a facelift for the original. Production would then endure with no major styling changes until 2028, presuming an eight-year life cycle for the original.
There might also be an electric DBX but probably not until 2025, although it may instead be launched seven years from now as the only powertrain of a second generation DBX.
Reports for many other manufacturers' future models are grouped in the OEM product strategy summaries section of Just Auto.
Future platform intelligence
More detail on past, current and forthcoming models can be found in PLDB, the future vehicles database which is part of GlobalData's Automotive Intelligence Center. That includes Aston Martins not mentioned in this report for reasons of space.
Honda will be the next OEM to have its forthcoming vehicle plans explored.