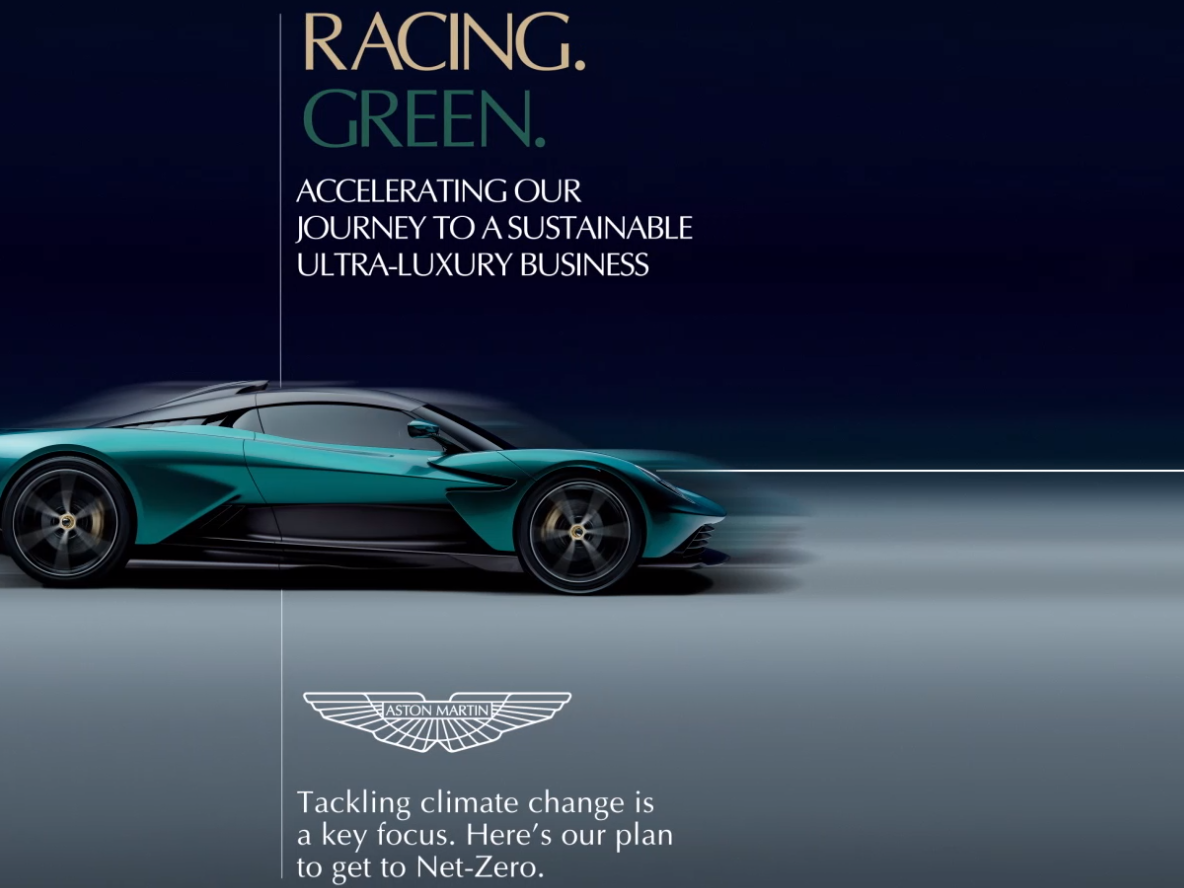 Even producers of luxury goods have to consider all aspects of sustainability these days, where they can. British independent manufacturer of luxury sports cars and grand tourers, Aston Martin, has recently announced a new ambitious sustainability strategy.
Announced on Earth Day – 22 April – 'Racing.Green' highlights new targets across all aspects of the business with the focus of addressing climate change and creating a better environment.
In line with this, the manufacturer has joined others who have become members of the Science Based Targets imitative who commit to act on climate change by enabling businesses to set emission reduction targets in line with climate change science. 
Racing.Green
The announcement of 'Racing.Green' has outlined the company's ambitious plan to achieve net-zero emissions from all its manufacturing plants by 2030 with a 30% reduction in supply chain emissions. Paired with this, the new initiative aims to achieve net-zero emissions across the entire supply chain by 2039.
The outlined targets will further build on the sustainability progress that the company has made so far – it claims a 44% reduction in emissions in its UK operations between 2020 and 2021, with 100% renewable energy being used across all UK manufacturing facilities since 2019.
As part of the new initiative, Aston Martin is set to install more than 14,000 solar panels at its St Athan site in Wales. The site, which produces 20% of the plant's annual energy demands comprises three converted 'super hangers' which have been developed into modern manufacturing facilities with production starting in 2019.
Racing.Green also aims to eliminate all plastic packaging waste within three years, address reduction of water consumption by 15%, maximise the use of sustainable materials and enhance biodiversity across all the sites.
Racing.Green will also see Aston Martin transforming the way in which vehicles are manufactured to stay in line with the company's new climate change agenda.
In 2024 the company will launch its first plug-in hybrid electric vehicle, Valhalla and following on from this the companies first battery electric vehicle will be launched in 2025. The company is also aiming for a fully electrified Sport/GT and SUV collection by 2030.
Speaking on the recent announcement Tobias Moers, CEO of Aston Martin Lagonda said: "Aston Martin is accelerating. We are transforming our business and believe that now is the time to challenge ourselves to make a bigger difference, to become a world-leading sustainable ultra-luxury business."
"Whilst embracing electrification, we believe our sustainability ambitions must be broader than just producing emissions-free vehicles and want to drive sustainability principles across our entire business, with a team representative of society proudly producing responsible products with a reduced environmental impact and making a positive contribution to the communities where we operate."
"Applying our passion for engineering and design innovation to this challenge, we are excited about shaping not just how quickly the world gets from zero to sixty, but how quickly we get to net-zero."
St Athan – Keeping the environment in mind
Opened on 6 December 2019, the Aston Martin St Athan facility is home to the company's first SUV, the DBX. The site also contributed to the 44% emission reduction between 2020 and 2021 where production increased from 3,343 manufactured vehicles to 5,778.
This emission reduction was achieved partly through the consolidation of the paint shops where focus on the environmental impacts that arise from the paint shop process was heavily monitored and consolidated. The company also said that the concentration of paint shop activity at the St Athan facility will continue to make an important contribution in reducing the company's overall emission contribution.
Paired with this a dedicated Energy Strategy Working Group that has identified more than 30 actions which can be carried out across factory locations to further reduce site environmental contributions.
When it comes to energy production the site is currently being considered for on-site renewable energy generation including the option for solar photovoltaic installation and, in time, exploring the option of combined heat and power using low carbon producing fuels.
St Athan is also seeing investment in advanced energy management systems which will optimise production efficiency using real-time energy usage data along with improved heating, air conditioning and ventilation controls.
Additionally, the facility staff are receiving new training programmes to ensure that all employees are focused on the need to minimise energy usage across the facility, keeping the environment in mind.