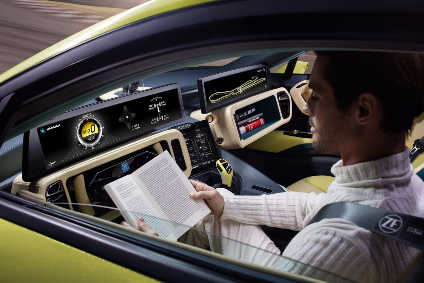 While self-driving cars are not yet available to the public, more and more models across all segments now offer some form of advanced assistance to the driver. To get a sense for where we are along the road toward autonomous driving, here is a snapshot of the Toyota Prius and Volvo XC90.
Toyota Prius: Fourth generation given more assistance
Since the launch of the first generation Toyota Prius way back in 1997, this popular eco-car has brought a wave of new driver assistance technologies with each new launch. The fourth and latest generation Prius – launched in Japan late last year and on our shores since – makes some advance in active and preventive safety measures with the optional Toyota Safety Sense P (TSSP) package that includes a pre-collision system with pedestrian detection.
The TSSP works by using millimetre-wave radar and a single-lens camera with integrated control to detect both cars and pedestrians. The radar sensor, developed by Denso Corp, uses radio waves to measure the distance and direction of the object ahead, while the vision sensor uses a camera to detect road lane markings and the object in front. Previously, these sensors worked separately; however, Denso has enabled them to work with each other while making full use of the advantages of each sensor to achieve more rapid and accurate detection. This advance has also helped some practical safety functions on-board the Prius, including autonomous emergency braking (vehicle and pedestrian), full-speed range adaptive cruise control, lane departure warning and automatic high beam.
The model we borrowed came with a parking assistance system, or Simple Intelligent Parking Assist as Toyota calls it. It uses ultrasonic sensors located on the car's corners to size up parallel parking spots. We understand that some advances to this technology allow it to work in parking spaces up to 22 percent smaller than previously. It certainly worked a treat while both manoeuvring into and out of some quite tight spaces.
Other welcome features include a wireless phone charging tray beneath the slick centre stack and a colour head-up display presenting data such as vehicle speed, battery charge status and other useful facts and figures. It also feels a little more rigid than previous generations thanks to Toyota's new global architecture platform. This latest generation Prius has moved the hybrid on from a car that you should drive to one you want to.
Volvo XC90: A step closer to autonomous driving
Launched last summer, the Volvo XC90 comes loaded with semi-autonomous and connected car features most of which are shown on an intuitive centre console touch screen. This screen can also display a Nissan-like digitally created bird's eye view of the 360° area around the car.
The model on test offered parking assistance (parallel or perpendicular) as part of Volvo's so-called IntelliSafe Pro package. Such effortless parking manoeuvres are based on information from 12 ultrasonic sensors dotted around the car. The 360° surround view is enabled by four concealed fish-eye cameras – one cleverly integrated into the Volvo badge on the front grill, one concealed in each of the door mirrors and the other fitted above the rear number plate.
Driving the car through rush-hour gave us the perfect opportunity to test yet another ADAS feature, Queue Assist, itself part of IntelliSafe Pro. By pressing the appropriate icon on the iPad-style screen in slow-moving traffic resulted in the SUV pulling us along by locking into the car in front. The XC90 can also brake automatically if it senses an imminent collision, even at intersections.
The responsive screen is also used to set the radio, phone and navigation, including pleasures such as the Bowers & Wilkins sound system.
Other notable driver assistance features found included Sensus navigation with internet access, traffic information, Volvo On Call emergency service, colour head-up display and auto dimming mirrors. In addition, all UK XC90s have the distinctive 'Thor's hammer' full LED active bending headlamps; you know, the sort that turn as you steer. We also enjoyed using the hands-free tailgate by waving a foot under the bumper.
This XC90 uses Delphi's integrated Radar and Camera Sensor Fusion System (RACam). RACam incorporates radar sensing, vision sensing and data fusion in a single module that enables adaptive cruise control, lane-departure warning, forward collision warning, and autonomous braking for pedestrians, vehicles, animals and other objects. It also features Delphi's second generation 76GHz short range radar, which enables blind spot detection, lane change merge aid and cross traffic alert.
Next year, the XC90 will be equipped with Volvo's latest semi-autonomous drive technology, known as Pilot Assist II. When activated, acceleration, braking and steering are assisted in order to help the driver follow the traffic flow along a well-marked highway. The driver can, of course, override the system at any time by using either the brake pedal, accelerator pedal or steering wheel. The automaker says this addition is made possible thanks to the modular approach to car building enabled by its new scalable product architecture (SPA) platform. Pilot Assist II is another significant step along the way to fully autonomous driving.
The XC90 is currently assembled at plants in Torslanda, Sweden and Daqing, China. See also our interview with Ulrika Pettersson, technical project leader for Volvo XC90.
Simulators to assist autonomous driving
Vehicle simulators have changed beyond recognition in the past few years. Developments in responsiveness, graphics, together with improvements in vehicle and road surface modelling fidelity mean that today's simulators offer the potential to do much more. The 'driver in the loop' sector has seen the most development with simulators now relevant for subjective and objective assessment of vehicle and component performance where a human driver is required, such as emergency situations or even the introduction of autonomous cars.
With ever increasing complexity comes the challenge of testing in the real world. Kia Cammaerts, founder and technical director of Ansible Motion believes that the introduction of autonomous vehicles will put people into completely new situations, without historical precedent, requiring safe and scientific investigations. He told us: "We know our simulators are being used for validating hardware and software during the development cycle. One area of recent interest is supporting the validation of active safety and ADAS [advanced driver assistance systems]. DIL [driver in the loop] simulators provide a safe and consistent laboratory tool for putting human drivers into unexpected or emergency situations while interacting with on-board vehicle systems. … We heard of a particular example of a car travelling on the A14, a dual carriageway that has gaps to allow cars to traverse it. An experienced driver in a car equipped with collision mitigation was coming to visit us when a car crossed in front. It was far from him and he felt it posed no risk but the car reacted as if it was a potential collision, automatically applying the brakes and bringing the car to a stop. The driver didn't realise this was what was happening and thought it was a powertrain failure and brought the car to a stop with traffic still coming up behind him. It is this kind of scenario that can be tested in our simulator to see how humans react or should react to an ADAS technology being applied."