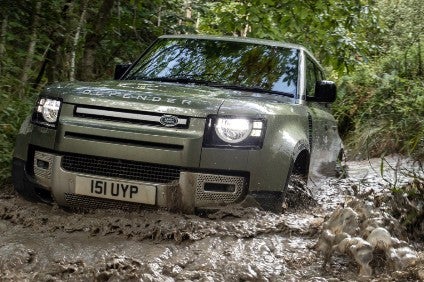 Certain automakers have done rather well reviving much loved icons for a new era. The 'BMW' Mini, now in its third generation, two generations of now-gone VW New Beetle, the Fiat 500 and several iterations of the Ford Mustang all come to mind. And now there is a great redux of the iconic Land Rover Defender.
The previous Defender, evolved from the 1948 original Land Rover, finally bowed out, amidst wailing, tears and gnashing of teeth (though some revival is coming), in 2016 and, after several years of 'concepts' and media teasing, the production replacement finally surfaced in 2019. I had only previously seen one (the shorter 90) briefly in the metal – look but don't touch – a year ago and, when the 2000.5 110 D240 SE finally landed on my driveway was quite surprised – is it really that big? It's a very clever 'reminagination', as Land Rover likes to describe it, with homage to the much loved predecessor with such details as windows in the 'station wagon' roof, and the front wing top chequer protection panels, now in a composite material instead of aluminium – the material of choice instead of post-war scarce steel for the 1948 original. There's also a full-size spare wheel (yay) mounted on the side-opening tailgate.
The new Defender is built on new D7x architecture architecture which is 95% new and based on a lightweight aluminium monocoque construction to create the stiffest body structure Land Rover has ever produced. It is three times stiffer than traditional body on frame designs, and is the base for fully independent air or coil sprung suspension and the latest electrified powertrains. Technology includes the new Pivi Pro infotainment featuring a more intuitive interface while over the air updates provide the latest software at all times, anywhere in the world.
The sample Defender had five seats but six or 5+2 seating is available along with four accessory packs (Explorer, Adventure, Country and Urban) and some 170 individual accessories. The smaller Defender 90 and a commercial model have since joined the line.
The Defender launched with mild hybrid powertrains with plug-in options to come later. The petrol line was a four-cylinder P300 and a six-cylinder P400 with Mild Hybrid Electric Vehicle (MHEV) technology. I4 diesels were the D200 and sampled D240. That applied to the 2000 and 2000.5 (as tested) model years but buyers ordering vehicles now will be choosing from the 2021 catalogue.
This offers a new Plug-In Hybrid (PHEV) model – the P400e – which combines a two-litre I4 petrol engine and 105kW electric motor delivering 404PS with CO2 emissions of just 74g/km and combined economy of 85.3mpg (3.3l/100km). It will run in all-electric mode for up to 27 miles (43km), including off-road. The PHEV comes with 20-inch alloy wheels, electronic air suspension, a charging port on the left-hand side and a Mode 3 charging cable as standard with Mode 2 cable optional. The Mode 3 charging cable enables charging to 80% in two hours, while charging via a Mode 2 cable will take around seven hours to charge to 80% – you'll order that for home charging overnight. Using a 50kW rapid charger, the P400e charges to 80% capacity in 30 minutes. The P400e is available with five or six seats, standard three-zone climate control, privacy glass and solar attenuating glass. It also has regenerative braking.
Land Rover makes all of its engines in house here in England at its Wolverhampton factory and a new I6 Ingenium diesel engine also joined the range. The D300 delivers 300PS and 650Nm of torque and has MHEV technology and a stop/start system which cuts the engine at a standstill, as well as recuperating energy normally lost under braking or decelerating. The new intelligent driveline system continually varies axle torque based on sensor data from the vehicle's surroundings and driver inputs to distribute all torque to one axle or the other as required. This intelligent torque distribution system optimises the driveline for traction, on-road dynamics and driveline efficiency, resulting in improved fuel economy and reduced CO2 emissions.
The D200 and D240 become D200 and D250 models for 2021, now using the same I6 engine as the D300 (replacing I4s) with 200PS and 249PS respectively. Torque is 500Nm (D200) and 570Nm (D250) and MHEV technology is also used. The new D200 and D250 return 32.2mpg (8.8l/100km), and CO2 emissions as low as 230g/km, and 0-60mph in 9.5 seconds (0-100km/h in 10.2 seconds) and 7.9 seconds (0-100km/h in 8.3 seconds) respectively on Defender 110.
Individual options and packs were changed, including a broader selection of exterior colours. New options include the folding fabric roof for Defender 110, Premium LED headlights with signature DRL, Meridian sound system and a head-up display. Expanding the number of bundled option packs is a Blind Spot Assist Pack, and a choice of a Family Pack or Family Pack Plus. The Family Pack adds third-row seating with three-zone climate with rear cooler and Cabin Air Ionisation, while the Family Pack Plus adds heated third row seats.
Configurable Terrain Response made its debut on the Defender, allowing experienced off-roaders to fine-tune individual vehicle settings to suit the conditions, while inexperienced drivers can let the system detect the most appropriate vehicle settings for the terrain, using the intelligent Auto function.
The new body architecture provides ground clearance of 291mm and the 110 has approach, breakover and departure angles of 38, 28 and 40 degrees (Off Road height) respectively. Its maximum wading depth of 900mm is supported by a new WADE programme in the Terrain Response 2 system, which allows the fording of deep water. Available ClearSight Ground View technology shows the area usually hidden by the bonnet, directly ahead of the front wheels, on the central touchscreen.
Other options include a new satin protective film to protect the exterior paintwork. The sustainable, solvent-free and completely recyclable wrap helps protect against everything from car park scratches to bramble rash and is available as a factory-fit option with some colours.
I did not venture off road but previous experience, under the watchful eye of expert Land Rover instructors, has shown me the company's products live up to claims for their off road prowess. Used for local family fetch and carry tasks, the D240SE had pretty much every gadget and amenity we would like and almost everything was intuitive and easy to use. The latest infotainment system worked well bar being apparently unable to update the local list of DAB digital radio stations, finding only the BBC multiplex – I suspect a software glitch that would be fixed easily with an OTA update. Navigation and other vehicle functions worked perfectly. I also have never got on well with JLR's latest automatic transmission selector which is spring loaded and always returns to a central position – you yank it once thinking you've gone from Reverse to Drive and you're only in Neutral. I much preferred the rotary wheel JLR used previously with its precise slots for each drive mode.
Yet again, a UK built JLR I4 engine impressed for its refinement and torque, and speed off the line, and I can only imagine the smoothness of the I6 D250 diesel that has replaced this D240.
Defender looks terrific and provides loads of space for people and stuff plus unparalleled offroad ability when needed. It's expensive, though, as you'D expect with the amount of technology and equipment that comes standard. The 'nicely equipped' SE we sampled was around GBP47,000 and I managed to get one to GBP65,000 using the website configurator for 2021 models, going for a plug-in with every option The Family would like. But, if you need the ability to haul a horsebox across a muddy field, or live down a lane prone to mud and snow, this is the vehicle to have. That probably explains why I already see so many about in the rural areas near where I live (sadly, our local dealer has just closed). It was a long time coming but the modernised Defender is a superb effort.