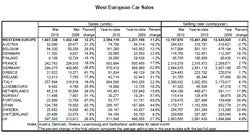 Car sales in Western Europe grew by 12.2% in March over last year according to data released by JD Power Automotive Forecasting. However, the forecast firm also warned that the West European car market is set to weaken further as the effects of turned-off scrappage schemes work through.
JD Power said that despite a strongly positive year-on-year result in March it should be noted that the seasonally adjusted annualised rate of sales (SAAR) has weakened to 13.2m from the 14m rate in February 'indicating that the anticipated post-incentive market slowdown is starting to form'.
Car sales in Germany were down by 26.6% in March with the first quarter figure off by 22.8% on last year's pace. JD Power said that the year-on-year changes will remain strongly negative in
the coming months as comparisons with the incentive-boosted 2009 market remain unfavourable.
A number of markets continued to pass through the final stages of the scrappage incentive scheme boost and the outlook is now for weaker registrations in the future as the true, and undoubtedly lower, level of underlying demand begins to emerge.
However, JD Power noted that it is still possible, and not only in Germany but across Western Europe, that OEMs may respond to the weak March result with deep discounting.
The UK car market disappointed in March, a month that is typically one of the most important of the year in terms of volume. While sales were up, year-on-year, on a very weak 2009 result, the latter stages of the UK's scrappage scheme, and some generous OEM discounts, had been expected to produce a more positive result.
Other markets performed somewhat better with yet another strong result in France. Sales in Italy were also solid, though JD Power warned that 'we do not think it likely this can continue for the remainder of the year.'
A relatively good result in Spain also helped support the wider European total, though the outlook there is for weaker sales in the second half of 2010.
JD Power said that the underlying macroeconomic situation remains highly uncertain and, again rather as expected, a patchy and stuttering recovery appears to be taking hold. Eurozone economic output stalled completely at the end of 2009 and, as the effects of fiscal stimuli taper off this year, the 'conditions for recovery appear weak'. Stubbornly high unemployment will remain a major impediment to a healthy recovery in consumer spending, JD Power said.
JD Power forecasts that the West European car market will decline by 8.9% this year to 12.4m units as the removal of temporary scrappage incentives works through.
Analyst Pete Kelly told just-auto that the eventual recovery to underlying demand will be a gradual one.
"In terms of real underlying demand, we should hit the bottom this summer with a gradual recovery thereafter. On our current assessment 2011 will not be a strong year, but there will be some growth and the SAAR may be back up towards the 13m level by the end of next year," he said.
That's still some way off the near 15m-unit market peak seen in 2007.
Dave Leggett