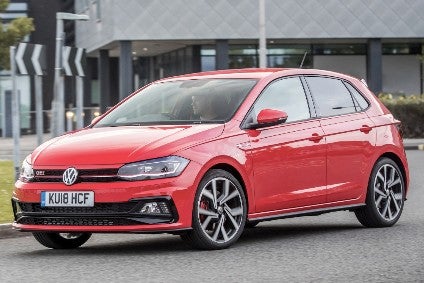 Volkswagen keeps coming up with ways to make certain sports models more desirable and of course, more profitable. For those who wish their Polo GTI to stand out just that little bit extra, there is the option of choosing the GTI+, a high-end model grade which costs from GBP23,160.
The Clio might be in the midst of a model changeover yet like the Golf, the little Renault keeps seeing off all challengers to its crown as the European market's number one B segment car. What many don't realise is how the latest generation Polo has been little by little closing the gap to the class leader and pulling ahead of a cluster of models – Fiesta, 208, Sandero, C3 and Corsa – clambering for third position. With new editions of the 208 and Corsa soon to go on sale, joining the Clio 5, Volkswagen is going to find it tough defending that second place, although the car is more than capable of holding its own against these three new rivals.
Built by VWSA for the UK market
Production of the sixth generation model got underway in September 2017, the lead plant being Pamplona. Polos for the UK don't come from Spain though, hailing instead from South Africa. That includes the GTI and GTI+, two versions which were not part of the launch range, both added in mid-2018.
The pricier GTI+ has the same 200PS and 320Nm turbocharged EA888 1,984cc four-cylinder engine as the GTI, as well as a six-speed DSG. Volkswagen says the pair will reach 62mph in 6.7 seconds, with the top speed being 147mph. For those who don't remember, the previous generation model's engine was a 1.8-litre turbo which produced 192PS. Fuel consumption for the new car is 47.9mpg and the CO2 average is 134g/km.
Optional 18-inch wheels the largest yet for a Polo GTI
It's not too easy to make this front-wheel drive car lose grip, some of that due to the standard 215/45 R17 tyres. Handling is strong too, the suspension having been dropped by 15mm, plus there is active damping with Sport and Normal modes. Volkswagen says weight is 1,355kg which is commendable when there's so much standard equipment (as well there should be for twenty three thousand pounds). Those who want even bigger wheels can order 18-inch 'Brescia' alloys, these being the largest yet offered on a Polo.
In keeping with VW traditions, external changes made to the GTI and GTI+ are understated, consisting of a black honeycomb pattern for the lower air intake and a red stripe across the grille above it, unique bumpers, LED headlights (GTI+ only) a gloss-black tailgate spoiler, extended sill strips, red brake callipers, twin chrome tailpipes, darkened tail lights, tinted back windows (+ only) and of course, GTI badging front and rear.
While others equip their small hot hatchbacks with Alcantara and leather trim, Volkswagen instead goes for the 'Jacara' tartan pattern fabric which has been part of GTI cars for decades (black leather is an option). There's the obligatory red stitching here and there, including on the floor mats and steering wheel, set off by glossy black trim on the dashboard with the same colour used for the headliner and sun visors. Certain features which only the GTI+ has are automatic headlights and wipers, Volkswagen's Active Info Display (digital dials), Adaptive Cruise Control and Keyless entry with a start-stop button.
Velvet Red or Deep Iron Gloss?
The door pockets are commodious but you wouldn't say that about the cupholders, neither of which can hold many brands of re-useable coffee cup. If you like the matte-red trim ('Deep Iron Gloss' is an alternative to 'Velvet Red') pieces around the door handles, eight-inch infotainment system and centre console – not everyone will – that's about the only thing to fault about the inside of this car. There is oodles of headroom front and back, while the boot holds 351 litres, up from the 280 of the previous model.
Britain-only manual gearbox option
We in Britain are lucky enough to be the only Europeans who can buy a GTI or GTI+ with a manual gearbox. This became optional late last year and while the test car wasn't fitted with the six-speed transmission, that would be my preference. Somehow the standard DSG isn't quite as good as the latest seven-ratio dual clutch transmissions which are fitted to so many other Volkswagen Group vehicles. In the fast Polos, there isn't quite the same level of sophistication and the test car had a tendency to hold on to second gear when at least third was what was needed. You can use the paddles to order a shift, though, which is what I did, every time.
Summary
Aside from swapping the DSG for a six-speed manual and wishing the engine note was a touch fruitier, about the only thing stopping the Polo GTI+ being one of the best cars in its class is power. I know that's going to sound unfair as what it already has is way more than say a Corsa GSi. It's just that you have the sensation when driving the little Polo hard that another twenty or so horsepower would be welcome. New challengers, including a 220hp Jazz Type R and equivalents from Renault and Peugeot are on the way so might Volkswagen see those off by adding a Polo R in 2020?