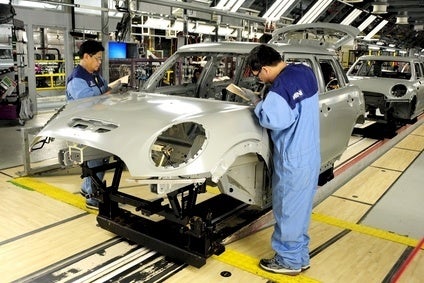 There are signs of a revival in the UK automotive supplier industry, but a sense of perspective is needed, says Dave Leggett.
The make-up of the supplier industry in any industrial sector reflects its position in the supply chain and the demands of its customers immediately downstream. This is especially true in the automotive industry where manufacturing and technological complexity place great demands on supplier companies. Two historical trends are prevalent in automotive. One is that the vehicle manufacturers – albeit to varying degrees – develop close relationships with their key Tier 1 suppliers. And the other (related factor) is that they tend to be physically close by. These close relationships between major suppliers and their customers result in some competitive advantage as engineering synergies and scale economies work to the benefit of both the OEM and its supplier. In the early days vehicle makers were highly vertically integrated, but the development of big supplier companies in the last century was a major factor in helping the auto industry as a whole to lower its unit costs. Suppliers with multiple customers in a regional hinterland could exploit vast scale economies that were not available from in-house single sourcing.
Roy Williams, MD at Vendigital, a firm of supply chain specialists, points out the advantages in vertical or sectoral clustering. "If you are planning to invest in new product development, it is a good idea to keep both your own and your suppliers' R&D teams close at hand so they can inform the process and bring next generation products to market quicker than before," he says. "Ideally, a production facility should also be located close to a highly-competent, expert supply chain. This will also ensure a shorter supply chain, giving the business greater control over quality and a reliable supply source. Any move to lengthen the supply chain on the other hand could increase risk and impact on quality. "
We can see the development of indigenous parts supplier companies in the US, in Japan and in Europe, supplying the local automotive sectors (though Ford and GM tried to do as much themselves for as long as possible before eventually spawning Visteon and Delphi). Later on, the manufacturing footprints of suppliers became more global as the OEMs embraced globalisation, set up operations around the world and their suppliers followed. However, the need for suppliers to be close to their major customers remained, even as they may have sought to broaden their customer bases.
In Europe, a number of strong automotive suppliers emerged serving domestic vehicle makers in France (eg Valeo, Faurecia), Germany (eg Bosch, Siemens, VDO, ZF), Italy (eg Magneti Marelli) and the UK (eg GKN, Lucas).
UK supplier industry consolidation
Over time there was industrial consolidation, but the consolidation in the UK's automotive supplier sector was especially rapid and driven by big changes to the European manufacturing landscape at the OEM level. As output in continental Europe grew, so did the competitive strength of the supplier industry companies serving the big volume OEMs in Germany and France. The UK supplier industry contracted as the UK's car manufacturing sector – with its well documented structural difficulties in the 1970s and 1980s – shrank. Names like Girling, Lucas, Turner & Newall and Associated Engineering are history now (GKN now the last man standing of the big British-based engineering groups that had major automotive business). And an honest assessment would also recognise that the quality problems that hit indigenous volume carmaker British Leyland (later to whither as Rover before finally disappearing as late as 2005) were not entirely absent from the stressed supplier sector back then either. Lucas was known as 'Lord of the dark' after its electrical systems' patchy reliability in Jaguar cars of the time.
Japanese OEMs reversed the UK's decline…
The high water mark for car manufacturing in Britain was 1972 when some 1.9m units were produced. By 1982 annual car output was down to under 900,000 units. From the mid-80s a gradual increase to UK car production was heralded by the arrival of the Japanese OEMs. Nissan was first, followed by Toyota and Honda. The UK, with a sizeable market not dominated by national champions, was seen as a good place to make cars for local consumption and, crucially, to expand sales across the EU region. Nissan had already done a lot of the hard market entry work with Datsun's market success. Back in the 1980s, Japanese makers' car sales volumes were held back by a mixture of nationally-based trade restrictions. It's hard to imagine now, but the Japanese were held back in some markets – France and Italy for example – by quotas and share restrictions that came with a degree of national government endorsement. In Britain, there was a 'gentlemen's agreement' that had tacit official approval and set the Japanese built-up import share of the car and light commercial vehicle market at 10%.
However, there was every incentive for the Japanese makers to make the most of the UK government's more friendly attitude. The key thing about European (EU) production was that it was left outside of any Japanese volume/share discussions in Europe once EU local content hit 60% (I recall delicate discussions with the European Commission on this subject). These were now 'European' cars. So, the Japanese producers who set up manufacturing shop in the UK had a big incentive to source whatever parts they could in Europe and get to that 60% threshold as soon as they could. Some key suppliers in Japan would move to Europe eventually, but they would also be sourcing from European-based suppliers from the outset. A look at the current Nissan Qashqai's supplier list shows how 'European' and diverse it is: Magna, Ficosa, Faurecia, Mahle. Elringklinger, Edscha and Plastic Omnium as well as Calsonic Kansei, BorgWarner and TRW. It's a wide range reflecting the nature of the European supplier industry base.
…but the UK supplier base contraction was deep-rooted
The 'UK supplier base' became increasingly irrelevant as OEMs looked at the Europe-wide supplier base and that was a supplier landscape that was becoming increasingly dominated by the giants with vast scale economies and plentiful Tier 2s and 3s in Germany and France. Lucas-CAV was unable to compete with Bosch when volumes for fuel-injection equipment rose steeply from Volkswagen when diesel technology spread to cars in the 1980s. The strong Tier 1s became stronger 'systems integrators' as they developed technologies and supply modules around major vehicle component systems. Supplier parks around the big vehicle producing plants also appeared. The UK's supplier industry was changing shape as its constituents took on a more international look and many major components – turbochargers are a good example – were shipped in from the continent.
Where does that leave the UK auto industry in 2015? At the OEM level, it's a broad-based sector. Besides the Japanese, there's GM's Vauxhall, Tata-owned Jaguar Land Rover, BMW's MINI and a number of smaller makers such as Bentley and Aston Martin. Car market leader Ford may not make cars or vans in the UK any longer, but it does make engines. And BMW also has an engine assembly plant at Hams Hall. The supplier industry present in Britain may not have the comprehensive product supply capabilities it once had, but that matters less now (to the companies concerned anyway). Most importantly, the ability to import parts easily to the UK from major suppliers on the nearby continent has been a positive for the OEMs. The currency risks associated with sterling being outside the eurozone are a variable that manufacturers can clearly live with. What you gain or lose on imported parts on the latest sterling-euro movement will be accompanied by a reversed impact from the export of the finally assembled vehicle to the eurozone. And there's always hedging.
UK car output forecast to rise
Annual UK car output now stands at around 1.5m units. In 2014 car production totalled 1,528,148 units – a 1.2% increase on the previous year and the best year since 2007. Output for export, however, was down 0.5% last year, to 1,195,196 units (some 78% of UK car output was exported last year).
Mike Hawes, SMMT Chief Executive, said: "Placed in context, a 1.2% growth in UK car manufacturing in 2014 represents a very successful year. The industry has overcome various challenges, including slower than expected EU recovery and weakness in some global markets.
"More than £7 billion of investment into UK production facilities has been announced in the past two years, and we are now seeing the effects as new models begin production – with more expected in 2015. UK car manufacturing is now more diverse than ever, with a unique combination of volume, premium and specialist brands giving our products truly global appeal. This is epitomised by the doubling of car export values in the decade from 2005 to 2014."
Some analysts predict that car production in the UK will continue to rise. KPMG's UK Head of Automotive, John Leech, is upbeat on prospects for some manufacturers this year. "We expect a number of manufacturers to post higher volumes in 2015, particularly Jaguar Land Rover, BMW and Vauxhall which all launched new models recently. Our forecast is that UK production will grow by 8% to exceed 1.6 million vehicles in 2015."
The SMMT also published 2014 output totals by manufacturer, which showed another strong performance from Tata-owned Jaguar Land Rover (JLR), which managed a 7.3% gain to just under 450,000 units of production.
The SMMT said that an increasingly diverse product mix in the UK is leading to a rapid rise in the value of production and exports. In 2004, the wholesale value of UK car exports was around GBP12bn; this has doubled to more than GBP26bn in 2014, despite a similar number of cars exported. The average car exported in 2004 was worth GBP10,200, compared to GBP21,800 in 2014.
UK car output could be approaching 2m units by the end of the decade, which would surpass 1972's 1.9m record. And that growth would clearly be good news for suppliers in Britain who have already benefited from higher levels of vehicle production.
A new report estimates that UK component suppliers saw a 19% rise in sales to UK vehicle manufacturers in 2014. Currently around one third (yes, one third) of the components in a UK-built car are domestically sourced, compared to more than 90% in the mid-1970s. However, vehicle manufacturing in the UK is undergoing a renaissance – British car production has increased by more than 50% since 2009 – and this is creating new opportunities for domestic suppliers, the SMMT maintains.
Examples exist of UK supplier content raised
The report from the Automotive Council highlights a number of case studies from a revitalised UK supplier industry. The new Luton-built Vauxhall Vivaro van is an example of the recent upturn in local supply. The latest model, which started production last year, contains more than twice the number of British-sourced components at 40% than its predecessor's 16%.
An upturn in domestic parts sourcing can be partly attributed to the UKTI's Automotive Investment Organisation (AIO), which was set up in 2013 to bring more foreign investment into the UK automotive sector. Since its inception, AIO has secured or created more than 10,000 jobs, and delivered more than GBP768 million investment into the UK supply chain.
Joe Greenwell, AIO Chief Executive, said: "This is fantastic news for UK automotive. As well as showing that the UK continues to grow as a serious global automotive destination, it demonstrates the dramatic power of foreign investment, which has helped to revitalise the UK supply chain and secure critical jobs and growth for the UK. We at UKTI will continue to work hard with our partners to address the growing opportunity identified in the report."
The SMMT's Mike Hawes highlights the work of the Automotive Council – set up by the last governments to set up strategic aims for the automotive sector. "A strong domestic supply chain is critical to the success of the UK automotive sector," he says. "We want British suppliers to capitalise on the renaissance in UK vehicle manufacturing, and these figures show that positive strides are already being made. The work of the Automotive Council is central to this progress, and will continue to be while many component manufacturers still face issues such as access to finance and lack of incentives to innovate."
Summary
In summary, the UK automotive sector is in a very positive place right now. The car market has remained relatively buoyant at a time when much of the European region has been depressed. That strong local market has combined with success in export markets (EU and global) to encourage more investment in UK manufacturing capacity.
Car manufacturing in the UK has been on a gentle upward track for some time now and the spread of OEMs arguably looks like a healthy mix (eggs not all in one basket). That's been the British way and it's one way that we do our business – with an external face that is apparently very open to outside influences and inward investment from around the world. It's as true now as it was in the 1980s when Mrs Thatcher's government laid out the red carpet for Nissan (by contrast, Peugeot's then mercurial leader Jacques Calvet described the UK as an aircraft carrier for Japanese carmakers to launch an assault on European markets).
The UK supplier industry though, is not what it once was. UK-sourced content in UK-made vehicles may have up-ticked and manufacturing investment is to be welcomed, but the UK supplier sector in 2015 is a key cog in a much bigger whole – Europe's supplier industry – than it was in the 1970s. That's the way that the international OEMs making cars in Britain look at it and that's something positive to build on, in the context of a strategy for the UK's automotive sector that can create more jobs and higher-value economic activity.
| | | | | | |
| --- | --- | --- | --- | --- | --- |
| UK Car output 2014 | | | | | |
| | | | | | |
| Manufacturer | Model range | Location | 2014 | 2013 | % change |
| Nissan | Juke, LEAF, Note, Qashqai | Sunderland | 500,238 | 501,756 | -0.3% |
| Jaguar Land Rover | F-type, XF, XJ, XK, Defender, Discovery, Evoque | Castle Bromwich/Halewood/Solihull | 449,507 | 418,875 | 7.3% |
| | Freelander, Range Rover, Range Rover Sport | | | | |
| MINI | MINI | Oxford | 178,993 | 174,997 | 2.3% |
| Toyota | Auris, Avensis | Burnaston-Derby | 172,215 | 179,233 | -3.9% |
| Honda | Civic, CR-V, Jazz | Swindon | 121,799 | 138,812 | -12.3% |
| Vauxhall | Astra | Ellesmere Port | 77,836 | 73,466 | 5.9% |
| Others | | | 27,560 | 22,623 | 21.8% |
| All makes | | | 1,528,148 | 1,509,762 | 1.2% |
| | | | | | |
| Source SMMT | | | | | |