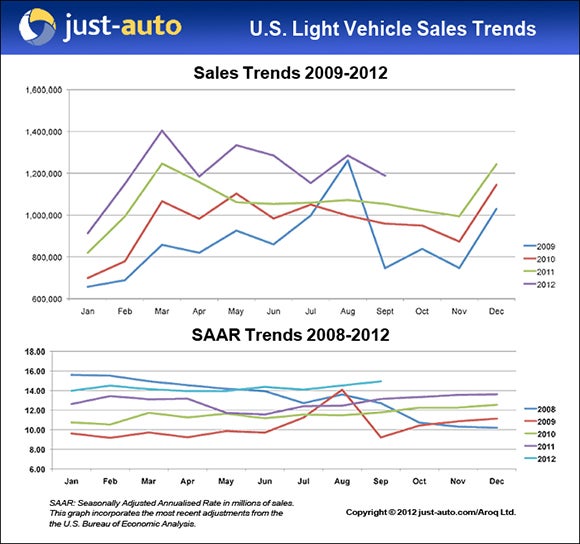 There has been pessimism among industry analysts who are couching their bets, looking for the big drop in US light vehicle sales. While the larger economy is growing mostly by fits and spurts, the auto business is enjoying a more rapid recovery than other industries.
There are many factors driving the market, including pent-up demand. While some say that vein has already played out, manufacturers, dealers and, most importantly, bankers, are finding ways to allow more people to be in the market for a new vehicle. Most notable has been the rise in subprime lending. Following the financial meltdown, lending policies weren't so much standards as they were barriers and it was difficult to place a less-than-perfect loan. With the continuing low cost of money, lenders are becoming more flexible and dealers can make more deals.
Incentives are another important driver. Though average incentives aren't high, especially by Detroit standards of years gone by, certain brands and models are carrying a fair amount of cash on the hood, either as rebates or subvented loans.
As can be seen from the charts, both sales and the seasonally adjusted annualised rate for 2012 are tracking well with previous years. Sales typically drop from August to September, remain soft as the fourth quarter begins and spike upwards at year's end.
What is different about September 2012 is that the decline was smaller than in past years. Typically, September sales will fall not only below August's results but below July's as well. Analyst predictions for the month had taken this into account with some seeing the weakest monthly results since January. This year, September sales were in the middle of the spread.
The SAAR was anomalous, as well. The average estimate was 14.5m; the actual reading was nearly 15m. However, comparing the SAAR for the first nine months of 2012 to those of 2010 and 2011, the reading still fits in the general rising trend seen in the past three years. 2010 is particularly useful as there was neither a rebate-driven spike nor a natural disaster-drive slump, which so far, is the case this year, as well.
Extrapolating from the actual performance of the market to this point, it's tempting to predict sales in the upper 14m range. The caveat, of course, is that there are two months of plateau ahead and a December spike is not a given. But based on the market's performance so far this year, it does appear that a volume somewhere between 14.3m and 14.5m is not only realistic, but likely.