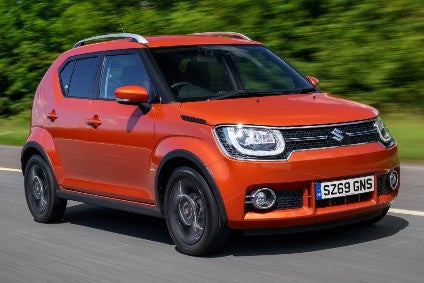 All diesels have been dropped, the Jimny is headed the same way and Toyota is being called upon to supply rebadged hybrid models: Euro 6d means it's a time of major change for Suzuki in Europe. An exception is the Ignis, which, thanks to mild hybrid tech, not only has a low CO2 average, but remains one of the brand's most engaging models.
This tiny five-door car is tricky to categorise. Is it a hatchback, a crossover or an SUV? Suzuki says the latter and while the looks say crossover, the Ignis can be had with electric all-wheel drive and 180mm of ground clearance, albeit only in top-spec SZ5 model grade. So technically yes, we can call it an SUV, although at only 3.7m long, it's more of a micro-SUV.
There is one basic engine for all versions sold in Britain, a 1.2-litre four-cylinder 'Dualjet'. In standard form, this produces 90hp, has CO2 emissions of 120g/km and combined fuel consumption of 52.9mpg (WLTP).
Extra money buys a mild hybrid upgrade. Power and torque are unchanged but emissions drop to 117g/km and economy improves to an official 54.1mpg. That last consumption figure is accurate too, as the test car returned 54.7mpg for me, a figure that included a mix of in-city and motorway miles. The driver knows when energy is being fed into the battery as a small light in the shape of a battery glows within the instrument cluster.
What Suzuki calls 'SHVS' (Smart Hybrid Vehicle by Suzuki) means the petrol engine comes with an attached Integrated Starter Generator. As with such systems in so many other cars, the ISG is belt driven and acts as both a generator and starter motor, although a conventional starter motor is present and employed when the engine is cold. The economy and emissions improvements are thanks to regenerative braking and electric assistance under acceleration, including from rest. The battery is positioned under the front passenger's seat.
Like all Suzukis, the Ignis is a lightweight design, base versions having a kerb weight as low as 855kg, the hybrid system's components adding only 6kg, it is claimed. And positioning the 12V lithium-ion battery within the passenger compartment means that the surprisingly commodious boot (for the size of the car) has the same capacity of 204 litres (VDA). That's for the Allgrip though, due to its rear differential: two-wheel drive cars have another 63 litres of boot space due to a lower floor. For added flexibility, the back seats can be slid forwards by 165mm.
The base SZ3 has manual air conditioning, six airbags, a DAB radio, five seats and electric lifts for the front windows only. The next grade up, SZ-T, adds a reversing camera, 16-inch alloy-wheels (15-inchers for the SZ3), roof rails and wheel arch extensions but there are only four seats, something which applies to the SZ5 too. That's because of their slide function. The top model grade further adds automatic A/C, navigation, two-camera automatic brake warning, keyless start, electric rear windows, and LED headlights/foglamps.
You'd think that the manual transmission on the highest grade would have six ratios, yet there are only five. Motorways aren't too noisy, even if economy suffers at 70mph. I don't think it's mere cost which stopped Suzuki giving the SZ5 a six-speed gearbox: the torque output is only 120Nm and it's delivered at 4,400rpm, so a tall top gear would likely be a waste of engineering time and money.
Having tested the Ignis during an especially wet week, the benefits of the all-wheel drive system were clear. It isn't the most advanced system on the market but does it need to be? And let's also celebrate the fact that it adds only 50kg to the car's weight. The viscous coupling does a good job of acting as a centre differential and lock-up to the back axle takes place the moment one of the front tyres begins to slip. Try hard and you can feel it working but there's never a moment of doubt that traction might be lost as torque feeds in to the rear tyres.
Two other features which are part of Allgrip are Grip Control and Hill Descent Control. The first of these is only activated at speeds until 18mph so it's especially handy for snowy mornings/black ice on ungritted 20mph limit roads. The driver has to press a button to activate it and when this is done, torque is concentrated on the driven wheels which have the most traction, while at the same time any wheel which is about to spin will be braked. And as for HDC, this can be used in second as well as first gears, on slopes below 15mph.
As a quirky alternative to the likes of the Fiat 500, the Ignis has a certain off-beat appeal, not to mention the advantage of a five-door door body and in top-spec form, the advantage of an all-wheel drive which doesn't bring much of a CO2 disadvantage with it.
Ignis pricing starts at GBP13,249 (SZ3 Mild Hybrid) and rises to GBP16,749 (SZ5 Allgrip) with CO2 averages varying between 98 and 109g/km.