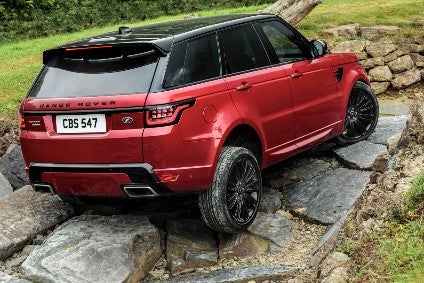 Porsche has pulled the 4.0-litre engine out of the Cayenne, while Audi, BMW and Mercedes offer a maximum of six-cylinders in their new Q8, X5 and GLE SUVs respectively. Land Rover therefore suddenly finds itself in the fortuitous position of having no direct rivals for its latest Range Rover SDV8.
Will the dust eventually settle after the storm of upset over diesel emissions? It may be too early to say yet it's starting to feel as though calmer, more rational debate has at least replaced much of the anger of a year or so ago.
Audi still has problems with WLTP certification for some of the engines in many of its models, so an SQ8 TDI which could in theory attack the 4.4-litre Range Rover Sport won't be announced until 2019. There again, a Q8 with the V8 diesel from the SQ7 TDI may never happen, given how cautious all divisions of the Volkswagen Group have become about promoting diesels, especially ones with large capacities.
What's so great about a big diesel engine anyway? For starters, you can drive for much longer between refills than is the norm with a petrol engine, plus there is a lot to be said for the sense of wellbeing which comes from a low-stressed, quiet powertrain which has mountains of torque. For towing, it's unbeatable.
One of the main reasons why no manufacturer has yet been able to offer an electric rival for the V8 diesel versions of the Range Rover and Range Rover Sport is competitive driving distance. Even the fastest recharge takes way, way longer than refuelling the big Land Rovers. Environmental impact? That's another, longer, more complicated debate for another day. Maybe Rivian has the answer though? The R1S looks terrific and in theory, could be the perfect SUV if owners are able to know that their electricity comes from renewables. We'll have to wait for at least a year to see how it measures up in production form.
Four, six or eight cylinders?
Land Rover last revised the engine offerings in the RRS a year ago, bringing in a plug-in hybrid and dropping the hybrid at the same time while also giving the SVR another 25 horsepower. Ranked by power output, the choices are:
240hp 2.0-litre SD4 (four-cylinder) Ingenium turbo diesel
254hp 3.0-litre Td6 (six-cylinder) Ford turbo diesel for North America
300hp 2.0-litre Si4 (four-cylinder) Ingenium turbo petrol
306hp 3.0-litre SDV6 (six-cylinder) Ford turbo diesel
339hp 4.4-litre SDV8 (eight-cylinder) Ford turbo diesel
340hp 3.0-litre (six-cylinder) Ford supercharged petrol
380hp 3.0-litre (six-cylinder) Ford supercharged petrol for North America
404hp 2.0-litre+one motor (four-cylinder) Ingenium turbo petrol plug-in hybrid
525hp 5.0-litre (eight-cylinder) Ford supercharged petrol
575hp 5.0-litre SVR (eight-cylinder) Ford supercharged petrol
The SVR might have a 236hp advantage over the SDV8 yet when it comes to torque, the diesel pips it with 740Nm versus 700. Not forgetting either that maximum get-you-off-the-mark energy is developed at significantly lower engine revolutions (Land Rover quotes 1,500-2,250) than in the the supercharged petrol V8. You'll be lucky to see 20mpg in the SVR but the SDV8 regularly delivers 30+mpg. While it can't match the petrol engine's brilliant sound, the diesel V8 burble is there in abundance too, and that's the very opposite of a bad thing.
Minor niggles
The Range Rover Sport ought to be showing its age. It isn't. The interior makeover has been masterfully executed, the dual touchscreens which came with the facelift having just the right amount of new-tech about them with none of the time consuming faff: every function that you want to be quickly to hand, is. Against that, a couple of minor annoyances are the temperature of the steering wheel heater which is too high and it's that or off, and the existence of the metal trim ring which stays freezing cold. Your palms have to touch it – there is no way of not doing so. Might seem like a ludicrous protest yet it will annoy an owner every day in a cold climate and in a GBP90,000 car this shouldn't be an issue.
Land Rover could fix easily both faults by doing what others do by offering heating with settings of 1, 2 and 3 or even 1 and 2, while also swapping metal for shiny silver plastic. What looks to be the same steering wheel is fitted to the new Evoque, I have noticed.
The only other issue I found in the press tester was a tendency for the automatic high beam to be over-eager. It's not nice to be on the receiving end of someone's too-bright lights in your rear-view mirror or worse: as you round a bend they blind you. The answer is to turn the control back one twist out of AUTO mode. Then though, when you stop and are about to leave the car, there's an electronic Lights On nag. I guess you would get used to remembering to switch them off and then carefully turn the control only two clicks rather than all the way to three for auto.
Premium? Or Luxury?
The feel of this vehicle is properly luxurious: the paint is deep, the carpet is thick even in the boot, every interior surface is covered in soft materials – including the headliner – and nothing beeps aggressively at you. The way air springs lifts the vehicle slightly just after the ignition fires is somehow pleasing to watch although you don't notice it from the inside. The default suspension setting is just the right side of firm and if anything, the steering system which was so impressive five years ago is even better with the latest Sport. In its class, only the Cayenne can match this vehicle for handling.
Compared to the Porsche and Q8 (the new GLE and X5 aren't yet available in Britain), the Land Rover is more than competitive. The XC90 isn't really expensive enough, while conversely, the Model X may be too pricey to be a true competitor although that's open to debate in both cases. Would anyone looking to lease an RRS SDV8 take a close look at either of these vehicles? Probably. Especially the Tesla as there's a lot to like about it.
Where a Land Rover always tends to win is when it comes to prestige. The Sport is big but not that big. Is it brutish? Not a bit. And somehow Land Rover has magically created and maintained an image for this model as only slightly junior to the Range Rover. Friends asked how much the Range Rover Sport Autobiography cost and no-one gasped when I said "ninety thousand". Which says much about how the brand has steadily, quietly, shifted the top-end versions of its second largest model out of the premium class and into the luxury division as frequented by the likes of the way, way more expensive Bentley Bentayga and Lamborghini Urus.
Range Rover Sport – the future
Land Rover is by no means done with refining the current L494 series model. It's doubtful that there will or needs to be any further adjustments to the vehicle's looks but we should see some changes when it comes to engines. ZF will also not want to risk losing business to rivals by only offering eight ratios for its automatic transmissions. Already, Mercedes has nine with Lexus and Cadillac boasting ten in certain of their luxury models, so it's hard to believe that ZF isn't already collaborating with multiple OEMs to keep them happy via plans to provide a ten-speeder. Such a transmission might have to wait for the next Range Rover Sport though.
Something which is an open secret at JLR is a family of in-line six-cylinder engines. We should see the first applications in 2019, with the Sport and Range Rover probably the initial Land Rover models to gain the new I6 Ingeniums. This might also be the cue for the Ford-built supercharged 5.0-litre petrol V8 to be phased out.
L461, the third generation Range Rover Sport, is due to enter production in England from mid-2021. It will use MLA, the same modified version of JLR's PLA/D7u architecture as the fifth generation Range Rover. That model is due for launch a year earlier. Both of these will also again offer a plug-in hybrid option and this should be priced at the upper end of the model line-up. Might JLR also begin building the RRS in another country? Aside from the theoretical possibility that it has the capability to relatively easily add it to the line at the new Nitra plant in Slovakia, keeping L461 at Solihull appears to make a lot more sense.
As for how L461 will look, maybe not too different to this.