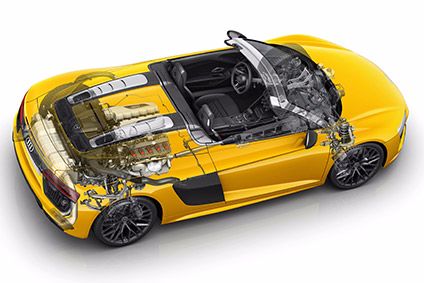 What had once been quattro GmbH became Audi Sport GmbH in late 2016. Motor racing and RS models are the main part of its remit, along with Audi's fastest and most expensive model series, the R8.
Having tried the 610PS version of the V10 in the Coupé last year, the opportunity arose to sample the 540PS 'base' engine in the convertible. Does the much lower cost (from GBP129,335) balance out what could well be a feeling of having been short-changed of 70 horsepower? That's a tricky question to answer.
Both cars are stunning looking, the hard roof body giving you a bird's eye view of the normally aspirated 5.2-litre ten cylinder engine, which is under an access panel in the roadster. Against that, the open-roof R8 has near-perfect lines, whether you're al fresco or covered up.
Things to consider if you do fall for the Spyder include the obvious higher price, plus a lot less space behind the two seats to store things in the convertible and a driving position which is limited for taller drivers. The seat simply doesn't go back far enough for six-plus footers, which would be a shock on a ten thousand pound car. In one which can cost well over a hundred and fifty grand if you tick some option boxes, it's a tragedy. Taller drivers must stick to the coupe, then.
If you didn't know this car's engine was a V10, you may suspect from its sound that it was an Audi in-line five fitted with a massive turbocharger.
One of the many reasons why anyone would want an R8, aside from how it looks, is how it sounds. The 540hp V10 does not disappoint. If you didn't know this car's engine was a V10, hearing it, you might suspect it to be an in-line five fitted with a massive turbocharger.
Does it have the rumble and bellow of an RS 3? It does. But even madder and with more depth. If it were a singer it would be Matt Berninger, whereas the RS 3's five could be John Grant. Burble burble burble. And then away it revs, the bass turns monstrously loud as it thunders up towards 8,000rpm (maximum power is developed at 7,800).
Zero to 62mph takes an official 3.6 seconds and top speed is 197mph, with comparable figures for the V10 plus Spyder being 3.3 seconds and 204mph. CO2 averages are 277g/km and 292g/km. The Combined fuel consumption is near enough to 12mpg for both. Drive either of these 1,700+kg cars with a heavy right foot and you can easily dip below that.
All-wheel drive and some especially wide tyres on 19-inch wheels takes care of any concerns over potential waywardness from the back end. A powerslide can be relatively easy to induce. Dangerous? Nein. Just back off and all is immediately well again. On damp roads, yes, you must remember how much power is under the right foot. Brake hard and you soon see that Audi Sport's dynamics experts have made sure that there is no aquaplaning from a too-light front end.
It really would be quite hard to get this incredibly fast car into trouble at legal speeds (and a bit beyond) unless being reckless. On dry roads, traction from the 4×4 system is exemplary. As for the test car's optional ceramic brakes, these could give you whiplash they are so good.
Does it feel as special to drive as it looks? Yes. Compared to a Honda/Acura NSX, this car looks expensive on the inside. There are some touches which may seem like a gimmick but I liked them. One is the heartbeart ba-dum-ba-dum which sounds when you get in, or just after turning off the engine. Another is a little whir as the bonnet is electrically unlatched half a second before it lifts ajar just slightly.
The interior is snug – too snug for some – and there are cup holder wells on the central tunnel. The landscape format of the Virtual Cockpit's map display makes you think that all instrumentation should be this way. The effect is minimalist and yet everything that you need to see is there in front of you. Sorry Tesla owners and lovers of large screens in the middle of dashboards.
Look ahead and the fuel guage is to the right, engine temperature opposite on the far left, time and outside temperature at the bottom, indicator flashers and various warning lights on the top and visible just below the steering wheel's five-to-one o'clock position. Down but close-by on the narrow centre console is the MMI controller. Once you're used to it, it works very well indeed: crucially, it becomes instinctive to remember where each of the two adjacent NAV/MAP-TEL and RADIO-MEDIA buttons are and which way to pull or push for those respective functions. Which leaves three other buttons: glass rear window up or down, roof up and down, and parking brake. Settings for the ventilation and A/C are spread across three dials and there are two additional nearby buttons for the seat heaters. It all looks purposeful, and nothing is hard to fathom.
The door trims are beautifully styled and the test car's grey-on-grey dashboard, central console, headliner and seat coverings were nicely offset with some blue stitching and silver finishing for the door handles, air vent surrounds, MMI dial and gear lever. Unlike in an NSX, there are cupholders and these have a flip-up cover which is a de facto armrest. Behind you, there are some little shelves which have a vertical, bottom-hinged door. This keeps everything from falling out under heavy braking.
Roof up, it's too tempting not to hit the back window down button, the glass being close to the back of your neck. All the better for inviting tingles.
To start and stop it's a red button to the right of the steering wheel's hub, below this another button activates SPORT for the exhaust pipes (loud, crackling) while on the left side there is another switch to turn off traction control and above this, drive select. This offers a choice between comfort, auto, dynamic and individual.
These settings work. Comfort is ideal for around town or on less than perfectly surfaced motorways but guess what, I liked choosing dynamic every time a clear piece of empty road appeared. Roof up, it's too tempting not to hit that button which drops the glass. This window is fairly close to the back of your neck so all the better for inviting tingles.
Things I wasn't too crazy about: the press car's standard wheels just didn't look very special. Happily, Audi gives you the choice of two other 19-inch optional designs. Damn those extra-sexy ones which are fitted to the plus Coupe and plus Spyder. I would have to have them. You can also choose different colours for the side-blades but for me, the glossy-carbon finish is much better looking than a painted contrast.
One more negative: the lack of a spare tyre. Not even a space saver. The little puncture repair kit lives in the boot, which is obviously at the front of the car, and it's fairly deep but not very wide. That's the only serious issue, and the R8 is certainly not alone among all of its rivals in having no means of getting going again under its own steam if a sidewall is slit. Hello Audi Assist and hello table-top truck I would suspect.
The fact that I am criticising the R8 Spyder V10 for lacking an emergency spare shows how hard it is to find fault with this phenomenal car. Once you've tried both engines, you will want the plus but with the new RWS starting from GBP110,000 as a Coupé, that could even be enough R8 for many potential buyers. Go for the quattro, which has the same 540hp engine and it's a jump to GBP123,680, or GBP132,370 for the as-tested Spyder. For the full 610PS you're looking at GBP138,680 for the V10 Coupé plus and GBP147,370 for the V10 Spyder plus. There are no gearbox options: all have a standard seven-speed DSG, which Audi calls an S tronic.
Roof module – Webasto's innovations
Suppliers of soft-tops have been having a hard time of it since the Great Recession saw sales of convertibles crash, although things are said to be improving in some parts of the world, Europe being one of them. Webasto, which has diversified into electromobility by expanding its presence in battery systems is nonetheless still a leading vendor of sunroofs, panorama roofs and convertible roofs as well as thermo systems.
With weight being an obsession for all OEMs as a way of lowering CO2 emissions in EU markets or extending the number of miles which a vehicle is rated at delivering in the USA, metal tops have fallen from favour. In their place, we are seeing more carbon-fibre or plastic hard-tops, and also, a revival of canvas.
For the R8 Spyder, engineers at Webasto were tasked by Audi to develop the roof module with that integrated rear window mentioned above. The press of a button lets you drive this car in cold, windy, humid or hot weather: lower the glass and let the fabric overhead give protection from the weather while enjoying the music coming from the exhaust pipes. In tunnels, it's fantastic. Then, when the rain or baking sun goes away and the top is lowered, the window can be raised to function as a wind deflector, which it does with aplomb.
The German roof systems supplier says the module it created for Audi's super-convertible weighs 109kg, 44kg of which is accounted for by the layered fabric roof, which is 2kg less than the module on the first generation R8 Spyder. The saving comes from the use of aluminium and aluminium die casting plus magnesium and carbon-fibre components.
Buyers have the choice of black, red or brown to match or contrast with their car's paint. It takes 20 seconds for the electro-hydraulic roof to be raised or stowed and this can take place at up to 50km/h.
Webasto combined seven large component assemblies into a ready-to-install roof module which it delivers to Audi Sport's Böllinger Höfe factory.
Webasto says it combined seven large component assemblies into a ready-to-install module which it delivers to Audi Sport's Böllinger Höfe factory. This large assembly is fitted to the Spyder body on the production line, in a not dissimilar way to the marriage of the engine with the chassis.
What's next for the R8 range?
For now, the line-up consists of two versions of the one 5.2-litre engine: 540hp standard or 610hp R8 Coupé plus and R8 Spyder plus. So four variants. Soon, the rear-wheel drive RWS will be in production, making six. The Rear Wheel Series with a metal top is 50kg lighter than the Coupé V10. Build will be to a combined 999 RWS Coupés and Spyders.
The fact that Audi Sport calls the existing cars 'V10' and puts a badge declaring that on either side of all variants must mean there will be a smaller engine in the future. At one time, it had been assumed that this would be a V8 but now, it seems that instead it will be either a supercharged V6 or perhaps even an in-line five with even more power than the RS 3's 294kW (400hp) 2.5-litre motor.
RS line-up to expand to 20 vehicles
As well as expanding the R8 line, Audi Sport is also looking to launch ever more RS models. The division is believed to have plans for as many as 20 models. Added to the existing RS 3 Sportback, RS 3 Sedan, RS Q3, RS TT Coupé, RS TT Roadster, RS 4 Avant, RS 5 Coupé, RS 6 Avant and RS 7 Sportback, there will be a new RS 5 Convertible and next generation versions of the RS 6 and RS 7 Sportback in 2018. There could also well be additional models such as the theoretical RS 2, RS Q2, RS Q3, RS Q4, RS Q7, RS Q8 and possibly even an RS 8.