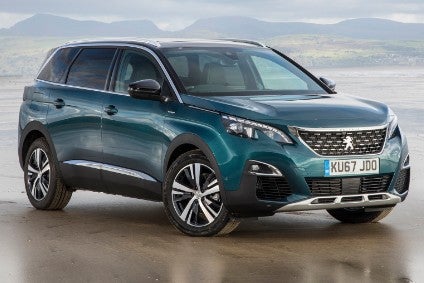 ACEA is yet to release Europe-wide sales data for September but Groupe PSA has been having a trying 2017 in terms of volume. This, it insists, is due to pulling back from low-margin business. That being the case, the new, upscale 5008 should help matters.
With Mercedes-Benz Europe's third most popular brand behind VW and Renault in August and potentially having become number two in September (we'll known in about a week's time), the big non-premium makes are being properly squeezed (see table below).
What's new? What's ahead for 2018?
In 2018, we'll see replacements for the 508 sedan and wagon as well as the next generation Partner.
A facelift for the 308, which has been well received in France, plus the new generation 5008 are Peugeot's weapons for the fightback this year. In 2018, we'll see replacements for the 508 sedan and wagon as well as the next generation Partner (and its Berlingo twin).
Groupe PSA's new 1.5-litre diesel is another novelty right now, and this will be seen in more models across the brands' line-ups, along with an eight-speed Aisin automatic gearbox which is soon to become available in the 5008.
PHEV powertrain?
Claimed to be an SUV, the second generation 5008 was recently shown to the British media and while it looks like one, it's worth remembering that there is no all-wheel drive. That may come later, if PSA is able to find a way to package the existing third rear seat and slung-underneath space saver tyre with an electric rear axle and a battery pack to power it. Can it be done? It might well be that the 5008 PHEV has to be a five-seater. Or lose the spare. Peugeot isn't saying.
A plug-in hybrid system for the closely related albeit smaller 3008 SUV has already been confirmed. That might be enough for the brand's combined coverage of an electrified offering in the European D-SUV segments.
No AWD brings benefits
Being an EMP2 architecture model, the new 5008 has strong links not just to the 3008 but to the 308 too. Think of the 5008 as a longer (4,641mm), restyled-at-the-rear version of the 3008. With seven seats instead of five. Unlike the previous 3008 and 5008, each is marketed as an SUV, even if there is no all-wheel drive. A benefit of that is not only a lot less weight but a flat floor. Ergo the middle occupant of the three seats which make up the second row has no transmission tunnel to position their legs either side of.
One of Peugeot UK's PR team is 6′ 5″ and he willingly climbed into one of the third row seats as well to demonstrate how comfortable taller than average adults may or may not be. It looked tight for headroom in the very back though surprisingly, not as squeezy as you might imagine. No such cosiness in any of the middle row seats. Just space aplenty in all directions. Impressive. The other bonus is even with the final row upright, there's still good luggage room. Definitely more than in the larger and much more expensive Land Rover Discovery.
Sales expectations
Peugeot UK names the Nissan X-Trail, VW Tiguan Allspace, Skoda Kodiaq and Hyundai Santa Fe as the models that its entrant to this segment must take on. The division says it hopes to sell about 5,500 units of the 5008 in CY2018.
Last month in Britrain, the number one model overall was a D segment crossover: the Qashqai.
So many brands have been having a wretched experience in the UK market's D saloon and estate segment, thanks to the domination of this size class by the Mercedes C-Class, plus of course the move to SUVs: last month's best seller was the Qashqai. Nonetheless, Peugeot thinks there is still an opportunity there, and will begin selling the next 508 towards the end of 2018. Expected volume? "Between 3,500 and 4,500 in CY2019" I was told, so combined with what's anticipated from the 5008, there's an estimated potential 10,000 units from 4.4m-4.9m long passenger vehicles.
Peugeot UK says that already, 200,000 units of the second generation Three Thousand And Eight have been sold worldwide. This seems extraordinary when production at Sochaux only began in October 2016, and with sales in China being so low (build also takes place at DPCA's Wuhan 1 plant). During the first nine months of 2017, British registrations of this model totalled 15,800 units, which is a good result when there is so much competition in the segment.
What's a 5008 like for the driver?
Open either of the front doors and it's clear that Peugeot's wished-for move upscale isn't mere wishful thinking. Having said that, if you don't like the tiny steering wheel with its flat north and south poles, and the so-called i-Cockpit dashboard layout from the 3008, the front cabin of the 5008 won't impress either. Some of us love it, and think Peugeot has been brave to go for such a Marmite design philosophy.
The preferences of Chinese owners must surely have played a role in how the car looks, outside, and in.
The inlay of fabric across the dashboard is an elegant touch, I thought, and something we will probably see more of, as so many people turn away from having the interiors of their cars festooned with the skin of animals. Chinese buyers especially are non-too-keen on leather. And as Groupe PSA and its part-owner Dongfeng are hopeful that their new built-in-Wuhan 5008 will help to rescue what is a brand in sales freefall in the PRC, the preferences of Chinese owners must surely have played a role in how the car looks, outside, and in.
If upon entering this SUV you see an interior unlike anything else in its class, to me that's a very good thing. Peugeot needs to make a name for itself as a brand which has state of the art design. That way, it can stand out for good reasons. OK, things such as tail lights which are supposed to make you think of a lion's claws can be laughed off as marketing silliness, but to me, they look terrific, even when not illuminated. At least no-one on the launch accused the tail-lamps or any other part of this model being iconic.
Likewise, accusing the silver and metal-feeling switches on the dashboard of being "piano short cut keys" can be ignored but what really matters is they too look cool. And more importantly, the functions of each can be quickly identified. Forget multiple presses as you explore a touch-screen and take your eyes off the road for a dangerously long time: Peugeot has got this right.
Engines: three- or four-cylinders
Something I was prepared to be sceptical about was the entry level engine. Surely, a 1.2-litre petrol unit with a mere three cylinders would be awful. Endless gear changing, not enough torque and resultant dreadful economy due to the thing having to be revved and revved to get any forward progress. Not so. You can have this 130PS engine with six-speed manual and automatic gearboxes. I tried only the manual and found, to my immense surprise, that here at last is a family-hauling SUV which is fun.
There is a wide choice of powertrains, with C02 averages being as low as 106g/km for the diesels and 117 for petrols.
There is a wide choice of powertrains, with C02 averages being as low as 106g/km for the diesels and 117 for petrols. Translating PSA-speak, the 130PS 1.2-litre three-cylinder petrol engine is called PureTech, the 165PS 1.6-litre turbo petrol is a THP (Turbo, Haute Pression) and all the various outputs of the 1.6-litre diesel (100, 120, 150 and 180PS) are grouped under the BlueHDi banner, as is the newer 130PS 1.5 which has been especially developed for the future Euro 6.2 emissions norms.
Weight starts at only 1,310kg, which is likely why even the smallest engine felt so willing (0-62mph in 10.9 seconds and a 117mph top speed) and I also checked to see how that compares to the top-spec diesel with the eight-speed auto. That one tips the scales at 1,530kg.
You won't find Faurecia's electrically flipping seats in this vehicle, as you will in the Renault Koleos, but when they are easy to lift or drop as they are in the 5008, I find myself wondering would I miss them? You can even extract the third row seats: each weighs 11kg and is quick and easy to pull out and place back in. Remember too that the Koleos might be the same size as the 5008 but in Britain there are no seven-seat versions.
Manufacturing
The 5008 for Europe and the world outside China is manufactured at Rennes-la-Jannais, 350km west of Paris. Depending on how things go for the model in the world's largest market, Wuhan might eventually be building more 5008s than the French factory. It's early days though.
Summary
Having been expecting this to be an underpowered, overstyled crossover with no AWD and therefore not enough grip or guts, I was happy to be proved wrong. The 5008 is my new favourite in the class, especially as it's also good value, with prices starting at GBP24,995. It launches in the UK in January.
Europe's top-ten brands for the month of August, according to ACEA, are as follows (EU minus Malta, plus EFTA):
1. Volkswagen: 102, 324
2. Renault: 58,115
3. Mercedes-Benz: 57,987
4. Opel-Vauxhall: 54,327
5. Ford: 52,742
6. Audi: 49,650
7. Peugeot: 49,632
8. BMW: 48,571
9. Skoda: 48,018
10. Toyota: 42,256