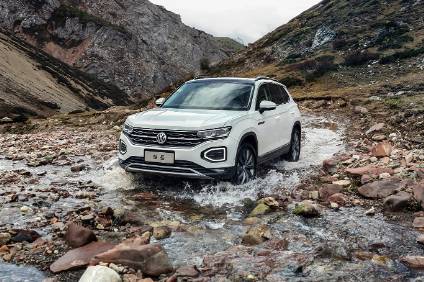 just-auto's New & Future Vehicles Editor, Glenn Brooks, provides a summary update on our latest intelligence surrounding OEM strategies and future new product, extracted from just-auto's product lifecycle database (PLDB)
'One name, two models' applies to quite a few vehicles, the Volkswagen Passats being a good example: one for Europe and another, larger one for China and North America. Nissan is planning to do the same thing, with a future Kicks for India differing from the rest of the world's model in not only size but platform.
In other Volkswagen China news, the Tayron, a special long-wheelbase version of the T-Roc, has just gone on sale. This is FAW Volkswagen's second SUV and it comes with the choice of turbocharged 1.4- and 2.0-litre engines.
Of course when one JV gets a new model, that must be balanced out so SAIC Volkswagen has also started selling a unique SUV: the Tharu. As for the Tayron, this model has been in PLDB previously but now there are more details, all of them official.
One other new Volkswagen SUV has also had its details updated: the T-Cross. Engine details are now listed and there is confirmation that build will take place in Spain, Brazil and China. The smallest VW SUV is front-wheel drive only. Though the platform and wheelbases are identical, the T-Cross is 54mm longer than the Polo.
VW do Brasil, meanwhile, is busy getting ready to start building a monocoque pick-up which is not only for South America but "could conceivably be suitable for other regions", a media statement says.
Palisade has been confirmed as the name of Hyundai's forthcoming big SUV, at least in the US market. Other leaked details include confirmation that HMG's 3.8-litre V6 will feature, and there will be both front- and all-wheel drive variants. The front-end styling is dramatic and includes vertically arranged headlights in pairs of three.
KIA also has a large SUV on the way, the replacement for the Mohave/Borrego. It has just been confirmed that the Telluride, which makes its public debut at the Detroit auto show, will be manufactured at West Point (Georgia, USA). That contrasts with the Palisade, which will be imported to the US from South Korea.
The next generations of the Chevy Tahoe and Suburban as well as the GMC Yukon and Yukon XL plus of course the Cadillac Escalade are coming sooner than some had thought. Each should be new for the 2020 model year and there is a surprise: independent suspension rather than the traditional live rear axle.
PLDB has gained official details of the Skoda Scala. This 4,362mm long five-door hatchback will replace the smaller Rapid and Rapid Spaceback and be on sale in 2019. That length, by the way, makes it longer than the seventh generation Golf.
Geely's reinvention of Proton is starting to gather pace with the news that the imminent Jiaji (codename: VF11) a 4.7m long MPV for China, will be the basis of a people mover to replace the nine-year old Exora.
Another part of the Geely empire has, meanwhile, delayed its plans for entering the US market. Lynk & Co, which has just launched its third model in China, won't make any of its cars or SUVs available in America until 2021. The brand's arrival in Europe remains on track for 2020 though.
Finally, some news in brief:
Geely has another MPV under development, the project code of which is VF12
Dyson says it will build its electric car in Singapore, with the market release set for 2021
China's Beijing Benz JV is about to start selling an extended wheelbase GLC-Class
Another plant will soon be assembling the VW Amarok: Relizane in Algeria
Renault has shifted production of the Twizy to South Korea
Rivian revealed prototypes of its first two models at the LA auto show
Tata has just started making the Harrier SUV at a plant in Pune ahead of a January release
Dongfeng Honda has begun selling the Inspire, a new sedan
Aston Martin's future hypercar (project code: 003), could be called Valhalla
Mitsubishi will be providing the basis for the replacements for the Nissan Grand Livina/Livina Geniss
To find out more about just-auto's exclusive new product database (3000+ models covered) – visit the PLDB info page and take a trial