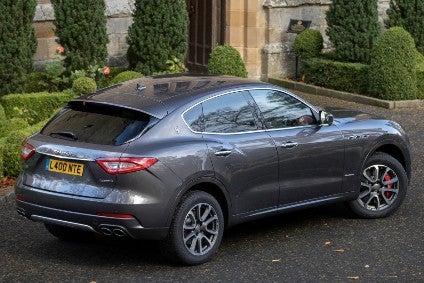 Three and a half years on from its market introduction, Maserati UK has thrown out the former diesel-only strategy for the Levante, expanding and revising the line-up by adding a biturbo 3.0-litre petrol V6.
Global sales down, recovery underway in UK
Much was hoped for from this big SUV and in many ways, the Levante has been a success for the marque. The trouble is, publicly stated sales targets can return to haunt any OEM and in the case of Maserati, it's fair to say that volume has been disappointing, especially this year, with deliveries falling worldwide by 32 per cent. A lot of that reflects the age of other models, several of which are well overdue for replacement.
Reacting to the change in buyer preference which began last year, the British importer is trying to reinvigorate brand sales by expanding the Levante line-up with petrol power. Here, deliveries are down by 31 per cent for the year to the end of April, to 539 vehicles although last month, the drop was only nine per cent (to 94 cars and SUVs).
UK range: three V6 engines
The newish-to-Britain petrol V6 comes in two forms: 350hp or 430hp. Torque outputs are 500Nm and 580Nm, although the 275hp VM Motori diesel trumps them both with 600Nm. The Levante diesel isn't nearly as fast as the petrol-powered versions though, its zero to 62mph time being 6.9 seconds compared to 6.0 (350hp) or 5.2 (430hp). Top speeds are variously 142, 156 and 164mph.
The diesel remains the least expensive way to own a Levante, prices starting at GBP58,370 compared to GBP61,490 and GBP72,590.
Biturbo V8 too but not for Britain
In the USA and certain other markets, you can also now order your Levante with a biturbo V8. The 3.8-litre engine produces 550hp or 590hp depending on whether it's the GTS or Trofeo. Apart from the diesel, all are built by Ferrari, although the name on the cam covers says Maserati.
The version I borrowed was the mid-range 350hp petrol V6. Like the others, it comes as standard with four-wheel drive although it's possible to play with electronic settings which send the majority of torque to the back axle. Surprisingly, there are no standard paddle shifters for the eight-speed transmission, at least there aren't on the GranLusso model grade but at GBP275, they're not too expensive an extra.
Trident badges aplenty
Driving any Maserati is not something many people get to do so the obvious question would be how special does it feel? Certainly you can't mistake this for other luxury brand SUVs from any angle. Especially at the front end, where an enormous grille allows you a clear view of opening and closing thermodynamic/aerodynamic shutters. There are a number of silver trident badges adorning the vehicle, adding to the exclusive, exotic appeal.
Pneumatic springs and Skyhook dampers
The Levante has air suspension which the driver can play around with via a centre console switch. The default setting isn't overly supple; instead it's a really good compromise between the comfort people expect in a big, luxury model and the enthusiast-driver preferences which anyone buying a Maserati wants. Perhaps there's a touch too much lean sometimes but that can be corrected via a button which firms up the dampers. Should you want to hear the engine become a lot more burbly, then an adjacent switch marked Sport delivers that too.
Zegna silk seat inserts
There is a genuine low volume, bespoke look to the interior even if a certain things are clearly taken from other FCA SUVs such as the Jeep Grand Cherokee. Those who like coloured leather will love the Levante and in the GranLusso trim, this is mixed with contrasting Ermenegildo Zegna silk on both seats and door trims. The press car was bedecked in crimson and grey and it looked classy. With 5,000 miles showing, there was zero sign of wear, which is even better news.
MY19 changes
A few changes have been made for model year 2019. These include a range of new alloy wheels and updates for the Nerissimo package which has gained specific 21-inch dark-finish rims. This option is now available in eight body colours (seven are new) and combines black elements (grille, skid plates, window surrounds and door mirrors) with darkened tail lights and exhaust tips.
Another addition is the option of Adaptive Matrix LED headlamps, which it is claimed can illuminate the road as far as 195 metres ahead: 55m further than equivalent Bi-Xenon lights.
Summary
In some ways, Maserati's careful marketing of the Levante and its other models has been too successful. Everyone I showed the car to over the course of a week guessed it to be more expensive than it is, which is something that also apparently comes up in the marque's own research. Not a bad problem to have by any means.
If the FCA division can work on getting the message out that you can have a big Maserati for under sixty grand, then the Levante may in future take more sales away from those who instead buy a Cayenne, GLS-Class, Q8 or Range Rover Sport.
Powertrain changes
Speaking at Ferrari's first quarter earnings update with analysts, Louis Camilleri confirmed that the supercar maker would eventually be winding down its engine-supply deal with Maserati. At the moment, that includes not only the turbocharged 3.0-litre V6 and 3.8-litre V8s but also an older 4.7-litre V8. What will replace them? Ferrari's CEO wouldn't comment on that, stating only that the changes would take some time and that supply will continue into the early 2020s.
Future models strategy
Maserati's former CEO Harald Wester returned last October and so far at least, he hasn't made any statements which would alter anything announced at the so-called 'Capital Markets Day' which took place at Balocco, Alfa Romeo's test track eleven months ago. Details of Maserati's future models strategy were spelled out thus:
Alfieri to be the name of the replacements for the GranTurismo and GranCabrio rather than an additional, cheaper model
GT and GC will likely finally cease being built later in 2019 – the first of the two dates to 2007
Ghibli and Quattroporte will be replaced
an emphasis on electrified powertrains with the Alfieri to be electric
Porsche Macan rival still part of the brand's future, now expected some time between 2020 and 2022
Despite the claims made at the Balocco briefing, there will surely be one or more petrol-engine variants of the Alfieri. The car itself will likely be seen for the first time in public at the 2020 Geneva motor show.
A mid-life facelift for the Levante is also due next year. It might appear at the Beijing or New York auto shows in April. A plug-in hybrid powertrain could be announced at the same time: FCA told the media last June that this is under development but gave no date for its introduction.