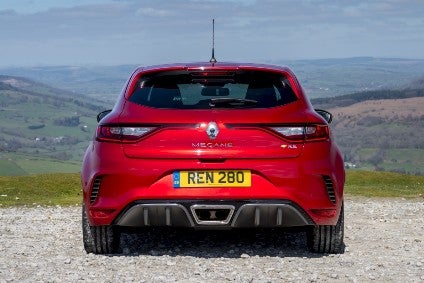 The depth of engineering excellence in Renault's Mégane R.S. derivatives prove that the basic car is deserving of a lot more success than it enjoys.
The prevalence of the Golf in general and the high-priced GTI in particular prove that it's possible to make good margins in the European C segment. Groupe Renault must wish it could crack the magic formula that would make the Mégane even half as popular as VW's super-seller.
In common with the Opel and Vauxhall Astra, the BFB series Mégane is a model which deserves to sell way better than it does. While the soon to be replaced X98 Clio climbs the sales charts, getting ever closer to Europe's number one model, the Golf, Renault's C segment equivalent is only moderately popular. Why?
Strong-ish in France but not so much elsewhere
At home, the Mégane has always been a solid performer for Renault. If only it could emulate the success of the European market's number two best seller. For the five months to the end of May, Clio deliveries were up by 5.3 per cent to 153,577 units compared to the equally aged Golf's 13.2 per cent decline to 183,870. And the Mégane? Alas for Renault, with sales numbering 55,878 it lagged the Focus (108,464), Mercedes A-Class (84,169), Peugeot 308 (67,462), Audi A3 (62,589), Opel/Vauxhall Astra (60,145) and SEAT Leon (59,541).
Peugeot might be on the rise but Renault is still number one in France. Year to date over the five-month period, the totals are 169,571 and 167,652. In the C segment, the 308 is the market leader but this class is relatively small compared to the B segment as the Peugeot's tally of 25,123 cars shows. Its Renault rival is the class' number two, 1 January to 31 May deliveries being 18,726. And the Golf? The French have never been too fussed about it as the YtD tally of 12,259 registrations and position 22 on the sales charts shows.
The CO2 issue for all hot hatchbacks
Renault isn't giving up on the Mégane; far from it. We're at or maybe even past the mid-point in the current model's life cycle, which of course means a facelift, and there will soon inevitably be a raft of engine revisions too as Euro 6d approaches. Not to mention fleet carbon dioxide emissions standards moving to a mandated 95g/km by 2021.
Getting average CO2 levels down means introducing PHEVs for many car makers. Groupe Renault is one such OEM which is planning to offer what it will market as E-Tech Plug-in vehicles. There will also be hybrids (the future Clio E-Tech) and of course the Zoe, an EV.
An E-Tech future for R.S. cars?
Renault announced plans for plug-in hybrid versions of the Mégane and Captur in October 2018, on the eve of the Paris motor show. As for the timing of the cars' release, this was stated as being in 2020, as follows:
"Renault also confirmed its plans to further electrify its range in its 2020 product refresh cycle, offering hybrid on Clio and plug-in hybrid on Mégane and Captur, giving consumers the possibility to go electric in the models they know and love. e-Tech, an innovative, 100% Renault in-house technology, enables Renault to offer hybrid versions on B and C segment models".
The just-announced Captur E-Tech Plug-in features a turbocharged 1.6-litre four-cylinder petrol engine and two motors. The capacity of the battery pack is 9.8kWh. Renault claims an EV range of up to 45km or 28 miles and the standard transmission is a CVT. The Mégane E-Tech Plug-in is yet to be announced so we don't yet know any details of its powertrain but it wouldn't be too surprising if it has identical or only slightly different outputs.
All of which brings us to the topic of fast C segment hatchbacks. Are they an endangered species? Officially, at the moment, no. Yet inevitably there will probably be at least a couple of entrants which evolve into hybrids or possibly even PHEVs. A car I recently thrilled to having in my temporary possession for a week has a CO2 average of 181g/km, which while fine by today's standards, will start to look excessive by the early 2020s. Maybe the best idea then is to fully enjoy cars such as this one – the Mégane Renault Sport 280 – while we can, especially as if hybridisation goes mainstream in the hot hatchback class, it won't be cheap.
Priced from less than GBP28,000
Priced from GBP27,835, the 280 version of the fast Mégane looks like first rate value for money. The test car topped out at GBP35,585 though, thanks to extras such as metallic paint (GBP1,300), Cup Chassis pack (GBP1,500), Alcantara upholstery (GBP1,200), a Bose sound system upgrade (GBP800), Brembo brakes (GBP900) and so on.
Those three digits in the version name refer to the power in PS, which translates to 206kW for those of us who were educated with the metric system, and torque is 390Nm or 288 lb-ft. The official WLTP number for fuel consumption is 35.8mpg. My 28mpg was more to do with some at-the-speed-limit motorway trips and quite a lot of B-roads. Well, wouldn't you?
V-Max: almost 160mph
The 280's gearing is perfect, with first being lower than I thought it might be and sixth fairly high, the effect being to believe that mid thirties for consumption, if not 40mpg would surely be realistic if you drove the car as you would an ordinary Mégane. It will rocket to 62mph in 5.8 seconds and yet it feels and sounds faster. No surprise to see the quoted top speed being as high as 158mph.
You do get a bit of steering tug if the throttle is mashed but nothing like what any of us would have expected from a front-wheel drive car with this much power and torque back in, say, the 2000s. It's eager yes, but not tiresome in terms of feeling as though the throttle is on a hair trigger or just as bad, that that Cup Chassis suspension might give you a sore back. Nothing could be further from the truth. There is hardly any body roll, which makes roundabouts devoid of other cars a satisfyingly grinning joy and somehow, even at normal in-town speeds, the way the suspension does its job, you almost forget how firm the set-up is.
Four-wheel steering seals the deal
Some might say that the Mégane is showing its age a little in parts of the interior. The central screen is still fairly big compared to those of many other C segment models and the portrait format looks good. We all know how well the Mercedes A-Class is selling but would I want one over this Renault? I'm not so sure. There's a lot of gear for the money and the icing on the cake is Renault's 4Control four-wheel steering system. In short, it just works. Brilliantly. And after a week with this car, my curiousity about how good the 300PS and 420Nm Trophy might be only became stronger.
What next for Renault Sport?
With 2,500+ high-margin sales in H1, Alpine is proving to be an ever more convincing stroke of genius for Groupe Renault. What though of Renault Sport models? Will this sub-brand survive or might Renault be thinking it makes more sense to evolve the BFB series R.S. Mégane and an R.S. version of the new BJA Clio into Alpines? That might make sense but there again there has to be a fair bit of brand equity in Renault Sport: would the parent company really throw that away?
The Mégane itself has probably three and a bit years of production remaining, the fourth generation five-door hatchback having entered production at its first plant, Palencia (Spain) in November 2015. Which is why we know that a facelift cannot be too far off.