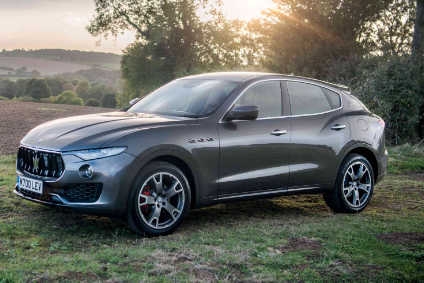 It's been a long time coming but Maserati's first SUV is now being rolled out across global markets. Right-hand drive production started recently with vehicles for the UK headed to showrooms in the coming days. Here, with 96% of the car's segment being diesel, there will be only one engine, a VM Motori 3.0-litre V6.
The R&D and manufacturing stories
As we know, the former Chrysler Group was originally tasked with rebodying the Jeep Grand Cherokee to create an SUV for Maserati. Build would be alongside the GC at the Jefferson North plant in Detroit, Fiat CEO Sergio Marchionne told the media at an event in November 2010. He also stated that the vehicle would be likely to use a Ferrari V8.
In November 2012, the Fiat and Chrysler CEO reportedly told investors that the vehicle would instead be built "in Italy". This was eventually (September 2013) revealed as meaning Mirafiori, as had been expected.
For reasons of appearing to save money (in the short term), the Fiat Punto, which once sold in the hundreds of thousands a year and is still made at Mirafiori, has been allowed to become older and older. Most Europeans outside Italy don't even realise this now eleven year old car is still built, something which equally sadly applies to the plant's other product, the Alfa Romeo Mito, a sprightly nine-year old by comparison.
Mirafiori was an easy place to choose as the location for a new model which, if all goes well, will be built at the rate of 50,000 units a year. Production commenced in February and has been slowly ramping up, RHD cars most recently having been added. Vehicles for the USA are on their way there, competitively priced, from $72,000.
Two Italian V6 engines, neither built by Maserati
While North American countries will receive only the Ferrari-built 3.0-litre turbo gasoline V6 (350hp or 430hp), in the British Isles, the diesel which won't be exported across Atlantic, is the only V6 we can buy. This is also sourced from an Italian firm, in this case VM Motori.
The 275hp (202kW) 2,987cc biturbo diesel gets this 2,205kg SUV to 62mph in a brisk 6.9 seconds, allows a top speed of 142mph and delivers a CO2 average of 189g/km. The Combined consumption is officially 39.2mpg but as the on-road driving time during the press launch was just an hour or two, there was no opportunity to check that. Torque? That's 600Nm, which is good but not as good as the 740Nm of the BMW X5 M50d and other, admittedly more expensive rivals.
You say Le-VANT, I say Le-VARNT? We all say Quattroporte platform
Back to our recall of this car's gestation. At the Paris motor show in September 2012, Fiat stated that the model's name would be Levante, after the Via Emilia Levante in Bologna where the Maserati brothers originally envisioned the automaker. The model had for a time been expected to enter production in mid-2014 but series production at Mirafiori was delayed for what became almost two years.
Rather than being based upon the Mercedes-derived Jeep Grand Cherokee, the 'Le-VANT-ay' as Maserati PR team's taught me to pronounce it, was engineered using the same platform as the Ghibli sedan, which itself was based on the longer Quattroporte. The present generation of the company's biggest four-door car came onto the market in early 2013, followed by the Ghibli only a few months later, so this platform is still fairly contemporary.
Chassis dynamics
Peter Denton, who heads up a division called Maserati North Europe, says the Levante has the same basic suspension systems as the Ghibli, but with obvious adaptations for the additional stroke that an SUV requires.
The pneumatic springs have been tuned to be stiffer than they are in the sedans, given the higher centre of gravity. It is claimed, incidentally, that the Levante does in fact have the lowest CoG in its class. I asked Peter Denton which vehicles that means to his employer and the Cayenne, Range Rover Sport and BMW X5 were nominated.
Aluminium and magnesium
Most manufacturers now make impressive sounding statements to the media about weight saving when a new model is presented. So it was with this new car. The door skins are aluminium, as is the bonnet/hood and tailgate, with magnesium used for the scuttle panel which sits between the dashboard and engine bay. By the way, I did my own checks and the Ferrari-engined cars available in some countries weigh in at 2,109kg so call it a 100 kilo saving over the diesels.
Denton notes that Maserati wanted not just to save fuel and have the best possible CO2 numbers, but also give this large and heavy 4×4 good balance. It has succeeded, with the handling making it feel like a smaller model, thanks in part to what is said to be 50/50 distribution of the mass from front to rear.
The air suspension has a special trick at higher speeds. When 170km/h is reached, the body is lowered to 175mm from the ground. If you buy one of these cars, that's a great fact with which to bore or impress your buddies but don't forget to use the proper name, which I am sad enough to think sounds pretty cool: 'Aero 2' mode.
The chassis has five heights as well as one for parking, which is meant to make entry and egress more convenient. You can only activate this level below 25km/h. Parking is very easy as the views out are good and the sensors not annoyingly overly reactive but they do go loudly flatline when you need them to.
Not quite as large as Italy's national debt
The turning circle is 11.7m kerb to kerb. I should also mention that there is abundant room in the boot (580 litres) and rear legroom is distinctly Business Class. Despite a 5,003mm long body, there is no seven-seat option. Perhaps that comes later, or maybe in a long-wheelbase model? Looking up some stats, I can confirm that the 5+2 Range Rover Sport is 4,850mm long, while the Volvo XC90, the third row seats of which can accommodate adults, is 53mm shorter than the Levante. The Mercedes GLS, also a seven-seater, measures 5,130mm, and the Cayenne, which like the Maserati comes only with two rows, is just 5mm longer than the RRS.
The X5, Range Rover Sport and Cayenne are the top three models for enthusiast drivers but the new challenger isn't far behind them. Aside from well weighted steering and beautifully balanced air springs, what makes this car so responsive, even on wet Cotswolds roads, is a six-plate wet clutch mechanical limited slip differential. There is also side-to-side torque vectoring for the rear wheels, while that LSD can, it is claimed, send up to 50% of the available drive to the front axle when required. In normal mode, the Levante cruises round with 90% of drive going to the back tyres. Hit the OFF ROAD button, and this changes to 80/20 rear/front bias.
Better in mud and rain than the Azzurri
Surprisingly enough, Maserati GB was very keen for us to try its new model in some especially sticky looking mud (on private land). Was that fun? Of course not. There was absolutely no joyous laughter coming from the driving seat I was positioned in. Wow, what a hoot to swing the tail out of a 5m long SUV and feel the electronics help me back into line, all the while with steering which was anything but the vague arrangement of a body on frame 4×4 such as a Land Cruiser or Patrol.
Off-road, there was zero kick-back through the steering wheel, nothing creaked as the car rocked from side to side in ruts, nor was there a vague but worrying burning smell – older readers will understand that would once have been sadly predictable when pushing an Italian performance car towards its limits. The Hill Descent Control did its job perfectly with none of the often alarming juddering which often came standard with older systems on some allegedly 'premium' 4x4s.
Is it as good in the mud as a Cayenne or RRS? No it's not, but there again there are no overly sophisticated electronic diff locks or even mud and snow tyres. I was sad to think how few Levante owners will ever discover just what a hoot their car is when given a hard right press of the throttle in a damp field. Still, if Maserati hadn't provided the opportunity to let us have some silliness we ladies and gents of the fourth estate might well have incorrectly surmised that the Levante is rubbish off road. It's far from rubbish; in fact it's extremely well engineered and very, very safe and responsive.
VM stands for Very Medodious?
You will of course want to know how the engine sounds. Well, I couldn't make it emit as fruity a tone as what a Volkswagen Group V6 diesel can be convinced to do via some MMI-selected electronic trickery. It does sound good, but not…shall we say, rorty.
Would that the UK importer could find a way to justify bringing in even some small numbers of the 350hp or 430hp petrol V6 but for the moment these have been ruled out. In Italy, there is a 250hp VM Motori diesel which helps with a tax threshold but we won't be getting that one either.
All engines are linked to ZF's 8HP eight-speed automatic transmission and the four-wheel drive system is branded 'Q4', just as it is in other Maseratis.
Big in Britain
The UK might well become this new SUV's third best market – Peter Denton says either China or the USA will be number one but Maserati isn't sure as yet – and certainly the brand could do with a handy sales lift here. The SMMT's data show me that registrations plummeted by 34% in October to only 79 cars and YtD numbers were down by 7% in a rising market, to 1,191 cars. I asked Denton why.
"Sales performance has been affected by the aggressiveness of our competitors". He wouldn't name names but looking again at the data I wrote down and took with me to the media launch, Audi is on 153,070 deliveries for the year to the end of October, while BMW has 152,197. Mercedes-Benz, which often has the C-Class in the top ten, is further back, on 148,226. November and December will be great months to enjoy a haggle at BMW and Audi dealerships I would imagine. Some might well say in the final few days of each of those months but I couldn't possibly comment on that.
Maserati UK, meanwhile, is claiming that the recent dip in sales is also partly a supply issue, as the brand now has a model year change around the tenth month of the year. This is true, with updated versions of the Ghibli and Quattroporte announced at the Paris show. This includes a new infotainment system for both, 20 more horsepower for the Ghibli's petrol engine and a facelift for the bigger of the two cars. The Ghibli will probably have a makeover in 2017.
How is next year looking then? Peter Denton is clearly excited by the opportunity presented by having a new model in a hot segment. His main problem will continue to be the perception that Maseratis are more expensive than they are. What a problem to have. But it's a real issue. So the marketing message will continue to gently dispel the myth that Maseratis cost upwards of a hundred thousand pounds, which many people continue to think.
"I anticipate we'll be in the region of 2,800 deliveries in 2017, of which 50% will be the Levante", Denton says. When I asked would the end of GranTurismo and GranCabrio production have much of an impact, he didn't think it would be too much. The last cars will soon be delivered to UK buyers, he added.
Why not keep the big GTs in production for a while longer, especially given how undated their striking styling still is, despite the coupe having been around since 2007? "It's the infotainment systems, mainly," Denton declares. "The technology is out of date and can't be easily changed. But in terms of how those cars look and sound, they are still every inch a Maserati".
The opportunity
The tagline for the Levante is 'The Maserati of SUVs' which is a clever way of getting not just the model name noticed and talked about, but the brand too. I would expect to see a steady addition of dealers taking on the franchise in many countries throughout 2017. Certainly, the product is competitive against what are state of the art rivals even if the Cayenne in particular is now not so fresh. The Panamera's interior has had the unfortunate result for Porsche of instantly dating that of its largest SUV. The BMW X5 and Range Rover Sport are also no longer young.
One fact which sums up Maserati's first attempt at a production SUV is how much fun it is to drive. The steering is well weighted, if perhaps not as close to perfect as that of the Porsche, and you could possibly turn your nose up a bit and say you've seen that overloaded single column stalk in the Chrysler 300 and Jeep Grand Cherokee. The touchscreen is familiar too.
What cannot be faulted is the build quality and availability of safety systems such as forward collision warning, ACC with stop and go, ;lane departure waning and so on. If you drive an XC90, Q7 or the other 5m long premium SUVs, pretty much everything you take for granted is there in the Levante.
The fifty four thousand pound (plus option packs) question
Would I have a Levante over a Cayenne? As my beloved V8 diesel is no more in the big Porsche, I could well be tempted. But on those rare occasions when a triple turbo BMW X5 M50d, Audi SQ7 RDI or RRS SDV8 burbled away beside me I might want to be unfaithful. How extraordinary that a Maserati is suddenly the sensible, most cost efficient choice in this class. With the torque on offer, it's an 8.5 out of ten car, with perhaps another 100-200Nm and a bellowing exhaust like the Audi's it would be a 9.5.