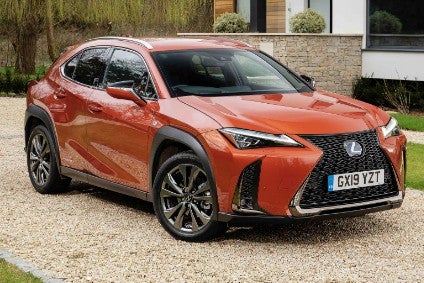 While rivals pursue low CO2 numbers via plug-in petrol-electric powertrains, Toyota keeps refining what it terms 'self-charging hybrid' systems. That effort is paying off, especially for Lexus, which is making sales gains in many markets. In hybrid form, the brand's latest additional model offers a convincing alternative to other C-premium crossovers.
Expanding segment
Time was when the BMW X1 had much of the C-crossover class to itself. Now, that model has grown a little in size, while Audi entered the size category below it with the 4.2m long Q2.
One of the most successful vehicles in the 4.3-4.5m premium SUV segment has of course been the Range Rover Evoque, recently reinvented for a second generation and ready to take on all manner of rivals. JLR also offers one other choice: the Jaguar E-Pace. Most of those alternatives didn't exist back in 2011 when the original Evoque arrived, some two years after the X1 had appeared. Cars such as the Mercedes GLA-Class and Volvo XC40 are now selling strongly, while you could also make a case for the VW T-Roc to be included in this class. Lots of choice for buyers then.
TNGA-C platform
Toyota studied the C-premium crossover/SUV segment for many years, carefully planning its entry, while at the same time wondering what to do about the CT 200h. More than eight years after it first appeared, the hybrid-only hatchback is still available, although no longer in North America. There, the new UX is the effective replacement, the C-SUV being a recent arrival and already doing well, its year-to-date deliveries in the US market exceeding 6,600 units at the end of May (sales started there in December 2018).
The UX, which is 4,495mm long, was revealed at the 2018 Geneva motor show. Eighteen months earlier, Lexus had displayed a two-door design study for an SUV in this size class at the 2016 Paris motor show. Those letters, incidentally, are said to stand for 'Urban Explorer'.
Aluminium and composite panels
The model shares a platform and many components with the Toyota C-HR. Even though they have a common wheelbase dimension, they share no panels and the Lexus is 150mm longer. And while the European markets C-HR is built at Adapazari in Turkey, the UX for all countries is manufactured in Japan by Toyota Motor Kyushu.
Something else which differentiates the UX from the less expensive Toyota is a body which is constructed mainly from lightweight materials. The tailgate for example, is moulded from composites while the doors, bonnet and wings are aluminium. The UX hybrid is far from being light though, tipping the scales at between 1,540 and 1,620kg depending on model grade. The low-mass panels are no doubt there to offset the weight of the battery pack.
Britain: hybrid-only UX range
The UX 250h is the model's only petrol-electric variant. There is also a non-hybrid, the 2.0-litre UX 200, although it isn't offered in Britain. Toyota has filed patent applications for a UX 250 too but so far it hasn't made that public so we don't yet know what engine is planned for that version.
Another application has been made for 'UX 300e': that might become Lexus' first electric model but again, neither Toyota nor Lexus division has said anything about this. Speaking to reporters at the Shanghai auto show in April, Lexus International president Yoshihiro Sawa confirmed that the brand would have at least one EV but would not give any details.
Hybrid powertrain specifications
Powering the all-wheel drive UX 250h is a 1,987cc four-cylinder engine plus two motors which produce a combined 135kW (184hp DIN). The hybrid system's battery, which is located below the back seat, comprises 180 1.2V cells, giving 216V and 24kW.
Buyers can choose from front- or E-Four electronic all-wheel drive with prices starting at GBP29,905. A CVT is standard for both. Lexus says 0-62mph takes 8.5 seconds, top speed is 110mph, the CO2 number is 94-97g/km (NEDC) and Combined economy is 49.5-53.2mpg (also NEDC).
Toyota's engineers have done a remarkable job of making this vehicle such an an economical one. All that energy harvesting under braking and low-speed running on the power stored in the battery pack clearly count for much. It's easy to see consumption in the low fifties and even running at the speed limit or a bit above it doesn't mean a plunge in economy as it once did with Toyota's hybrids: the design team made the UX not only distinctive to look at but its body cleaves the air with a minimum of drag.
The usual angular Lexus style is also found in multiple details within the cabin of the UX 250h. That includes the door trims plus upper and lower elements of the dashboard. The haptic touchpad for the navigation system and other controls is another unusual touch and while it isn't to everyone's liking, you do soon become used to it.
As with all hybrids, this one is near-silent at low speeds, which is another reason why you tend to see such low fuel consumption: most owners will inevitably adapt the way they drive, easing away from traffic lights and keeping one satisfied eye on an economy meter which stays well clear of the high consumption zone. Similarly, a hard press on the throttle pedal at higher speeds delivers little in the way of extra noise yet you soon see that a lighter application brings rewards. In some ways, it's a lot like driving an electric car and certainly, the silence is addictive. For me, in this car, even central London became a low-stress environment.
Lexus UK ahead of Porsche
After a week with the UX hybrid, initial respect grew to a strong liking for this car. You have to admire Toyota for sticking with petrol-electric hybrid technology when for years, it probably held back Lexus sales in European countries with tax systems favouring diesel. That era is now gone and the brand has got itself a good niche from which it can expand.
In Britain, Lexus is doing well, its sales being up 11 per cent to 6,233 units over the five months to the end of May. OK, so that's only a tenth of Audi's volume but year-to-date, Lexus, the quiet achiever, is now ahead of Porsche (5,731 due to WLTP compliance issues and May sales down by double figures still). That pecking order will inevitably shift back to the way it had been yet it's worth dwelling on Lexus' achievement and the fact that as word gets out about the UX, the brand will likely become stronger still.