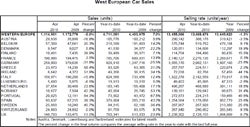 Car sales in Western Europe declined by 5% in April over last year according to data released by JD Power Automotive Forecasting. Sales in Germany were down by a hefty 31.8%, reflecting the impact on sales of the loss of the temporary scrappage incentive there.
However, JD Power said that Western Europe's seasonally adjusted annualised rate of sales (SAAR) was 13.5m units in April – a slight improvement on the March level.
The firm also said that Germany's April sales decline versus last year was a slightly better result than expected. A German selling rate over 3m units represents a relatively rapid recovery from the post-incentive slump in sales, JD Power said, 'though we expect that this level of demand may prove hard to sustain without large OEM discounting'.
JD Power also warned that that the near future will continue to see demand come under pressure as the positive impact of scrappage incentives is further removed.
JD Power forecasts that the West European car market in 2010 will decline by 8.1% to 12.54m units as the removal of temporary scrappage incentives works through. The forecast for 2011 is for 12.5m units – a flat market on this year, but a market that should be growing by the second half.
Analyst Pete Kelly told just-auto that the eventual recovery to underlying demand in Europe will be a gradual one and he cautioned that there are some downside macroeconomic risks that have grabbed more attention lately.
"We are concerned about macro risks to European economic recovery, particularly the consequences of dealing with sovereign debt and the impact that could have on business and consumer confidence," he warned.
"But in terms of real underlying demand, we still believe that we should hit the bottom this summer with a gradual recovery thereafter. On our current assessment 2011 will not be a strong year, but there will be some growth and the SAAR may be back up towards the 13m level by the end of next year," he said.
That's still some way off the near 15m-unit market peak seen in 2007, but the industry in Europe would undoubtedly be relieved to see the running rate for the car market getting back up towards a sustainable 13m units next year, on the back of an improving economic situation.
Car sales in Germany and Italy are now running at their 'real' level now that scrappage incentives are gone, JD Power said.
For the UK and France, however, incentive removal still implies weaker sales in the coming months. JD Power said. In the UK, this is likely to be increasingly evident after the May result, while in France JD Power expects the downshift to be more 'subtle'. This is in part because the French scrappage scheme has not, as in other places, been terminated but, instead, is being reduced in stages.
It is also a result of discounts by OEMs in France where "we will continue to match the full EUR1,000 scrappage scheme" offers are being made, but financed by the OEMs themselves, rather than the government.
In Spain, the scrappage scheme is scheduled to terminate in the second quarter, though lobbying for renewal has already commenced.
The UK market continued to enjoy a sales boost from the scrappage incentive which officially stopped taking applications in March — though registrations under the scheme are likely to continue through May, JD Power said. The SMMT said last week that some 8% of April car sales went through on scrappage scheme vouchers.
Dave Leggett