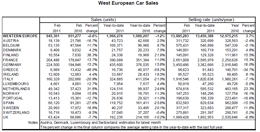 The car market forecast analysts at JD Power have just raised their forecast for the Western European car market on the back of particularly strong sales in Germany.
The market is now projected to show a small gain of a little less than 1% in 2011 – it was previously projected to fall back this year due to the distortion caused by scrappage schemes.
JD Power Automotive Forecasting analyst Jonathan Poskitt says that there has been a step-change to the selling rate in Germany reflecting a very strong economy.
"Germany's economy has been performing very well for some time," he says. "And that underlying strength is now coming through in growing business and consumer confidence."
The German car market in February was up by 15.2% year-on-year and running at a seasonally adjusted annual rate of 3.45m units. That running rate is the best rate since its scrappage scheme was running in 2009. Poskitt says that prior to the scrappage lift, you have to go back to 2006 to see the German car market as strong.
"February 2011 was the second month in a row that the selling rate was particularly strong and contrasts somewhat with the rate late last year when the market was struggling to achieve 3m a year," he says.
"While the severe weather experienced in December may have flipped some sales into the early part of this year, we believe that German car demand is high due to economic fundamentals. The manufacturing sector is very strong indeed, helped by very buoyant exports. And unemployment is at its lowest level since the early 1990s. Confidence levels are very positive and there has certainly been a step-change up to car demand in Germany so far this year."
JD Power now forecasts that the German car market will reach 3.4m units this year. Just last month JD Power and others were cautiously projecting 3.1m units. If the German car market hits 3.4m units that's growth of 16% and takes Germany's car market back to pre-crisis levels.
Elsewhere in Europe, national markets are showing a much more mixed picture reflecting the ending of scrappage schemes, less strong economic performance and generally much weaker consumer and business confidence. Economic recovery in some countries is further back, fragile and/or weak. Germany, for now, appears to be the engine of growth that can help to lift the eurozone economy out of its post-recessionary stupor.
But the bright spot that is Germany's economy could be dulled by current concerns that are rather difficult to ignore. Globally, there are issues with inflationary pressures and with the uncertain impact of a rising oil price caused by ongoing geopolitical events in the Middle East and North Africa. If the global economy eventually suffers, those export orders that are benefiting companies like Daimler and BMW, as well as a host of engineering companies involved in areas like machine tools, could dry up.
Clearly, the outlook for car sales across the world would be subject to downward revision depending on the magnitude of any 'oil shock' and its consequences for the global economy.
Poskitt is philosophical about the difficulties this presents for forecasters. "Yes, of course, there is a potential headwind if oil prices climb rapidly in a very short period of time. But there is a great deal of uncertainty on that and where we will be next week, next month, in six months' time – and where that in turn shakes out for economic growth.
"We are keeping an eye on it, of course, but there is a very high degree of uncertainty right now over possible future pricing ranges for oil. If the economic projections change, then of course, the outlook for car markets changes also.
"But right now, in Europe – and especially in Germany – things are actually looking a little better than we might have expected a few months ago."
See also: EUROPE: Western Europe car sales down 0.6% in February