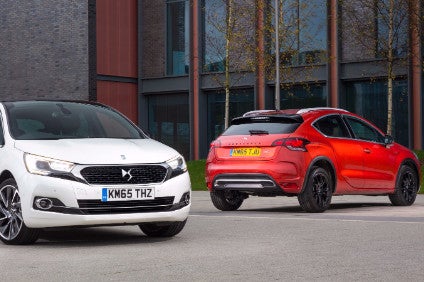 The DS4, as you'll see from older ones sporting the deux chevrons, was originally launched in 2011 as a Citroen with DSign, DStyle and DSport trim levels and a range of petrol engines (VTi120, THP155, THP200) and diesels (HDi 110 and HDi 160) with a mix of five and six-speed manuals and an automated six-speed manual. At the end of 2014, the delightful new, three cylinder, 1.2-litre PureTech 130 engine was introduced and plans were announced for DS – also now wrapping up the DS3 and DS5 – to become a stand-alone brand by the end of 2015. After a Frankfurt show debut last year, came the DS4's mid-life update by year-end – three new trim levels called Elegance, Prestige and Crossback (a Brazil market-style, higher riding SUV wannabe) and a stack of new engines – petrol THP165 and 210 replacing the 155 and 200, a whole new range of 'BlueHDi' 120, 150 and 180 diesels (urea injection with Selective Catalyst Reduction and particle filter to meet Euro VI emissions regs), six speed manual and stop and start standard on everything and the option of a 'proper' six-speed Aisin automatic transmission for several versions, both petrol and diesel. Time The Family and I had a look at a DS, then.
Collectively, just-auto has, of course, had exposure to the DS brand, but I came to the DS 4 Crossback BlueHDi 120 manual cold – I've seen 'em but never taken a close look or had a steer. First impressions were favourable enough – attractive looking, family sized hatchback with gorgeous alloy wheels, a few SUV styling cues (raised ride height, which the kids, already elevated by child seats love; black wheelarch extensions and tailgate spoiler) and plenty of equipment. These aren't particularly cheap cars – 'mine' was GBP24,015 (US$34,500) with GBP520 metallic paint option – but they all come pretty well loaded with even the 'base' Elegance having items such as auto lights and wipers, foglamps with cornering function (works a treat), massive panoramic windscreen with sunblinds, electric park brake, dual-zone climate control, rear park sensors and seven-inch multimedia screen with Bluetooth, MirrorLink/CarPlay (tried but could not get it to work with an iPhone 6), DAB digital radio and a CD player. Prestige adds larger alloy wheels, LED front lights with washers, part leather trim on sport seats, keyless entry/start and a reversing camera. Crossback has different alloys, aluminium roof bars (for style rather than load), glossy black exterior trim plus alloy front door sill protectors and premium carpet mats. There are some interesting, extra-cost, contrasting colour schemes, a few trim and wheel options and some tech equipment like front park sensors with blind spot monitor and an audio upgrade but just about everything most buyers would want is already in.
The first impression of the interior is not really 'premium' in the same sense as you'd compare Audi with VW but the materials and fit and finish are acceptable. Although we had no trouble getting kids and assorted car seats, teddies, drinks etc in the back, the rear seating area is a little snug and there are no cup holders although we did find small map pockets, an armrest and a ski flap. But then came the question: where are the window switches? It turns out, surprisingly, the DS4 lacks opening rear door windows completely. Not a great idea if you have kids prone to travel sickness for whom a blast of fresh air through an opened pane might just stave off the nausea long enough until you can stop for a break and recovery. The other really odd aspect of the DS4 was the 'pointed' rear door window frame which encompasses rear door exterior release handles but is at just the right height to ensure our partially-sighted mum loses all remaining vision should she not see said point in time. We all learned to watch the back doors very carefully when open. Boot space is ok, albeit with a high loading lip and rear seats fold easily to extend the load area.
PSA has always made cracking diesels and the torquey, smooth BlueHDi engine was a pleasure to use, with start-stop that requires you to halt, foot on brake with clutch released before it kills the motor, and restarts it very quickly with a little harshness on occasion. It's geared to pull like a train so you don't head above fourth at 30mph urban UK speeds and that can be pushing it, at times. We got 41mpg in punishing, short distance, low speed runs so I can imagine 60mpg being an easy shot if you used the car in more suitable conditions than us. I have seen the DS4 criticised for a harsh ride but we found it comfortable with ood handling and came to like its slightly quirky character.
DS Automobiles said splitting the DS4 range in two addresses the expectations of customers in the premium compact vehicle segment, which has seen some important changes in recent years. Crossover vehicles now make up 30% of the premium compact hatchback market.
"DS embodies the spirit of avant-garde. In the case of new DS 4, the brand's spirit is expressed through an offering made up of two body styles: a new premium hatchback and an unprecedented new offer: DS 4 Crossback, with elegant go-anywhere style. With such complementary vehicles, the DS brand is clearly stating its ambition, and its ability, to meet customer expectations," CEO Yves Bonnefont claims.
The automaker reckons the range has all the qualities of a premium hatchback while personalisation and greater customer choice are provided by the two-tone roof/body colour options new to this segment. And the great new choice of engines is icing on the cake
"With its luxurious, refined and even more customisable interior, New DS 4 will represent a unique offering in the premium compact segment."
It's certainly different and, after a few awkward introductory moments, we ended up liking it. Give us looks a little outside the mainstream, a nice high ride and lots of equipment and we're easily won over.