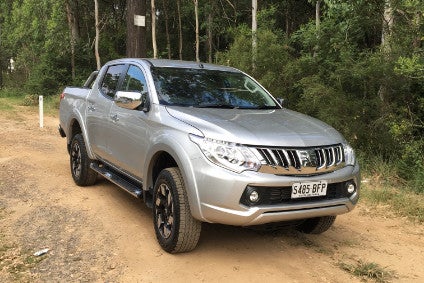 In the UK, Mitsubishi is effectively an SUV specialist, best known for the Shogun SUV, and more recently, for the highly successful Outlander plug-in hybrid. In a few markets, however, this is a mainstream brand. In Australia, the aged Lancer sells surprisingly well but the real local success story is the Triton, a pick-up that doubles as a family car.
By the end of 2017 there won't be any vehicle manufacturers left in this modestly sized (circa 1.1 million sales per annum) market. GM Holden, Ford and Toyota will follow Mitsubishi, which closed a factory here eight years ago. Despite the job losses, the three-diamond brand was able to maintain a positive image and is still one of the best performers in the Aussie new vehicle market, ranking seventh in January (5,007 deliveries and a 5.9% share), ahead of Volkswagen, Subaru and KIA. Toyota still leads, followed by Mazda, Hyundai, Holden, Nissan and Ford.
The Triton keeps gathering pace, month after month, its January sales reaching 1,199 units, though that's still well short of the HiLux (2,341) and the recent segment number one, the Ford Ranger (2,418). The Thai-built Ford pick-up, despite being classified as an LCV, outsold all other vehicles in January, with the exception of the Toyota Corolla (2,758) and Mazda3 (3,722). The FTA between Thailand and Australia means most of the top-selling vehicles down here land free of import duty. That helps with pricing, though the curse of the dollar's volatility can often wreck many an importer's plans. Compared to Europe, non-premium brands' cars are cheap here, to such an extent that, for example, the agent for SsangYong just can't make a business case for the Tivoli. That's because the larger Korando is already available priced from AU$21,990. That converts to just GBP11,301. The cheapest Korando sold in the UK costs GBP15,810.
Thin margins and a wealth of brands – over 60 now, with RAM a recent arrival and more Chinese ones coming while others such as Seat are expected to return – means that this is a dream market for car buyers, but anything but that for manufacturers. Yet the example of Mitsubishi proves that an OEM can thrive if its image is strong and the products well respected. As Graeme pointed out in his review of the UK market L200 last year, the Japanese firm has a fantastic reputation for building hard-to-break vehicles, and the long line of ladder frame pick-ups/utes to have carried the L200 or Triton name is the reason why.
In Britain, the L200 can be ordered only with MMC's 2,442cc four-cylinder diesel. Here, there is also a 2,351cc petrol engine. Considering that 'servos' (service stations, or in UK English, filling stations) are currently advertising unleaded at 98 cents a litre, which is a mere 50p, it's perhaps surprising that diesel is as popular as it is. That's a legacy of the years when the fuel was mostly dispensed via high-speed pumps so many people swore off the black nozzle dispensers having suffered a blow-back soaking. Now, most diesel bowsers have a switch which lets you decide at what speed your diesel is dispensed.
Given where the Triton is built, I was curious to see how the Thai market is doing, and learn whether or not pick-ups are still the main sellers there, so I had a look at registrations for CY2015. After an awful period of collapse, things eventually recovered to a YoY drop of only 10% (it was 33% in 2014). The HiLux was the country's number one model with 120,112 sales but it was only just over 1,000 units ahead of the Isuzu D-MAX. Incidentally, this model, which is of course the basis for North America's Chevrolet Colorado and Australia/NZ's Holden Colorado, is also a big success in the Aussie market, again due to a hard-won legacy of unbreakable pick-ups and SUVs. But back to the Triton: last year's sales tally was 25,261 vehicles in its country of manufacture but we mustn't forget it was a model change over year at the Laem Chabang #2 plant which builds it for almost all global markets. Santa Rosa in the Philippines assembles vehicles from kits for the local market and these are sourced from Thailand.
The Laem Chabang factory will soon be building another version of the Triton on behalf of Fiat Professional. The Fullback, which premiered in November at the Dubai motor show is due to come off the line in April, and be exported to various countries in the Middle East and Africa, as well as some in Europe. It will have the 2.4-litre petrol and diesel engines, plus rear- or four-wheel drive.
As a family vehicle, the Triton has some limitations but these are not really any worse than its rivals. The main one is the 11.8m turning circle which makes mini-roundabouts a challenge, and on certain surfaces, the separate chassis means you can have a bumpy ride. Load up the tray, though, and things settle down, and even having rear passengers reduces the bounce you can otherwise experience.
Engaging the four-wheel drive's various modes is easily done from controls on the centre console. The whole cabin is faultlessly assembled and there were no squeaks from the test vehicle, despite the body being put through some twisty tests. All the trim looked like it would stand the test of kids, work boots, tools, dogs and anything else the typical owner or passenger could subject it to. Mechanically, both the six-speed gearbox or five-speed automatic are also bullet-proof and it's interesting that Mitsubishi seems not to care that most rivals offer six ratios with their automatics, while Volkswagen's Amarok has eight. That may well change later in the Triton's lifecycle, especially if more of its competitors move towards matching VW's initiative. Model life should be nine years, which means we won't see the successor until 2023.
In addition to all the rivals noted above, the Triton/L200 also has to compete in many countries with the Ranger's Mazda BT-50 twin and the Nissan Navara, both very competitive vehicles. The Ford and Mazda have the edge when it comes to rear legroom in the double cab bodies, while VW's Amarok would be best in class when it comes to ride and handling. Yet in no area is the Mitsubishi seriously lacking, so it's no surprise to see it doing so well in many countries.
Things will soon become a bit tougher in some markets, though, with Renault leveraging its Alliance to gain the Alaskan, which will be Navara/NP300-based. And while we don't yet know the model name (GLT-Class is said to be a front-runner), Mercedes-Benz will also soon have its own version of the one-tonne Nissan. The Renault and Mercedes will be made for European markets at Nissan Europe's Barcelona plant, with a combined capacity of 120,000 set aside there for the triplets. That volume is, however, dwarfed by Mitsubishi's Laem Chabang complex, which has the capacity to make 460,000 vehicles a year, the majority of which are the Triton (followed by the Mirage/Space Star, and Pajero Sport).