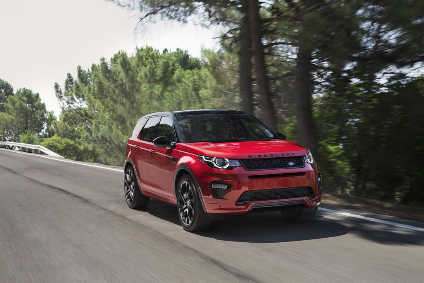 Jaguar Land Rover had a record month for worldwide sales in January. Now comes news that February was even better, with a year on year gain of 31%. Leading the success was the Discovery SPORT, the 100,000th example of which has just been delivered, 500 days after production of this SUV commenced.
The Jaguar side of the business is also showing a significant improvement thanks to the addition of the XE and XF sedans, which means JLR as a group was able to achieve its highest number of retail sales yet in February. The total, 37,494, means that during the first two months, deliveries have risen by 27% to 83,510 vehicles.
It's easy to see why the Discovery Sport, which as we know is based on the Ford derived EUCD platform, and created out of the former Freelander, is so popular. The styling hits a sweetspot between crossover and rugged 4×4, pricing is competitive and in European markets, CO2 numbers are where they need to be.
Halewood, which made the 100,000th car on 29 February, is the mother plant for two other facilities which assemble the model. The Merseyside facility will also supply parts to another factory once assembly in Brazil commences later in 2016. The still new Chery-JLR plant in China, meanwhile, started with the Range Rover Evoque, but added the Discovery Sport in August 2015. A Tata Motors-JLR joint venture plant in the city of Pune also puts together this model. Unlike the car for China, India's model comes with a standard diesel engine, this being Ford and PSA's 2.2-litre four-cylinder unit. As production of JLR's own Ingenium series engines is ramped up in England, these 2.0-litre units should in time find their way into the Pune-made model.
An Ingenium petrol engine powered the Discovery Sport lent to me by JLR Australia for this review. This 1,999cc unit produces 177kW and 340Nm, while average fuel economy is 8.0l/100km. Top speed is 199km/h and 0-100km/h takes 8.2 seconds with the standard nine-speed ZF 9HP48 automatic gearbox. This transmission is quite a novelty, especially when you use the paddle shifts and glance at see a 9 appear in the instrument panel. Mostly, the car seems to cruise in sixth or seventh but obviously higher speeds will see it slip into the top ratios. Touch the left hand paddle and it instantly drops two, sometimes even three or four ratios back to sixth or fifth.
Considering this is a 5+2 seater vehicle and 91mm longer than a Freelander, the weight, which is quoted as being from 1,744kg is impressively below that of many rivals. Some of the reason is thanks to the use of aluminium for the roof, tailgate, bonnet and front wings. The basic platform, however, is constructed out of steel.
Land Rover calls the updated EUCD platform the D8, which is justified given that the shift from Freelander to Discovery Sport meant a redesign of some modules, including the rear suspension, which now features strut towers. These were employed not just for the benefit of better interior space but they also allow the 5+2 seating layout. As was noted in an earlier review of the diesel Discovery Sport, the rear most seats were never meant to be for adults but as occasional use places for kids, they're fine. Most owners will likely keep them in the folded position so as to maximise boot space.
The whole interior has a genuine premium feel to it though compared to a similarly sized Range Rover Evoque you can see where JLR has made clear distinctions between the two. The Sport is meant to be the smallest member of a Discovery range of vehicles, with an emphasis on practicality and the needs of a family, while the Evoque is more about style and luxury.
Land Rover has given the Discovery Sport line-up some additions for the 2016 model year, including the Dynamic model grade. This is marked out by many of its exterior trim pieces being painted black, body-coloured mouldings and door claddings and the choice of new 19″ wheels in Satin Dark Grey, or a 20″ design finished in Gloss Black.
All Terrain Progress Control (ATPC) is another new feature for 2016. This system allows the driver to set and maintain a steady speed when off road. ATPC functions similarly to cruise control in that it is operational between 2km/h and 30km/h, and it adapts the vehicle's behaviour according to the terrain. This option incorporates a Launch feature, allowing the vehicle to pull away smoothly on problematic low-friction surfaces such as ice, snow or wet grass.
The Discovery Sport took everything that torrential rain could throw at it during a couple of days of my temporary ownership. While front-wheel drive versions are available I was happy to have all-wheel drive. The Ingenium 2.0-litre petrol could do with perhaps a touch more power, especially if you're in the habit of loading up your vehicle with people and gear. In that case, the diesel is probably the better bet but you do lose some performance – it's slightly slower to 100km/h and top speed drops by 10km/h.
If Land Rover keeps to its recent form, the Sport will likely remain in production until around 2023, with a facelift appearing in 2019. There seems little reason to think that the impressive sales rate of its first 500 days of production won't continue until at least the half way mark of the life cycle. And there's a lot to come for the Discovery series, with the L462 replacement for the existing L319 Discovery due to reach the market in 2017. Another model, L851, should be a B/C segment SUV to sit below the Discovery Sport due in 2019. And then there is the still secret PHEV Land Rover to be built by Magna Steyr, a new plant in Slovakia, the next Defender family and even, a potential new Range Rover to be positioned between the Evoque and RR Sport. It's dangerous to make strong predictions in this business but unless the world economy suffers another deep downturn, JLR has clearly got Land Rover's sights set on remaining the world's dominant utility-to-luxury 4×4 brand for the forseeable future.