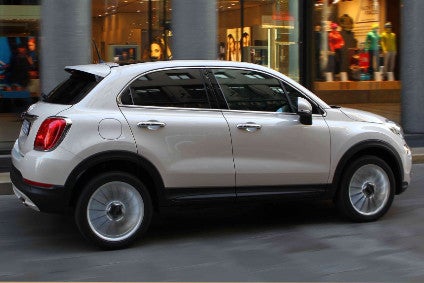 FCA's strategy of creating two distinct products in the B-SUV/crossover segment is paying major dividends. The strength of Renegade sales in the US proves that a Jeep doesn't have to be big, while the 500X is behind a sales renaissance for the Fiat brand in European markets.
According to its definition of what constitutes Europe, Jato Dynamics now rates the 500X as the number six best seller in what is a crowded and competitive class. Some two thirds of the model's regional deliveries have been in Italy, with over 75,000 cars registered across Europe last year.
Anyone who hasn't travelled to Italy for a while will be astonished to learn that the Punto is still a strong seller there – it was number three in the sales charts in April – but for the first time, it was overtaken for the year to date by the 500X. The numbers are 17,188 and 18,961.
As is its habit, FCA is taking a big risk by allowing a former best seller to stay in production long past the recommended Best before date. A Punto replacement is still at least six months away and may not appear until 2017. Given the still growing interest in crossovers and SUVs, the 500X is managing to keep the Fiat brand's market share above 20% at home. Last month, the Renegade's brother almost overtook the 500L (4,148 versus 4,127) and the people mover remains ahead by the narrowest of margins for the year to date: 19,386 for the 500L and 18,961 for the 500X.
There is no doubting the appeal of this model. It looks cute and may well be drawing in many former Cinquecento owners who now have children and therefore need the extra doors and a larger boot. Of course, the average age of Italians is also on the rise, so the ease of getting in and out of a B-crossover compared to a lower roofline of something like a Punto, Polo or Clio is strong to many less agile buyers.
FCA is said to be watching a potential splintering of the 500X's segment by considering plans for a rapid and racy looking Abarth 500X. That model is likely a year or possibly two away. Is there really a segment within a segment there? Who knows, given that there is (as yet) no such thing as a Renaultsport Captur, EcoSport ST or Opel Mokka X OPC/Vauxhall Mokka X VXR, Fiat could be first to prise open a high-margin niche.
The standard 500X is nothing like the Renegade to look at which is something of an achievement given that they share so many components. There are various turbocharged four-cylinder petrol and diesel engines available worldwide, with a 2.4-litre Tigershark gasoline unit also offered in North America. The car I borrowed from Fiat Chrysler Australia came with the less powerful of the two 1.4-litre petrol turbos but I prefer the torque of the 1.6 and 2.0-litre MultiJet diesels.
Powertrains from which you can choose, country dependent of course, include:
95hp 1.2 (marketed as a 1.3) MultiJet
110hp 1.6 E-Torq (flex fuel)
120hp 1.6 MultiJet
140hp or 170hp 1.4 MultiAir (petrol turbo)
140hp 2.0 MultiJet
180hp 2.4 Tigershark (petrol)
Blip the car unlocked, pull on a handle that, like the rest of the exterior offers no clue of the shared powertrains and other hidden gubbins, and you see a cabin that's very Fiat. As in not very Jeep. FCA really has done a great job on making sure that these are distinct models. Where the Renegade is all 'Since 1941' retro detailing, the 500X reminds you of a far roomier Cinquecento. Body coloured plastic adorns the dashboard, Fiat's usual HVAC dials are there and the door trims remind you of other models in the 500 family.
The seating positions are high, front and rear, and despite that there is almost an excess of headroom: packaging is very clever. The boot isn't enormous but there again name a model in this segment which majors on overly generous cargo space. If you want that, go up a size class seems to the thinking of most manufacturers.
Roadholding even in FWD form is strong and unless the CO2 number is a problem, I would advise going for the option of AWD, given how clever the fully automatic system is. There is never any sensation of drive suddenly being sent to the rear axle, so smooth is the rearwards transfer of torque when things become slippery. On steamy-damp roads after a summer downpour, all-wheel drive was a boon as one tyre could be on dry tarmac while others might be having to push through puddles.
Things which were not in favour with me were few but as mentioned in a recent Jaguar review, that car's blind spot warning was far superior to the system in the Fiat (and Jeep) in that it didn't give you a start – yes, it's that loud and also overly sensitive. You see a car has passed you on a motorway, indicate to change lanes and there will be a hideous buzz. Or even sitting in traffic with someone edging out of a driveway who you decide to let in: again, BUZZ!!! and it won't stop. Software tweak please FCA.
The only other thing to say is that whilst the interior trims are good, once Volkswagen enters this segment, it's inevitable that Fiat will have to lift the perceived quality of its dashboard and door trim plastics. They're fine, but you just have the feeling that every part was examined for cost before being approved. Fairly high levels of NVH tend to reinforce that impression. A little more sound deadening would work wonders.
There will probably be people for whom the looks of the 500X are a turn off, given that there seems to be a minority who dislike the retro style of the 500. I'm not one of them, however. If you ask me, those big round headlights and jet engine pattern alloy wheels lend this little crossover a funky-cool look and serve as some of many pleasing details of the exterior. Forget the shunty twin clutch gearbox and instead go for a manual transmission and one of the diesel engines and this becomes one of the best cars in its class.