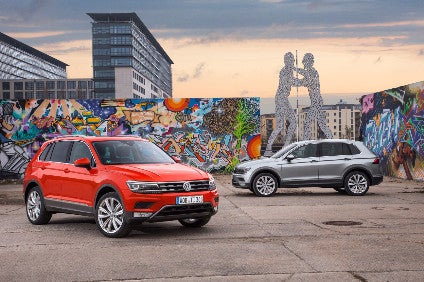 I was already aware of Volkswagen's Tiguan, the compact crossover SUV introduced in 2007, not least because two friends own one, along with two near neighbours. But, after being invited to the Berlin media launch of the redesign, I suddenly seemed to see them everywhere. That, said a senior VW GB PR, was not surprising: "It's now our third best seller in the UK after the Golf and Polo."
Worldwide, VW has sold over 2.8m first generation Tiguans in 170 countries and expects further growth for the second generation. The automaker said customers like the high seating position combined with numerous safety and comfort features.
"At around 30%, SUVs are the fastest growing body style worldwide. The A-SUV segment alone, to which the new Tiguan belongs, is growing tremendously. Forecasts for the next four years call for further global growth of more than 2m vehicles."
Unusually, sales of the car did not tail off in the first generation's final full year. In the UK, 2015 was its best year so far, with 21,889 registered, up from 8,121 in 2011.
Sales mix
Current UK sales mix is around 95% diesel and over 75% 4MOTION in a segment where 4WD fitment averages 50%. The A SUV segment in which the Tiguan competes has grown by 195% since 2008 and last year accounted for 299,623 sales or 11.4% of the market. VW expects the AO, A, B, C and D SUV segments will account for 28% of UK sales by 2018. The automaker sees its key Tiguan competitors as the Ford Kuga [Escape], Honda CR-V, Mazda CX-5, Toyota RAV4 and BMW X1.
As before, the UK gets its own trim/specification levels of S, SE, SE Navigation, SEL and R-Line – Trendline and Highline are among those offered in other markets. Expected UK best seller is the 2.0TDI 150PS 4MOTION SE manual. As mentioned, 95% of sales are expected to be diesel, 60% manual transmission with sales split roughly 50/50 between fleet and private buyers.
MQB platform
As VW extends its SUV line, the second generation Tiguan is the first to be built on the MQB platform which already underpins the best-selling Golf and other models. A long wheelbase version is in the works to give China and the US seven-seat versions and VW is also planning a full redesign of the larger Touareg and a Polo-class production SUV model inspired by the T-Roc concept. The MQB underpinnings allow new levels of safety and connectivity, according to VW, and all UK models will have such items as Front Assist; City Emergency Braking and Pedestrian Monitoring, while standard or optional features available for the first time in a Tiguan will include Active Info Display; Head-Up Display; Area View and Trailer Assist.
Front Assist with City Emergency Braking and Pedestrian Monitoring; active bonnet; automatic post-collision braking and Lane Assist are fitted as standard in Europe. VW's first active bonnet reduces the risk of injury to pedestrians and cyclists by lifting upward in the event of an impact – rising 50mm (two inches) within 22 milliseconds of an impact. Seven airbags – including a driver knee airbag – are claimed to set a new standard in the segment.
The Tiguan is completely restyled inside and out and is now 33mm lower at 1,632mm and 30mm wider at 1,839mm, 4,486mm long (+60mm) on a wheelbase stretched 77mm to 2,681mm. The cockpit is now aligned towards the driver and a wider centre console is paired with the new 4MOTION Active Control rotary switch. A panoramic roof is standard (from SEL up in the UK) or optional. The interior offers more head and knee (+29mm) room and when the rear bench is folded the cargo space, at 1,655 litres, is 145 litres larger than before. A sliding rear bench seat now permits up to 180 mm of adjustment – 20mm more than in the previous model. When the rear bench is slid forwards, the boot provides 615 litres of space – also a gain of 145 litres. Towing capacity is up to 2,500 kg (depending on model and drivetrain) which VW claims is unique in this class. A lower load sill improves access and a power tailgate is available.
Weight saving
Compared with models that have EU5 engines, the weight of the new Tiguan has been reduced by up to 53kg. In the body alone, around 12kg of weight is saved despite the longer wheelbase and longer vehicle length. Lightweight design measures include 'tailored blanks' – the load-optimised thickening of sheet metal blanks. In addition, optimising the tailgate opening and the cross members between the rear wheel housings made the body much stiffer despite significant lengthening of 77mm in the critical zone between the A and C pillars. The rear hatch was also enlarged compared with the previous model. Yet, at 28,000 Nm/degree without a panoramic roof and 25,000 Nm/degree with the roof, the torsional stiffness of the new Tiguan passes that of the previous model.
Engines
Typically of German automakers, the Tiguan is being launched with an initial, selected range of engines which will be expanded over time. UK order books are opening in three 'waves' (5 April, 5 May and 2 June) with deliveries starting later this year. Eventually, there will be three new petrol engines (four worldwide), with power outputs from 125PS to 180PS (the 220PS version is not coming to the UK), and four new diesel engines ranging from 115PS to 240PS. All are EU6 emissions-compliant, more powerful and more fuel-efficient than the comparable EU5 engines of the previous model. The diesel engines feature SCR catalytic converter technology, using AdBlue additive.
Initially, the high-volume diesel will be a 2.0TDI 150PS with all-wheel drive and a seven-speed dual clutch gearbox (DSG) or six-speed manual transmission; or with front-wheel drive and a manual gearbox. The petrol 2.0TSI with 180PS, 4MOTION and DSG is also in the first order wave and these two engines are expected to account for around 75% of UK Tiguan sales. More engine, drive and gearbox options will be available in the two further order waves in coming months.
4MOTION Active Control
VW makes much of its new 4MOTION Active Control 4WD system. The electronic accelerator pedal can be metered precisely and, if the model is equipped with DSG, the dual clutch gearbox upshifts later. The driver can avoid mandatory shifts by shifting gears manually which also permits the use of engine braking. In this case automatic freewheeling is deactivated, which is decoupling of the engine to make use of the kinetic energy of coasting. Traction control (ASR) governs engine speed and simultaneously controls traction and driving stability. In parallel, the steering system and adaptive damper control switch over to a suitable driving profile. Electronic Stability Control (ESC) activates the Offroad characteristic, and the driver assistance systems for hill ascent and descent come into play. In addition, the dynamic cornering lights open up a brighter and wider light pattern near the car. Optional adaptive chassis control (DCC) has new control valves for greater ride comfort and a broader spread of driving profiles. Optional progressive steering system assures precise and dynamic driving and enhances ride comfort at slow speeds and during manoeuvring, the automaker said.
Driver assist and safety
Front Assist, standard range-wide, monitors the surroundings by radar sensor and brakes via an emergency braking function. Sensing is now exclusively by radar sensor and not in combination with the multifunction camera. It initiates a two-stage reaction if a pedestrian is detected on the road. First, a warning is given, then the system activates the braking function. VW claims the standard lane departure warning system is unique in the compact SUV segment. Other standard or optional safety equipment includes the Driver Alert System and adaptive cruise control (ACC) up to 160km/h (100mph) which, with a DSG gearbox, becomes a 'traffic jam assistant' that does most of the driving work in stop-and-go traffic. Emergency Assist initiates an emergency stop in the driving lane after an extended warning by Lane Assist that involves activating the hazard warning lights and driving in a controlled swaying pattern within the driving lane to alert other drivers the Tiguan driver has become impaired, perhaps by a medical condition.
Electronic instruments
The VW Group's Active Info Display – a digital instrument cluster already used in models such as the Passat – has migrated down to the compact class for the first time with SUV-specific instruments. In combination with the radio/navigation system display, this creates a flexible interface (HMI) combining speedo and rev counter with a 'wide screen' navigation display. Six different views can be selected for the 12.3-inch display. New in the Tiguan is an offroad display profile with steering angle indicator and compass specially designed for the car. When navigation is activated the large central display can be selected, as in the Passat. Here, 3D navigation is shown directly in the Active Info Display in a large size in addition to the infotainment screen. Navigating is also supported by the retractable combination head-up display integrated into the dashboard that has laser-etched texturing. Relevant driver information such as driving speed, the current speed limit, direction arrows for navigation and indicators for the driver assistance systems are projected directly onto the display in the driver's line of sight.
LED headlights
Even base LED systems have a module for the dipped and main beam claimed to deliver 10% better lighting performance compared to halogen headlights. The light has a much whiter appearance than with the basic H7 headlights. The optional all-LED headlight with lens and reflector is more powerful than a bi-xenon headlight and also has whiter light. Along with the dipped and main beam lights, the turn indicator and daytime running light signatures are also LED unit. Optional Dynamic Light Assist for higher trim levels ensures glare-free main beam or masked permanent main beam.
Comfort/connectivity
A new, three-zone automatic climate control system includes an allergen filter while sun and humidity sensors help to achieve optimal climate control in the interior and regulate air humidity.
As usual with VW Group products, a wide range of infotainment systems is standard or optional according to model level with App-Connect enabling most smartphones based on iOS, Android or Mirrorlink to be connected to the car. A basic radio is supplemented by systems with five- and eight-inch colour touchscreens plus two levels of navigation units with eight-inch displays and Guide & Inform online services as standard with free use for the first year. There is also an optional 400-watt DYNAUDIO Excite Surround system with a digital 10-channel amplifier, subwoofer and centre speaker. Optional Media Control allows, for example, any passenger using a phone or tablet to input a navigation route or update the play list while App Connect connects smartphones with a USB port on the centre console to mirror the display on the vehicle's display. The MirrorLink app, for example can use Cam Connect to have images shown on the display of the radio or navigation system sourced from a GoPro camera mounted in a horse trailer being towed. An inductive charging tray for smartphones based on the global Qi standard is a first in VWs and the new service Car-Net Security & Service lets drivers optimise safety and access key information about their vehicle. Available features range from a speed alarm to telemetric calls for roadside assistance and vehicle tracking.
Build quality of the 'pre-production' units provided for the global media launch in Berlin was excellent and we were impressed with the quality materials and finish of the cabins. We sampled two diesel engines and one petrol unit, all with the DSG transmission and were impressed with the refinement, torque and gearchange response and shift smoothness. Offroad ability, demonstrated on a specially constructed track in a park normally used for BMX bikes, appeared competent but its unlikely most owners will use more than a fraction of the 4MOTION Tiguan's ability.
Another 2.8m in the next eight years? Based on initial impressions, achieving at least that shouldn't be a problem.