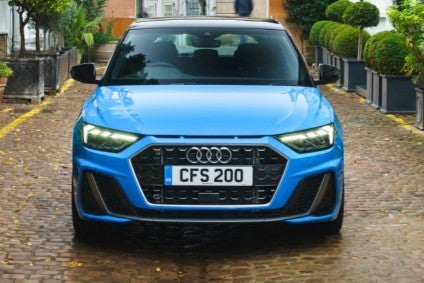 There is so much change going on in the European market just now it can be hard to keep up. Imagine that the Mercedes E-Class and BMW 5 Series were outsold by the Audi A1 in June, and that the little hatchback was only 31 units behind the A6.
The curious thing about trends across the EU28 markets is how varied they can be. Audi is a small brand in Spain and Italy, medium sized in France and big in Germany and Britain.
No three-door option and no diesel either
In its homeland, the A6 saloon and estate, along with its BMW and Mercedes equivalents, remain big sellers. Audi's class-leading model found 23,966 buyers in the first half of 2019 and was the brand's number three model, not that far behind the A4 and A3. That's right, the Q3 and Q5, along with every other premium brand SUV are not nearly as popular as Audi's sedans, estates and hatchbacks. In fact, the only SUVs in the German top 20 in H1 were the Tiguan and T-Roc. To be fair, both these VWs were much in demand, the first of the pair being the country's second best seller and the T-Roc surging into sixth and even outselling the Octavia in the process.
Conversely, German buyers are not too fussed about the A1 Sportback, the second generation model having been available there since November last year. Having said that, 10,605 deliveries over the first six months was only a 1.4 per cent decline year-one-year. I say not too fussed yet considering the loss of the three-door body and still no sign of any diesel engines, 59th position and sales staying flat should be considered a very good result. And if it becomes popular, the addition of the just-announced A1 citycarver would be a clever move by Audi as it explores ways of boosting margins from small cars. The same applies to a new S1 Sportback which may be added in 2020.
Popular in the land of the Mini
British buyers have always loved the A1 Sportback. And by the way, Audi AG still gives the new model that name even if, like A7 Sportback, no-one needs to use the suffix. The brand's smallest model has no BMW or Mercedes rivals, although one of the reasons why we have taken so strongly to the A1 – it was second only to the A3 for Audi UK last year – is the strength of the B-premium segment. That, of course, is thanks to the appeal of Mini, masterfully reimagined by BMW AG as a brand where high pricing comes as standard.
The A-Class was once a small car but no longer, growing with every generation and now firmly in the C segment. And there's another example of how trends differ across Europe: the Focus leads the C segment on 32,239 (+4.8%) but we Brits made the Golf our third favourite model during the year to the end of June, buying 31,493 of them (-21.1%), with the A-Class in sixth place (27,904, +39.5%). In Germany, the VW rules, with sales of 106,366 in H1 (-10.3%) compared to just 21,666 units of the A-Class, although the Mercedes has surged by 52% year-on-year.
What Audi UK needs: a new A3
Thanks to how hard Mercedes-Benz has been pushing in the UK's C segment, the brand comfortably outsold BMW in the year to 30 June, the totals being respectively 92,990 and 90,021. Audi, on 80,129, ended the half year in sixth place behind Ford, Volkswagen, Vauxhall and its two traditional rivals, and is very comfortably ahead of Toyota (56,684), Kia (53,232), Nissan (52,743) and tenth place Hyundai (45,916).
Audi right now has one hand tied behind its back due to the age of the A3, a car which is seven years old. The next generation should be revealed at the Frankfurt motor show in September but might not reach the UK until the first quarter of next year. Which puts even more pressure on the A1 Sportback.
Three- or four-cylinders, manuals or DSGs
The good news for Audi is that the lack of even a sole diesel powertrain as well as a three-door body don't matter too much to British buyers. One more petrol engine has become available for the 2020 model year A1 Sportback, that being a 2.0-litre turbo. Choices now compromise:
25 TFSI (70kW/95PS and 175Nm, 999cc, three cylinders, five-speed manual)
30 TFSI (85kW/116PS and 200Nm, 999cc, three cylinders, six-speed manual)
30 TFSI S tronic (same engine but with a seven-speed DSG)
35 TFSI (110kW/150PS and 250Nm, 1,498cc, four cylinders, seven-speed DSG)
40 TFSI S tronic (147kW/200PS and 320Nm, 1,984cc, four cylinders, six-speed DSG)
Only 999cc but a 200km/h+ top speed
The car I was lent to try out had the 85kW engine and a manual gearbox and this is a great combination. As for economy, the official Combined range of 48.7-52.3mpg is accurate (in my hands, it was 50.7), while CO2 is 108g/km. Zero to 62mph is achieved in 9.5 seconds and top speed is 126mph or 203km/h. The last of those numbers demonstrates just what clever aerodynamics and low weight (1,105kg excluding driver) can do.
There's a good mix of standard equipment on all A1s even before options, this extending to automatic emergency braking, a fully digital instrument cluster with a high-resolution display, a multi-function steering wheel, CarPlay/Android Auto, and lane departure warning.
In base trim there is no push-button start but so what? A key is fine. There is also a mechanical parking brake and again, that's anything but a burden. Audi has designed the interior in such a way that you still get ample space to store things between the seats even with the handbrake in place of a button. Even if you have to pay GBP150 to have a front centre armrest with integrated cubby box. The cupholders are the same as in the Polo and many other Volkswagen Group B and C segment cars, as of course are so many other parts. Not that there's anything wrong with that.
Built by SEAT
Unlike the original, which was made in Belgium at Forest, a suburb of Brussels, the second generation A1 is manufactured in Spain. Not at the Polo and T-Cross plant though; instead it comes down the same Line 3 as the Ibiza at SEAT's Martorell plant. That car was the first vehicle for the MQB A0 architecture and that's also the basis of the littlest Audi. By the way, it's not that small, being 4,029mm long, an extra 56mm compared to the first A1 Sportback. There is also 65 l more boot space, capacity now being 355 litres, rising to 1,090 l with the seats' backrests lowered.
The whiff of cost cutting which can permeate certain Volkswagen Group small models is thankfully absent from this Audi. Hard as I tried, it was impossible to locate any components which looked or felt as though they had been developed with the emphasis on inexpensiveness rather than durability or premium feel. Carpets are perfectly cut; running a hand under either front seat reveals no sharp edges, shabbily finished fabric or hanging wires; the headliner is soft; the luggage compartment shelf is the very opposite of flimsy.
An Audi for twenty grand?
The test car cost from GBP19,160 before on-the-road costs. A first registration fee of GBP75, road tax of GBP170 and GBP660 for delivery charges, registration plates and half a tank of fuel needed to be added though, so slightly more than twenty grand. Not bad for an Audi and good value for what I wasn't expecting turned out to be a fun and engaging drive.
The F55-57 series Mini has been on the market for over five years and a new one is eighteen or more months away. As word gets out about just how good the A1 Sportback is, Audi dealers should start seeing quite a lot of trade-ins.