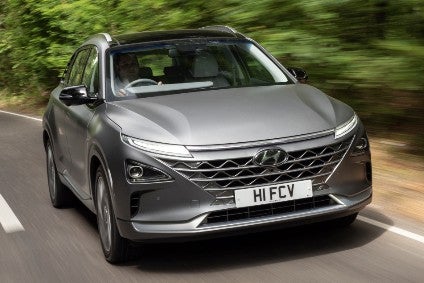 What's like to run a fuel cell vehicle as your only car? Enjoyable and surprisingly easy is the short answer, albeit with refuelling being something of an obstacle.
Fast forward to later this decade, and an expanded network of hydrogen stations could make this technology more viable for passenger vehicles, joining the rising number of buses already in service and the promise of FCV heavy truck fleets.
The press test car's registration plate gives the game away, along with a Fuel Cell badge but other than that, there's nothing much to tell anyone that the Nexo runs on hydrogen.
There is an electronic noise when the start button is pressed and when switched off, the message 'powering down' shows up ahead of the driver. Then, from somewhere under the back of the car, what sounds like a quiet hand dryer briefly activates. Other than that, this could be an any EV. There's the same near-silence, good acceleration and, alas, a touch of range anxiety.
How far on a tank?
Hyundai says the Nexo can travel up to 414 miles according to the WLTP cycle yet that's perhaps in perfect conditions. Me, I managed to drive for 266 miles with 25 showing as remaining having started with full tanks (it arrived on a flatbed truck) and keeping the drive mode options set to Eco. Seeing that eventual illuminated message 'Low Fuel (hydrogen)' was a first for me in any car.
Refuelling can take as few as five minutes and the touchscreen helpfully suggests guiding you to whichever is the closest station. That was circa 30 miles from home at Johnson Mathey in Swindon but if you're in wildest Wales or much of Scotland, things aren't quite so easy.
Close to 300 miles is more than twice what, say, a Mini Electric will do in the real world and the Nexo is also a properly roomy crossover which will take a lot of gear. Of course, you don't need to live close to a hydrogen station and be willing to spend seventy thousand pounds if you drive a Mini or multiple other EVs, so there's also a couple of downsides to owning the Hyundai FCV.
Cost and standard spec
The car is sold in a single spec Premium SE model grade. Given the GBP69,495 on the road price, naturally that includes just about everything anyone could expect, including self-parking, which is a very cool thing to have.
There's heating for the steering wheel as well as for the outermost back seats, and the front ones have the same feature plus ventilation along with full electric adjustment. You also get dual zone climate control, an electric sunroof, rear centre console ventilation, USB and QI wireless charging points and an electric tailgate. Incidentally, I thought this was yet another vehicle in need of but missing a back window wiper. It's there though, tucked away under a roof spoiler, Range Rover-style.
No-faff physical controls
Hyundai has managed to make the interior look fairly upscale while including eco touches such as bamboo-thread-based cloth upholstery, a faux-leather covering for the steering wheel, multiple parts made from bio plastics, bio-carpet extracted from sugar cane and on the outside, soybean-oil based polyurethane paint. Take that, Polestar.
Even better news is seeing multiple buttons and a few dials too. No need to fish for what you want on a bothersome, overburdened screen or via exasperating, unbiddable voice controls. Hurrah. By the way, has anyone else noticed that the new Civic – which will be one of the best selling vehicles in both of the world's top two markets – has physical controls for the HVAC system? It's not just me who prefers them then.
What's under the bonnet?
Lifting the bonnet it's obvious straight away that this car is neither a conventional EV nor ICE-powered. I'd expected everything to be hidden under a big plastic cover but Hyundai has instead left a multitude of parts exposed for examination by the inquisitive. From the various labels and stampings, it's clear that the Korean giant and certain subsidiaries take care of the manufacturing of a high percentage of the components. Naturally, that all happens in HMC's homeland, with the vehicle itself built at one of the company's Ulsan factories.
Power produced by the single motor is only 120 kW (163 PS) but torque is a more impressive 395 Nm. All this energy goes to the front axle via a single-speed transmission and there's a 1.56 kWh battery. Hydrogen is stored in 52-litre tanks of which there are three: two under the back seats and a third below the boot.
The issue of cold-starting which bedevilled earlier FCEVs has been addressed, Hyundai stating that firing up at even -30 degrees Celsius (22 degrees Fahrenheit) will present no problems.
Driving
There's nothing terribly tricky about driving the Nexo; in fact, jumping into something like a Prius or an ID.3 or any Tesla for the first time is way more unusual.
Getting to know what each of all those buttons on the centre console does quickly becomes second nature and even the whole electric car experience is nothing like as strange as some one-pedal systems can initially seem. In the Nexo, you've paddle shifters instead of a B for regenerative braking and this can be either 1, 2 or 3 (just keep pressing or pulling back for varying strengths).
Progress is very smooth at all times, there's a pleasant hum and whilst keen drivers won't be in love with the default understeer, it's worth remembering that this isn't intended to be that sort of car. Top speed is 111 mph and 0-62 mph takes 9.5 seconds.
The Nexo rolls a bit, grip is fairly good but the tyres and wheels are all about low rolling resistance. Passengers will notice how comfy the ride is and some of that is the result of a lengthy 2,790 mm wheelbase (the car itself is 4.7 m long).
Conclusion
As an advanced technology statement by its maker, the Nexo takes some beating. Hyundai should also be congratulated for persisting with hydrogen vehicles even as the debate continues over how 'green' some of the current ways this fuel is produced may or may not be (solar is clearly the way to go for the future).
Toyota, BMW and a handful of other OEMs also continue to develop their own fuel cell vehicles but what's really needed is for recharging networks in ever more countries to be greatly expanded. Until that happens, the Nexo and other FCVs will remain part of a fascinating, low-volume exploration of what could be possible for a future where truly zero emission vehicles exist on a large scale.
The Nexo is sold directly via Hyundai UK. The brand's standard unlimited mileage warranty applies and there is also an eight-year hybrid battery warranty plus a roadside assistance package.