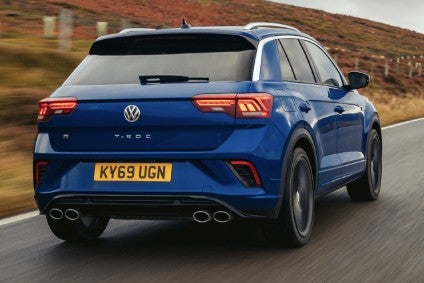 Is there really a market for a T-Roc with the 300 PS turbo TSI from the former Golf R shoehorned under its bonnet? The fact that a replacement for the fastest Golf is now at least six months away suddenly makes this GBP37,000+ C-SUV an important addition to the range.
Volkswagen, like all manufacturers, is trying to maintain a balance between compassion for those deeply affected by the current pandemic while keeping its business as healthy as possible. A week ago, the company announced a raft of financial support for German market dealers, while days later, one senior executive said he saw a recovery in Europe's largest market as soon as the summer.
Volkswagen plants had been due to be down until 9 April region-wide but no-one was surprised when that was extended until 19 April. Factories in North America have also been idled but 22 of the Group's 24 JV facilities in China are building VW, Audi and Skoda vehicles again.
Juergen Stackmann, management board member for the VW passenger cars brand, has given his latest assessment to the Frankfurter Allgemeine Zeitung. Using what has happened recently in the Chinese market as an indicator of when buyers may cautiously start to consider a new car purchase, "We assume that Germany will return to normal in the summer," Stackmann is quoted as saying.
"We must learn how to live with the virus," he added, the implication being that Covid-19 will be affecting people and global business for quite some time. Nonetheless, as the number one brand in the world's largest market, Volkswagen's recent experience in bringing its Chinese manufacturing sales operations back on line will be a boon. New rules to ensure factory workers can keep their distance from each other on production lines are but one example of changes to come.
"The standstill cannot last longer than summer … Society and the economy cannot withstand that … We are preparing ourselves for the moment when it starts again," Stackmann says. His Chinese market counterpart, Stephan Woellenstein, has also been telling the media that a return to strength around mid-year could be realistic. Vehicle wholesale deliveries in China are expected to have quadrupled in March to around a million vehicles.
Having all but two of SAIC-VW and FAW-VW's plants back in operation puts Volkswagen China's current status in a very different place to what's going on in Germany. The timing of shutdowns there couldn't have been worse, with the ramp ups for ID.3 and Golf at Zwickau (Mosel) and Wolfsburg having to be powered down and stopped.
Once whatever form of new normality emerges in major European markets in a few weeks or months, Volkswagen will need to book as many sales of high-margin variants as it can. While the ID.3 is being launched in expensive Launch Edition form, the Golf GTI and R aren't as imminent as would be ideal. Which is why, having driven the newest, priciest version of the T-Roc just before Coronavirus saw all press car loans stopped, it's timely to share an assessment of this vehicle.
I say newest but technically speaking that applies to the Cabriolet, even if the T-Roc R is still fairly fresh. The two-door, open-roof body also brought a third manufacturing location on stream: Palmela (Setúbal) in Portugal, the lead plant back in October 2017, was joined by Osnabrück in Germany, which started making the Cabrio in early December, only for that to stop three months later. Not all T-Roc build has ceased though, FAW Volkswagen's Foshan factory having being back in operation for a few weeks now.
The addition of this SUV to the Guangdong province facility also saw overall capacity doubled to 600,000 vehicles per annum. The locally made model has its own Chinese name, sales having commenced at the end of July 2018. The Volkswagen Tange is 4,318 mm long, 1,819 wide and 1,582 high, which is 84 mm longer and 9 mm taller than the T-Roc sold in Europe, while the wheelbase is 77 mm lengthier. And that also means that there are three T-Roc lengths too, Europe's SUV measuring 4,234 mm from end to end with a 2,603 mm wheelbase, while equivalent measurements for the Cabrio are 4,268 and 2,640.
For now at least, R specification is restricted to the T-Roc built in Portugal which means almost all such vehicles are for European markets. The UK has always been one of the more lucrative ones in this region, and once the market here recovers from its current deep woes, this 221 kW (300 PS) super-SUV will inevitably find its feet again.
The abundant power, plus 400 Nm of torque see the R blasting to 62 mph in 4.8 seconds and on to a top speed of 155 mph (restricted). The price to pay is a C02 average of 197 g/km WLTP yet for the performance on offer, that's not too bad. Nor is Combined economy of 32.5 mpg which you can easily improve on that by applying the right foot only lightly. I tried to, and mostly failed, so delicious is the sound which emerges from the exhaust of this 2.0-litre turbo engine. Both low speed shifts and kickdown from the seven-speed DSG are also rapid and flawless, proving that the Volkswagen Group has now got its twin-clutch transmissions to perform as smoothly as torque converter automatics.
Yes there is of course more body roll in this model compared to the Golf R with the same engine, but that's to be expected when it's 1,562 mm high. Against that, look at the practicalities over the hatchback, which includes a 392-litre capacity (down from 445 for FWD T-Rocs), extendable to 1,237 with folded seats. Sure the Golf R estate is roomier but the T-Roc beats it for headroom.
Summary
Is the R worth GBP38,900? It's a steep ask for a family SUV, to be sure and a bold experiment, this being only the second Volkswagen R SUV after the Touareg R50 way back in 2008. Britain is especially important for the new high performance variant too, this being the world's number one market for the R sub-brand, with 5317 R-badged sales in 2019. Moreover, T-Roc is one of Volkswagen UK's most successful cars, with 21,808 sold last year. The R had been forecast to make up around five per cent of volume when it was launched late last year.
Volkswagen sold 207,863 T-Rocs to European buyers in 2019, a year-on-year rise of 46 per cent, plus another 125,454 in China, so this is now one of the brand's most important vehicles, along with the Tiguan, Golf, Lavida and Bora. Looking at the pricey R in that context, it's a worthwhile addition as not only does it boost the model's overall margins but there is an air of exclusivity to those who want something which stands out in its class, for performance and looks.
The T-Roc was borrowed from Volkswagen UK and driven before travel restrictions had been announced.