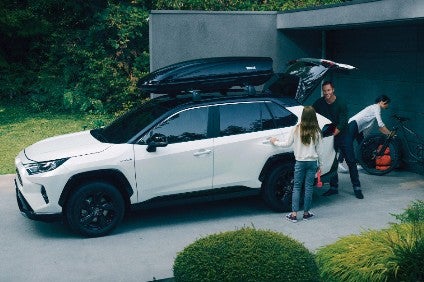 It seems hard to believe Toyota's RAV4 is 25 years old and entering its fifth generation. Seems only a few years ago I had my first go in the little three-door launch model with its cheeky look a larger Toyota iteration of Suzuki's Vitara, a two-litre petrol engine, side opening rear door and tailgate mounted spare wheel.
There was also, briefly, a battery electric version, leased only to a select few customers in the US and, coincidentally, a friend of mine with a new energy business, managed to secure a few and was very sad to have to return them at the end of the lease – buying them was out of the question.
According to the latest RAV4's assistant chief engineer, Kazakiho Matsumoto, Toyota has sold 9m RAV4s since 1994 and 2m of those have come to Europe.
Some recent stats from Toyota GB, which boosted its 2018 share 0.3% to 4.3% in a UK market down 6.8% due to consumer confidence, homologation issues, diesel jitters and Brexit, show that the D SUV segment rose 8.4% (B-SUVs are another growth segment). The segment spans the GBP19,000-GBP46,000 price range and focuses on "well equipped and stylish".
The change in powertrain mix with the outgoing generation of RAV4 is interesting. Back in 2015, before the late-to-the-party hybrid version arrived with the 2016 mid-life facelift, diesels accounted for 88% of RAV4 sales. Come the hybrid in 2016, and the mix changed to 52% hybrid and 36% diesel.
Last year, hybrids took 91% of the share, petrol 5% and the now-demonised diesel 4%. Across western Europe, hybrids accounted for 85%.
For the new generation, the first SUV on the Toyota New Generation Architecture GA-K platform (which this just-auto QUBE chart shows will underpin a fair few Toyotas from 2019 to 2028), Toyota GB will offer an all-hybrid model line with four trim levels and a few factory options. The odd market, such as Germany, will offer a two-litre petrol engine but the word 'diesel' is noticeably absent from the press propaganda – how the mighty fuel has fallen.
Engineer Matsumoto said the latest RAV4 is one result of an edict from Toyota family scion and Toyota Motor chairman Akio Toyoda: "No more boring cars!"
RAV4, he said, which once stood for Recreational Active Vehicle with 4WD, now means 'Robust Accurate Vehicle 4WD'. Whatever. The design, with its various nips and tucks, curves and lines is "polygonal". It does look nice, with hints of Volvo's smash hit XC40, and interior design, materials and quality are much improved, as is the completely new hybrid powertrain, and there are some interesting new items such as a digital rear view mirror that offers a much wider angle view than a conventional mirror and even 'dims' for night use.
Compared to the fourth generation car, the new one is 10mm lower, has a 55mm wider track, is 30mm longer in the wheelbase and, for offroad use, has 15mm more ground clearance and shorter overhangs front and rear. Both two and (electric rear axle drive) four wheel drive are offered, depending on trim level, and the 4WD over a moderately difficult and slippery four wheel drive course proved more adept than I expected. The higher ground clearance prevented bottoming out at several tricky locations but I expect most owners will not venture much more offroad than a snowy supermarket carpark or the odd grassy field.
Toyota said the TNGA GA-K allows a low centre of gravity, light weight and a strong, rigid and balanced structure. The lowest possible centre of gravity was achieved by making every component lighter and locating it lower down in the vehicle – everything from the engine to the seats. The platform also allowed for a 57% increase in body rigidity. Design and location of the fuel tank were changed to achieve better handling and stability. The tank is now located laterally in front of the rear axle so that its load is spread evenly between the wheels. Optimum weight balance is not only achieved front-to-rear (59/41) but also left-to-right.
Response from the electric power steering has been improved by moving the assist motor from the column to the rack. The result is more linear increase in steering input torque and less strain on the steering shaft. For Europe, summer-specification tyres are used in place of the all-weather type, adding driving quality and helping achieve better braking distances.
The RAV4 also now has a double wishbone rear suspension system which does not have to be made stiffer to meet dynamic targets.
The TNGA platform allows a low-set instrument panel giving the driver a clearer view of the road. The new generation has more interior stowage space and claimed best-in-class load space thanks to a cargo area of 580 litres, up 79 litres. The bonnet is now 15mm lower, adding two degrees to the driver's forward field of vision, and the external mirrors have been moved to a lower position on the front doors, front pillars have been made slimmer, the belt line has been lowered and the rearward view from the driver's seat has been improved with larger rear side windows.
The driver's hip point has been lowered by 15mm and the range of steering wheel adjustment has been increased by 50%. This, together with a generous seat adjustment range and precise positioning of the pedals and arm rest, ensures more customers are able to find their ideal driving position.
Comfort for rear seat passengers has been improved with 40mm added to the left/right couple distance, more spacious rear footwells and the provision of two air vents. By increasing the opening angle of the rear doors and reducing the distance from the hip point to the rocker panel, getting into and out of the vehicle and access to child seats have been made easier.
There is a height-adjustable, two level deck board which can be reversed when dirty items need to be carried. The rear seats are 60/40 split fold and there are storage nets on each side of the boot. Clever details include a hand grip on the tailgate that can serve as a hanger and a power-operated tailgate with hands-free function (Design grade and up).
Powertrains
There are two powertrains, both using a new 2.5-litre (the default size for recent Toyota hybrids in the US and Australia) USHybrid Dynamic Force petrol engine. Full system maximum output is 219hp/163kW for the all-wheel drive model, or 215bhp/160 kW with front wheel drive, which compares to 195bhp/145kW for the fourth generation model. Acceleration from rest to 62mph (100km/h) takes 8.1 seconds for the AWD model (100g CO2/km) and 8.4 with 2WD (100g).
As noted earlier, some markets like Germany will also offer a new two-litre direct injection petrol engine.
Toyota Europe has recently begun to bill its hybrid systems as "self charging", stressing there's no need to stop every so often and plug in for at least 30 minutes, and its fourth generation system makes its debut in the fifth gen RAV4. Key components, including the power control unit (PCU) and the nickel-metal hydride battery are more compact and lighter in weight, and the transaxle and transmission have been engineered to reduce electrical and mechanical losses. The new battery pack is 11% lighter than before and transmission losses have been reduced by 25% compared to the previous system.
The new 2.5-litre petrol engine, a large size for Europe in this age of downsizing, is an I4 with direct and indirect injection: combined cycle fuel economy is from 49.22mpg to 51.21mpg (FWD model, WLTP data), with CO2 emissions from 102g/km (FWD Icon model, correlated NEDC data).
Performance is also supported by a new transaxle structure with a pre-load differential giving better acceleration from stationary, improved efficiency at higher speeds, overall smoother and more linear acceleration and better control when decelerating.
Toyota GB told us the new driveline can deliver up to 80% of the torque to the rear wheels (versus 60% on the old model) and EV mode can now be used up to 120km/h versus 78km/h previously.
The petrol engine uses the Atkinson cycle and has a longer stroke than its predecessor – 87.5 x 103.4mm compared to 90.0 x 98.0mm. It also operates at a higher, 14.0:1 compression ratio (compared to 12.5:1 for the previous unit). It has intelligent variable valve-timing – electric VVT-iE for the intake and hydraulic VVT-i for the exhaust. The valve-timing range for both intake and exhaust has been increased.
The cylinder heads are designed to generate high tumble, with an enlarged valve included angle and laser-cladded valve seats. A variable cooling system with an electric water pump and electric thermostat is used to improve combustion by maintaining the required temperature. There is also a fully variable oil pump for efficient engine oil pressure management.
Intelligent all-wheel drive (AWD-i)
The improved electric AWD-i achieves better fuel economy in urban driving, quieter performance at high speeds and better traction in slippery conditions and is more compact and lighter in weight than mechanical AWD systems.
The system generates drive torque using power from the hybrid system and an additional motor on the rear axle. Maximum torque to the rear wheels has been increased by 30% from 953 to 1,300Nm, matching or surpassing the torque achieved by mechanical systems, Toyota claims.
New AWD Integrated Management (AIM), claimed unique in this class, automatically adjusts different vehicle systems – steering assist, brake and throttle control, shift pattern and drive torque distribution – according to the drive mode selected – Normal to Eco or Sport mode. Sport mode modifies the steering assist, throttle control shift schedule and drive torque distribution for better on road performance.
A new automatic limited-slip differential control – Trail Mode – ensures the best possible grip and control on low-grip surfaces. If a driven wheel loses contact with the ground on very uneven terrain, Trail Mode brakes the free rotating wheel and directs drive torque to the grounded wheel. Throttle control and the transmission shift pattern are also adapted to help keep the vehicle moving.
Trim and specifications
Features fitted as standard or as options, according to model grade, include a power operated panoramic roof, heated seats and up to five USB ports.
The latest Toyota Safety Sense package is standard range-wide in Europe and includes and excellent radar cruise control and new driver-selectable lane trace assist. The improved system features a single lens camera and millimetre wave radar, both with enhanced performance to expand the scope of hazard detection and functionality. The unit has also been made smaller, so the driver gains a wider field of vision. The system includes upgraded versions of the Pre-Collision System with Pedestrian Detection, intelligent Adaptive Cruise Control, Lane Departure Alert with Steering Assist, Road Sign Assist and Automatic High Beam. It also introduces Lane Tracing Assist, which provides more advanced driving support.
The functionality of the Pre-Collision System has been extended so that as well as vehicles it can now detect pedestrians on the road ahead during low-light driving as well as in daylight. It also has the added capability of recognising bicycles in the vehicle's path, at relative speeds of between approximately 6 and 50mph, during daylight hours. Where vehicles are concerned, the system can determine collision risks at speeds from zero to 112mph. If it calculates an imminent risk of collision, it will alert the driver and prepare the brakes (Pre-Collision Brake Assist) for maximum stopping force. If the driver fails to act, it will trigger Autonomous Emergency Braking, which can reduce vehicle speed by up to 25mph, potentially bringing the car to a stop and avoiding an impact.
The new intelligent Adaptive Cruise Control is also able to work in conjunction with the car's Road Sign Assist system. When the car is travelling at a constant, pre-set speed, iACC can recognise new speed limits on major roads and let the driver adjust the speed to keep within the limit. Road Sign Assist itself has been enhanced to that it is able to recognise a wider range of road sign warnings and commands, presenting the information on the driver's multi-information display.
The RAV4's Toyota Safety Sense includes a new Lane Tracing Assist function, which provides a degree of automated driving support. LTA monitors the line markings on motorways and principal routes and applies steering assist to keep the car centred within its lane, when travelling at speeds above 31mph. This can reduce collision risks and the burden on the driver when making long motorway journeys. It works very well, providing help without being obtrusive. A little sneaky hands-off on a deserted Spanish motorway works for a few seconds before an orange flashing warning appears in the instrument cluster; if ignored the system disables.
The intelligent Adaptive Cruise Control and Lane Tracing Assist work together in slow, stop/go traffic, tracking the vehicle ahead within the traffic lane, maintaining a safe distance and speed, bringing the vehicle to a halt when necessary and moving off seamlessly when traffic flow resumes.
Lane Departure Alert with Steering Assist has also been improved so that it is able to recognise road margins on straight roads where there are no clear lane markings. If it is difficult or impossible for the system to detect lane markings, for example when driving in heavy traffic, it will track the path of the vehicle ahead, using the front-mounted camera and radar. Also, in combination with LTA, it performs corrective steering operation when lane departure without the driver's intention is detected.
New Dynamic grade
As well as familiar Icon, Design and Excel specification pack, Toyota GB has introduced a new Dynamic grade with bi-tone paint finish, contrasting  between the bodywork colour (choice of four) and a gloss black roof, with projector LED headlights and black 18-inch alloys. Inside, sports-style seats, a black headlining and blue trim accents feature.
As usual, it's pick your spec with few options such as a Panoramic View Monitor, which provides a real-time 360-degree view of the area immediately around the vehicle, including a bird's eye aspect from above and comes with JBL premium audio.
A panoramic sunroof is also optional but, bizarrely, you lose the standard spare wheel and get a pump and tin of gunk instead. The only other options are a variety of leather and alcantara upholstery materials, gunk and pump in lieu of spare wheel (why would you?) and metallic paint.
A power tailgate on all but entry grades is a notable addition to standard equipment – it can be operated by waving a foot under the rear bumper though I have found this system very flaky on various makes and models – I prefer the Lexus RX trick of bringing a hand or elbow close to the boot badge.
Connected Services
Toyota plans to add connected services this year, promising "convenience and peace of mind features" eventually to include Last Mile Guidance, Send to Car Navigation, Find my Car, Driving Analytics and Maintenance Reminder.
Toyota GB expects to sell 70% of the new RAV4 with 4WD. Trim split is forecast at 35% Design, 30% Dynamic and 30% Excel with just 5% of buyers opting for the entry level Icon 2WD. Hybrid means all will be automatic, of course. The UK distributor expects a 50/50 retail/fleet mix and reckons 80% of retail customers will purchase with a PCP (balloon lease) plan, paying a 24% deposit and GBP269-GBP309 a month.
We sampled Dynamic 2WD and Excel 4WD and prefer the latter – it feels better balanced and more stable on the road and that AWD ability will always be handy in slippery conditions and snow – with the right tyres. There's the usual CVT/hybrid 'rubber band' effect as the engine heads up to a steady speed and the car catches up and I thought the 2WD's engine quite harsh and noisy (big I4s can be hard to 'ush) but engine and road noise are acceptable.
There are the usual equipment anomalies – full electric adjust with memory setting for the driver in higher spec cars but manual only for the front seat passenger and the Japanese just won't line gloveboxes to stop things rattling around. On the other hand, there's loads of storage space, big US-style cupholders, bins in the doors, cordless phone charging, five USB ports and rear air vents to keep passengers happy and a 60/40 split rear seat to aid flexibility. And, arms full of groceries or a large dog, you can't beat the ease and usefulness of a foot operated (good luck) power tailgate.
TBG aims to sell 9,259 this year (sales start in April) versus 7,612 in 2018, and 12,659 in 2020, the first full year. Toyota Europe is aiming for 100,000 this year and 109,000 next. It expects 66% will be AWD, 23% FWD and 11% non-hybrid. It also expects hybrids to account for 92% of 2020 RAV4 sales.