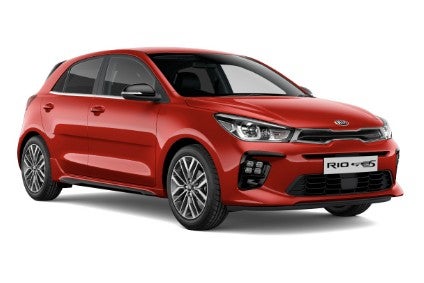 As the era of high-priced KIA EVs begins with the arrival of the EV6, the brand's emphasis on electrification at more affordable levels continues to grow too. One of the latest models to benefit from the trend is the Rio, which gains mild hybrid power and restyles for the interior and exterior.
Why don't we see more Rios on UK roads? After all, Kia is a top-ten brand in Britain and the little five-door hatchback competes in the size class where the Fiesta and Corsa battle most months for the title of best selling vehicle. Perhaps it's a case of Kia UK and Kia Europe preferring to promote models that are priced at higher levels and produced in the region. The success of the Sportage proves that this approach works. Having said that, the NIRO is also a big seller and like the Rio, is an import from South Korea, not made in Slovakia as the Sportage, Kona, CEED and Xceed are.
Pricing
There was a time when the brand's small cars were sold at bargain basement levels but those days are long gone. No-one would describe Rio pricing as premium but neither is it in Dacia territory. Middle ground then, and for the latest 2021 model year cars, a nine-version line-up and the choice of three petrol-only engines.
Power and torque for the cheapest variants are just 62 kW (84 PS) and 122 Nm. Pricing for these manual transmission cars starts at GBP13,650, with alternatives being a 74 kW (101 PS) and 172 Nm 1.0-litre turbo with either manual or DCT gearboxes or an 88 kW (120 PS) and 200 Nm 1.0-litre with the same transmission choices. The two most powerful units have lower CO2 levels than the 1.2-litre naturally aspirated, four-cylinder base engine thanks in part to the 48 V electrics and mild hybrid system.
New Smartstream 1.0-litre
The new three-cylinder engine replaces the previous 'Kappa' series unit although power and cubic capacity are the same. The 998 cc motor has its single-scroll turbocharger integrated within the exhaust manifold, this having been done in the interests of lowering mass and improving sealing.
As well as being linked to a mild hybrid system, the new Smartstream 1.0 has Hyundai-Kia's Continuously Variable Valve Duration (CVVD) technology, the advantage being an ability to switch between combustion cycles depending on load, and therefore supposedly better economy.
New gearbox too
Another innovation for the latest Rio is a fresh manual gearbox. This comes with a 'clutch-by-wire' system which means electronic control replaces a mechanical linkage. It's as seamless as in the pre-facelift car, the pedal feel remaining light and the shifts precise. I didn't find any gruffness when the mild hybrid systems shut down the engine or fired it up so if it really does lower CO2 and fuel consumption as claimed, well done to HMG for the improvement. Some of the improvement will also inevitably be from the change to six ratios from the previous five though.
Interior revisions
Other changes which have been brought in with the facelift and new engines include a larger (eight inches) touchscreen on level 2 trim level cars and above, a higher resolution display for the digital instrumentation, better visibility thanks to relocated door mirrors and thinner C pillars, and Kia's UVO Connect Phase II car data system.
Since its arrival back in 2016, one of the main attractions of the fourth generation model has been the space inside it, with Kia maintaining that the Rio remains the roomiest five-door hatchback in the B segment. That's quite a boast considering how many other cars have been launched since this one first arrived. Certainly, no owner will be able to moan about an uncomfortable driving position and even if those in the back must sit fairly upright there's no questioning the amount of headroom and lounging space for legs.
The boot's capacity remains at 325 litres, which is also very good for the class. This expands to 1103 litres with the 60:40 split rear seats folded but unfortunately, like almost all cars in the segment, instead of a spare tyre or space saver, there's a puncture repair kit. Kia says this is to save weight.
Production
Like so many other Kias, the Rio is manufactured in several plants with Gwangmyeong 2 just south of Seoul being the main one. That factory's output of this model, combined with that from Yancheng (China), St Petersburg (Russia) and Monterrey (Mexico) accounted for five percent of Kia's total production last year, close to 475,000 Rios being built.
Conclusion
The new engine and gearbox, along with the official economy rating in excess of 50 mpg, demonstrate one of the reasons why diesels are disappearing from the 4 m long hatchback segment. People also do now seem to be aware of the benefits of mild hybrids – less CO2 and better MPG in short – so 2021 might turn out to be a strong year for the Rio thanks to it offering engine tech that not every rival has, and that includes the VW Polo.
The Rio GT-Line S 1.0-litre T-GDi DCT 48 V Mild Hybrid costs from GBP21,145 OTR. Combined economy is 51.4 mpg, average CO2 is 126 g/km, 0-62 mph takes 9.8 (manual) or 9.9 (DCT) seconds and the top speed is 118 mph.