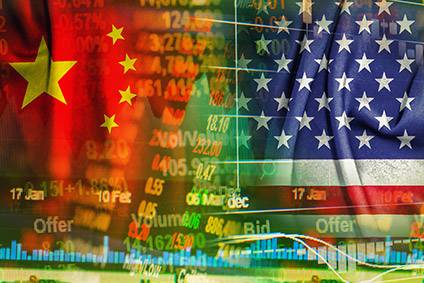 New vehicle sales in the Asia-Pacific region this year are expected to decline for the first time since the 1997-98 regional financial crisis, to a little more than 43 million units, and the outlook for 2019 is mixed at best. China clearly has a massive influence of the regional market these days and declining sales in the second half of the year was responsible for the region's overall negative performance in 2018.
There are a number of events due to take place next year involving China that could have a significant impact not only on the regional vehicle market going forward, but also on regional economic growth as a whole. At the top of this list is the trade meeting scheduled to take place between the USA and China at the end of the first quarter.
In December the two countries called a truce in their escalating trade war, with the USA agreeing to delay further import tariff increases on Chinese goods until after these talks take place, while China temporarily reversed the 25% tariff hike on US products it implemented in July 2018, which were targeted at US vehicle and auto components among other products.
Some of the rhetoric on the sidelines since the truce was calledhas been far from encouraging, however. But failure to agree a positive way forward would likely re-ignite the trade war,along with the re-imposition of higher import tariffs, which would have a hugely negative impact on the Chinese economy. This in turn would have a significant knock-on effect on GDP growth across the region by depressing commodity prices and exports. Currencies in the region will also likely to be negatively affected by these developments, putting upward pressure on local interest rates.
Minimum NEV quotas in China
Compulsory minimum sales quotas for new-energy vehicles (NEVs), including electric and plug-in hybrids vehicles, will come into effect in China at the beginning of 2019. Vehicle manufacturers will be required to earn a minimum quota of credits which are awarded per NEV sold. Each NEV is awarded between 2-6 credits depending on its environmental score. Local analysts expect this to equate to an average overall NEV sales quota of around 5% next year and this will continue to be gradually ramped up in subsequent years.
The government is also offering generous sales and user incentives for NEVs, as well as increasing disincentives for traditional internal combustion engine vehicles, which will likely continue to strengthen China's position as the leading global producer of new-energy vehicles.
The implementation of these new policies coincides with a sharp decline in overall Chinese vehicle sales in recent months, however, and the market is set to post its first annual decline in close to 30 years in 2018.With consumer sentiment already weak due to the escalating trade war with the USA, the Government's NEV policy could help drive the overall Chinese vehicle market much lower next year. Consumers may choose to delay purchases due to higher average vehicle prices, expectations of rapidly evolving technologies in this segment or that vehicle prices may fall in the future as economies of scale in this segment are ramped up.
Sales incentives
Weakening demand in some markets will likely trigger the introduction of additional tax incentives to help stimulate demand. In South Korea, the government is considering additional sales tax discounts as well as scrappage incentives. China already offers huge incentives to encourage purchases of new-energy vehicles and this is set to continue and may even be increased if the market continues to weaken. Similarly in Malaysia and the Philippines, where sales have also been weak this year, additional incentives are likely being considered to stimulate growth.
Oil prices
The recent plunge in crude oil prices, if it continues or at least stays at current levels, will have a positive effect on regional economic growth. Most countries in Asia are net oil importers, including China, India, Japan, South Korea and most of South-east Asia. Malaysia is the main economy vulnerable to low oil prices, which may trigger government spending cuts.
Elections
The two biggest economies in South-East Asia, Thailand and Indonesia, are due to hold general elections in 2019, as is India – the world's most populous nation. Typically, elections have a positive direct effect on local vehicle markets with sales lifted by campaign spending. Indirectly, policy insecurity can cause companies and consumers to delay decisions on investments and on large purchases.
After four years of military rule, the junta that is currently in charge of Thailand bowed to popular pressure and agreed to hold elections in February 2019. The military seized power in May 2014 following months of political instability, including mass protests and fierce riots in the capital Bangkok which left the electorate highly polarised.
General elections are scheduled to take place on 17th April to choose the government that will lead Indonesia in the 2019-2024 five-year period. The next government's President, Vice-Presidential and Members of the People's Consultative Assembly will be elected on the same day for the first time in the country's history, no doubt to minimize the potential for disruption.
In India, general elections are expected to be held in April or May 2019, with many in the country looking at incumbent Prime Minister Narindra Modi of the BJP party to continue his pro-business policy agenda. This is by no means a foregone conclusion, with the Congress party picking up support in many states in recent months.