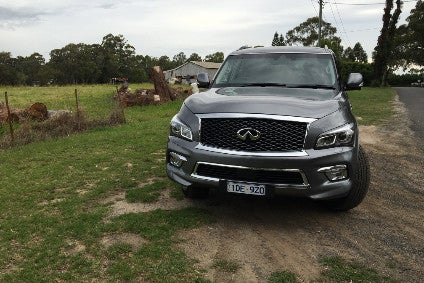 Infiniti had a record year in 2015, selling 215,250 vehicles worldwide. January is looking good too, with the addition of the UK-built Q30 just starting to add some decent volume, especially across European markets. But surely no Infiniti makes as much of a visual impact – and as much profit – as the range topper, the XXL-sized QX80.
There's no way of avoiding the topic: some people will really dislike the QX80. Too big, too in your face, too much of a gas guzzler. Only that it's not that thirsty and besides, we all know what's been happening to the price of petrol. Here in Sydney, even though it hasn't (yet) dropped below a dollar – the equivalent of 50p – it's still spectacularly cheap by European standards.
In the US, where the QX80 is well known and sells well, its 5.6-litre V8 isn't an issue, just as it's not really a problem in Australia either: the tax system doesn't work to a CO2 formula. The big Infiniti has been on the market for a couple of years but the Aussie importer took its time to get this giant SUV launched locally. The first examples landed just a few months ago.
Despite sharing a lot with the Nissan Patrol, you can't tell at a glance. And down here, unlike in Japan, China and North America, you can buy the Nissan original so it's vital that Infiniti does a good job of positioning the QX80 as its own model. The importer sees the target buyer as someone who might otherwise choose a Lexus LX 570 – monied people who might need to tow a boat or a couple of jet skis perhaps (the legal capacity is up to 3,500kg).
There is no getting away from the sheer size of this 4×4, especially when parking. Another less than ideal thing to live with is a boot that's too small for such a huge vehicle, but that's only if you have the third row of seats in the fully reclined position. Handily, with the electrically rising and descending tailgate open, all you need do to lower the third row is lean in and hold some switches: slowly slowly, down they go. And if you'd like to fold the second row, there are buttons to do that too – on the dashboard. I have a four-year old nephew who I'm fairly sure longs to have his own QX80. Perhaps because it's about as big as his bedroom and has almost as many toys inside it. If you enjoy pressing buttons, believe that pretty much everything in sight should be motorised and have a thing for super-soft seating, this is your car.
Like the Nissan with which it shares a platform, the QX80 has astonishing off-road talents. And all the 4×4 settings are managed via….can you guess? – yes, multiple buttons on the centre console. Got a thing for shiny wood? This is definitely your car as there is a lot of it. And despite the width of that console between the front seats (which, disappointingly, does not contain a fridge as it would do in a Discovery), there is also an abundance of head, shoulder, and leg room. And that even applies to the three people who can sit quite happily in the third row.
How well do you
really

know your competitors?

Access the most comprehensive Company Profiles on the market, powered by GlobalData. Save hours of research. Gain competitive edge.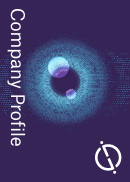 Company Profile – free sample
Thank you!
Your download email will arrive shortly
Not ready to buy yet? Download a free sample
We are confident about the unique quality of our Company Profiles. However, we want you to make the most beneficial decision for your business, so we offer a free sample that you can download by submitting the below form
By GlobalData
If you do like the aggressive front end, and it did grow on me, then you'll also be satisfied with lots of other exterior details. The little silver 5.6 badges on the front wings are subtle touches and honestly, what's not to love about 22″ inch wheels? You don't get loud INFINITI badging on the tailgate but rather the word is pressed into a piece of silver-plastic trim. Up front, the brand name doesn't even appear, just the logo.
Something which can become tiresome is the continuous beeping as the tailgate opens or closes – does an Audi Q7's do that? Exactly. Another very un-premium thing which needs fixing is the loud ratcheting which you'll hear every time you push the parking brake on. Like purple-glowing elements in the instruments, applying a pedal rather than a handbrake or an electric switch is an Infiniti thing. The Q50 and QX70 I have also driven, but in those, it goes on and off silently.
If you were a fan of Entourage, and I'll get to the Escalade comparison in a minute, could you not see Turtle driving one of these? And there you have the demographic of who the QX80 is aimed at: men who've owned a few big Caddy SUVs and want something similar from a different brand, not those who would prefer a Range Rover. And besides, unless it's an L, the big Rangie is a touch on the petite side compared to the Caddy and the QX80.
When I went seeking sales numbers for this car, the USA was the obvious first place to look. In 2015, and despite this being a model which was brand new as long ago as mid-2010, Infiniti USA delivered 15,646 QX80s, a year-on-year rise of 21%. December numbers were especially strong, rising by 34% to 2,171 units. Compare the total to numbers for the Lincoln Navigator: 11,964 combined for standard and long-wheelbase variants. Lexus USA didn't do too well with its 5.7-litre LX, just 3,884 finding owners in 2015. Still, even fewer than 4,000 sales of such a high-margin model is good business when transaction prices are edging towards or into six figures.
The best evidence of why what we might call confrontingly styled SUVs can be fantastically profitable is the segment's king, the Escalade. Would you believe that GM sold 35,921 units of the standard and ESV versions last year. No wonder that model is not going to lose its name as the brand starts to adopt a CT (sedans) or XT (crossovers & SUVs) naming system. Really, Cadillac should be thinking about expanding Escalade into a brand, as Land Rover has done with Range Rover. But that's a discussion for another day.
QX80 buyers then, will clearly love all the glitzy touches and care not a fig about the vehicle's 5.3m length plus its width and height. Having said that, if the glass roof's sunshade is in the retracted position, you cannot help but have an unsettlingly close and not so bella vista of multi-storey carpark height restrictor bars. I edged under a 2m marker slowly-slowly in one Westfield suddenly wishing for Range Rover-style air suspension, all the while hoping I wasn't about to have to climb out and ask a queue of cars to back up. Even though no metal or concrete made contact, the ability to lower the body would be handy in these and other circumstances.
Pneumatic springs might also sort the generous amounts of bodyroll which accompany any sudden lane changes. But they would be of no help whatsoever at reducing the large number of turns for the steering. And yet, these factors combine to make you just relax, and cruise. That's exactly what the QX80 is brilliant at, and why you can feel like you're one of the boys from Entourage. The really good news is that the steering isn't as light and vague as you'd imagine and it also feels firmer than in the Patrol.
Overall, adding this giant model to the Infiniti range in certain markets makes sound business and brand sense. People would look at the QX80 every time I parked it, curious to know what it was. Having what seems to some like a brash top model is no bad thing: just look at how successful Lexus is in the US – if the LX was too flashy and in any way damaging to the image it would have been dropped. For that reason, I would expect the QX80 to keep on doing well in the countries where its dimensions and engine size aren't an issue. And the next generation model due out in 2-3 years' time will probably be styled to get even more people talking about it. When it comes to building brands, brutish can be beautiful. And bountiful.
The 2016 model year Infiniti QX80 is sold in North America, Russia, the Middle East, South Korea, China and Australia. It is available with one engine and transmission, worldwide: a 5.6-litre Endurance V8 built by Nissan North America, in combination with a seven-speed automatic gearbox. Tare mass is 2,837kg, the turning circle is 12.6m, and the Australian importer quotes average consumption of 14.8l/100km. Production takes place at Nissan Shatai's Kyushu plant on the island of the same name.