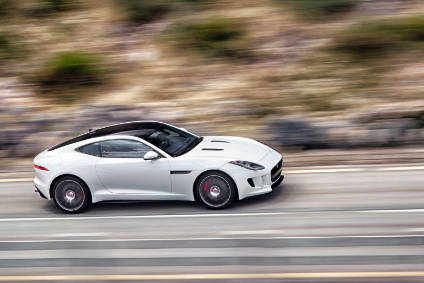 How often do any of us get into the driver's seat of a car and do a double take at the calibrations on the speedo? Indeed, the correct answer being not often enough. The 2016 F-TYPE R AWD hatchback has just thrilled me with its display going all the way to 340km/h.
After the delight comes the depression: the car is here, where I'm writing this from, in Sydney. No, I wasn't going to moan about being in what is my home city in the midst of summer. That would never do. The terrible dip in excitement comes from the knowledge of how enthusiastically the ludicrously low speed limits are enforced. On a downhill section of a suburban dual carriageway that we'd call an A road in Britain, I had to flick the left paddle so as to hold the car in second gear, having tired of the need to keep braking. Speed limit? Sixty kilometres per hour. Why so low? What's more, lots and lots of taxpayers' money is spent demonising speed with TV and print ads seemingly everywhere. Lest you condemn me a would-be kid-killer, I would also point out how inconsistent it can feel to cruise past schools as the limit flashes a pulsing 40km/h, whereas in the UK it's a slower, and safer, 20mph.
The maximum you can drive this car up to in the state of New South Wales is 110km/h. So, just over a third of what the top speed could be. Drink driving is a big problem down here, as is drug driving but the good news is that the police do an excellent job of stopping and testing. I just wish their bosses in the state and federal governments would have a serious look at the reasons why KSI numbers here are relatively high, year in year out. Lots of poorly surfaced and often very dark roads, a too-easy roadworthiness test for old vehicles, and my personal theory: millions of frustrated motorists either tailgating one another – at least these people are alert – or else switched off due to boredom, which is terrifyingly easy to do. One arm on the windowsill, a finger or two on the steering wheel, the left hand fiddling with infotainment controls to give the brain something to occupy it. That's the reality.
In the context of the above conditions, you might wonder why anyone in Sydney or any other Australian city would spend over a quarter of a million dollars (halve that for sterling) on the optioned up press test car which I tried out recently. Well, how about the looks of the thing? Or the goosebumps it gives you every time you press the START button? Or even before that, the smile that always appears on your face when you blip the key or touch the door handle and out it pops with a satisfying thunk-click. It's a theatrical car this, and certainly not one for those who prefer not being looked at. Lots of people gaze at you in an F-TYPE, even in Sydney, where I see more McLarens than I do in England. You also see a lot of Toyota Camry Hybrids. See, I told you it's not total paradise down here.
The reason I borrowed this model was to see how the 2016 model year update has changed the F-TYPE. This was also my first experience of one with all-wheel drive. This is signified by a badge on the rear. And by a distinct lack of slidey-slidey action on those oh-so-dangerous hot roads just after a downpour makes them slippery. These sorts of conditions are typical of Sydney's peculiar climate – it rained cats and dogs for days last week, a deluge the likes of which you just don't see in the south of England. Giant pot holes appear (even bigger than the spiders who pay a visit to your bedroom wall seeking a place to dry out), and other, more slithery hazards too.
So AWD is, contrary to what we might think, extremely useful, and a real boon for safety, in summer conditions. And how cool would an F-TYPE with skis on its roof headed to the Snowy Mountains look, come June/July? Yes, if you do have half of half a million bucks burning a hole in your pocket, an R AWD would be a tempting thing.
Is the pricing really that outrageous? Lots of cars are more expensive here than they are in the US and Europe. A long time ago, there used to be import quotas as well as duty of 157%, so if you wanted a European brand model, you had to pay up and often wait a long time for it. Some would say that certain importers have never forgotten this, and that a new generation of buyer accepts that cars cost a lot here just as readily as their parents did. Well, premium brand models, mostly, or as older Australians term them, 'prestige' cars. And yet, the C-Class is a big seller here and not too pricey, meaning that Mercedes-Benz was a top-ten brand in 2015, as was Volkswagen. Oh, and think you've seen lots of steel and glass Audi temples in Britain? They're even bigger here, and there's quite a few of them. The JLR dealership which is also the Sydney base for press cars is a swanky affair, and you certainly can't say that about all of its equivalents in the UK's larger cities. So Aussies are rich, and they like spending their money on fancy cars. For that reason, it's no wonder that Jaguar is targetting this market for growth.
Vehicles sales in Australia reached new highs in 2015, with more than 1.1 million units retailed. JLR obviously isn't a major force but the local importer must surely be a nicely profitable operation, given the number of Discovery Sports and Range Rover Sports you see on the road. And, since the final quarter of 2015, XEs too. The XF and facelifted XJ will soon be here and the F-PACE follows from July so I would expect 2016 to be a record one for the big cat brand. At a worldwide level, last year was Jaguar's best in a decade, with deliveries of 83,986 cars. The rise was just 3% though, which reflects a disappointing year in China and the USA but the XE, XF and F-PACE will surely change things there soon enough. The picture in the UK was far brighter in 2015, Jaguar registrations shooting up by 30% to 23,950 versus 18,401 vehicles in 2014.
It isn't just the addition of AWD variants that has helped to lift F-TYPE sales globally in recent months: manual transmission cars were equally new for model year 2016. The six-speed gearbox won't have a huge uptake but it's a good sign that Jaguar is remembering its heritage. The test car had ZF's hard to beat eight-speed torque converter automatic and despite the need to keep an eye on speed limits, I did manage to get it out of second gear.
On motorways, the R AWD feels like it's using a tiny amount of its available power, which at 110km/h, it is. I've tried the RWD version of the R on a Moto GP circuit in Spain as well as a lot of mountain roads and dual carriageways there and at the time, I didn't feel that AWD was missing. But, some buyers will want its additional grip, so JLR now happily accommodates them.
To level any criticism at this sublime car feels wrong, and it's quite hard to think of anything majorly wrong with the F-TYPE, especially in this form. It's never going to win any awards for roominess but the sports seats grip you beautifully and there ARE a few places throughout the cabin for all the stuff we fill our cars up with. I did learn that the hatchback's boot will take a large suitcase lengthways, with room remaining for a couple of shoeboxes. So if anyone asks me what's the best car with which to move house, I'll nominate the F-TYPE R AWD. Just keep an eye out for Ford Falcons with lots of little antennae and speed guns strapped to their sides. Usually hiding behind bushes. Enforcing 60km/h on wide, lightly trafficed roads.
If Britain seems cold and damp and grey and grim right now, know that it's not necessarily heavenly either in places where you think it must be. Unless you own an F-TYPE and have a track day or two booked. Now that would be nirvana and probably the best way to stop feeling frustrated by the need to be ever vigilant for what the speedometer's reading is. Who knew it could be possible to be homesick for southern England's crowded but properly speed limited – 80mph is safe and effectively legal – M4 and M5?
In AWD form, the 404kW/680Nm MY2016 Jaguar F-TYPE R AWD will accelerate to 100km/h in 4.1 seconds and reach a top speed of 300 km/h. Official average consumption is 11.3l/100km. AWD cars have a power bulge and additional vents in the bonnet. The six-speed manual gearbox is available for RWD six-cylinder cars, not the R or R AWD, which are powered by a supercharged 5.0-litre V8.