The automotive industry continues to be a hotbed of innovation, with activity driven by the need for proper transmission of torque and improving vehicle efficiency, and growing importance of technologies such as electrification, and connected and autonomous vehicles. In the last three years alone, there have been over 1.2 million patents filed and granted in the automotive industry, according to GlobalData's report on Innovation in Automotive: Multi-lamellar clutches.
However, not all innovations are equal and nor do they follow a constant upward trend. Instead, their evolution takes the form of an S-shaped curve that reflects their typical lifecycle from early emergence to accelerating adoption, before finally stabilising and reaching maturity.
Identifying where a particular innovation is on this journey, especially those that are in the emerging and accelerating stages, is essential for understanding their current level of adoption and the likely future trajectory and impact they will have.
290+ innovations will shape the automotive industry
According to GlobalData's Technology Foresights, which plots the S-curve for the automotive industry using innovation intensity models built on over 619,000 patents, there are 290+ innovation areas that will shape the future of the industry.
Within the emerging innovation stage, resilient spoke wheels, auto-transmission lubrication circuits, and ignition switching engines are disruptive technologies that are in the early stages of application and should be tracked closely. Engine purge actuators, electro-dynamic braking, and adsorptive vapour recovery system estimation are some of the accelerating innovation areas, where adoption has been steadily increasing. Among maturing innovation areas are collision avoidance braking control system and direct injection type engines, which are now well established in the industry.
Innovation S-curve for the automotive industry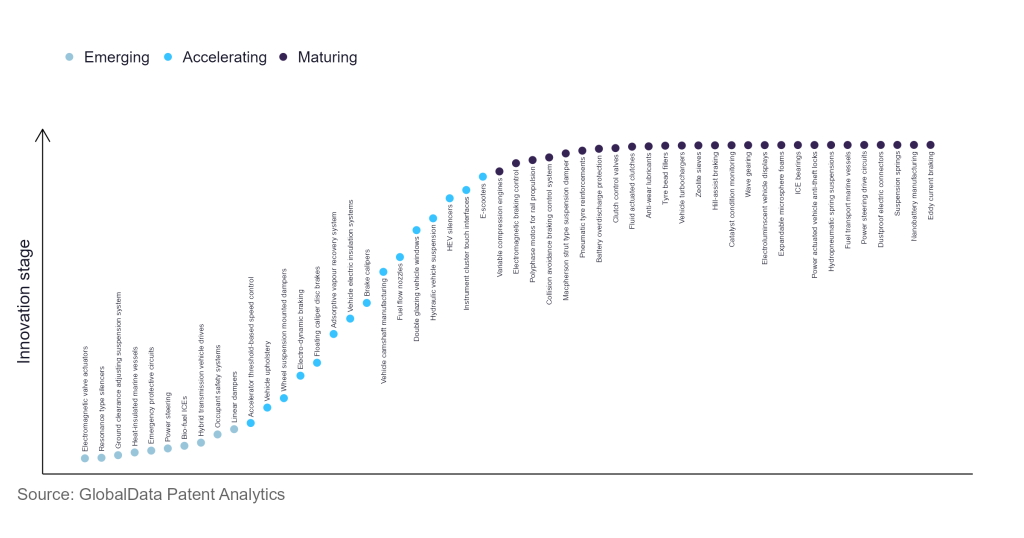 Multi-lamellar clutches is a key innovation area in automotive
An automobile vehicle's multi-plate clutch increases the amount of power sent from the engine to the transmission shaft while also making up for torque loss brought on by slippage. This type of clutch is mostly used by heavy equipment, commercial vehicles, military vehicles, racing cars, and motorcycles.
GlobalData's analysis also uncovers the companies at the forefront of each innovation area and assesses the potential reach and impact of their patenting activity across different applications and geographies. According to GlobalData, there are 10+ companies, spanning technology vendors, established automotive companies, and up-and-coming start-ups engaged in the development and application of multi-lamellar clutches.
Key players in multi-lamellar clutches – a disruptive innovation in the automotive industry
'Application diversity' measures the number of different applications identified for each relevant patent and broadly splits companies into either 'niche' or 'diversified' innovators.
'Geographic reach' refers to the number of different countries each relevant patent is registered in and reflects the breadth of geographic application intended, ranging from 'global' to 'local'.
Patent volumes related to multi-lamellar clutches
Source: GlobalData Patent Analytics
Schaeffler is one of the leading innovators in multi-lamellar clutches with 398 patents. Schaeffler's multi-lamellar clutches enable all-wheel drive and thereby improve vehicle acceleration, handling, and safety. The clutches work by transferring the torque from an incoming shaft to an outgoing shaft through a series of lubricated steel disc surfaces also called lamella pack. Other companies innovating in this technology domain are Ford, Hyundai, and Kia.
To further understand the key themes and technologies disrupting the automotive industry, access GlobalData's latest thematic research report on Automotive.