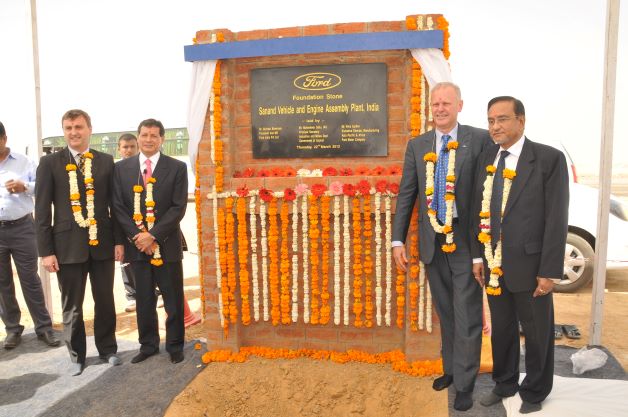 Jaguar Land Rover owner Tata Motors' subsidiary Tata Passenger Electric Mobility (TPEML) has signed an agreement with Ford India Private (FIPL) to acquired the FIPL powertrain manufacturing plant at Sanand, Gujarat, including all the land and buildings, the plant itself complete with all machinery and equipment plus and transfer of all eligible employees for INR725.7 Crore (US$91 million).
In a statement, TPEML said FIPL would continue to operate its powertrain factory by leasing back the land and buildings of the plant from TPEML on "mutually agreed terms".
TPEML had also agreed to employ eligible employees of the FIPL plant "in the event of FIPL's cessation of such operations".
This is the second Ford India plant acquired by Tata group after the Sanand vehicle manufacturing facility deal announced last May.
That followed Ford's September 2021 announcement it would end car manufacturing operations in India but "significantly expand" its Chennai-based business solutions workforce and launch global vehicle models and electrified SUVs sourced elsewhere.
Vehicle assembly in Sanand was to end by the fourth quarter of 2021 and vehicle and engine manufacturing in Chennai by the second quarter of 2022. The decision followed an accumulated operating loss of over US$2bn over the previous decade and a $0.8 billion non operating write down of assets in 2019. "The restructuring is expected to create a sustainably profitable business in India," the automaker said in a statement issued at the time.
Around 500 employees at the Sanand engine plant, producing motors for export for the Ranger pickup truck, and about 100 employees supporting parts distribution and customer service, would remain on the payroll.
A Reuters report noted Ford had less than 2% of the Indian passenger vehicle market when it stopped production in the country last year, having struggled for more than 20 years to generate profits.
The closure of the latest deal is subject to receipt of relevant approvals from government authorities and compliance with customary conditions. The government of Gujarat, TPEML and FIPL signed a tripartite MoU on 30 May 2022 to support all relevant approvals for this second transaction.
Tata Motors said its passenger vehicles business had delivered "market beating growth over the last few years and has strong plans to sustain this momentum, with its robust pipeline of future ready New Forever products and proactive investments in electric vehicles".
"With our manufacturing capacity nearing saturation, this acquisition is timely and a win win for all stakeholders. It will unlock a state of the art manufacturing capacity of 300,000 units per annum which is scalable to 420,000 units a year."
TPEML would reconfigure the plant for existing and future TAta vehicle platforms. The unit is adjacent to its existing factory at Sanand "which should help in a smooth transition".
Shailesh Chandra, Managing Director, Tata Motors Passenger Vehicles and TPEML, said: "The agreement with FIPL is beneficial to all stakeholders and reflects Tata Motors strong aspiration to further strengthen its market position in the passenger vehicles segment and to continue to build on its leadership position in the electric vehicle segment.
It will accelerate the growth and development of the Indian auto industry…"
"[The] announcement marks an important step forward in Ford's ongoing business restructuring in India which is part of our Ford+ plan for strategic transformation. With the transfer of employment for eligible vehicle manufacturing employees included in the agreement, this milestone also highlights our best effort in caring for those impacted by the restructuring," said Steve Armstrong, Ford's transformation officer.
TPEML and FIPL will work together over the next few months to "satisfy all the condition precedents and obtain the required regulatory approvals for the closure of the transaction", the statement added.