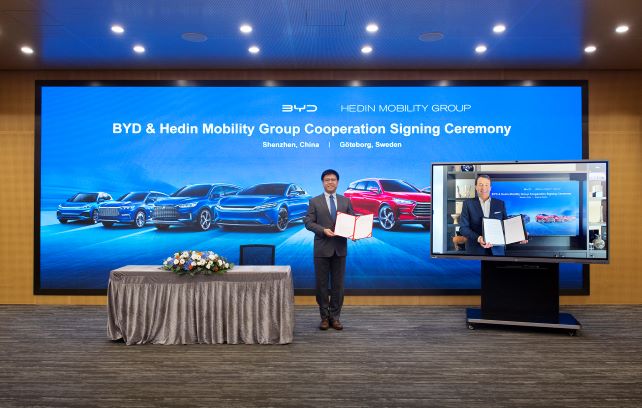 EV maker BYD has appointed Hedin Mobility Group as a 'Dealer+' to distribute and sell passenger cars in Sweden and Germany.
The Dealer+ status assigns official distribution, sales and aftersales services to Hedin in both countries.
Hedin will open outlets in cities in Sweden and Germany starting with Stockholm in October. The first German store will also open in October. Customer websites for each market will launch later this month and information on models available will be announced in September.
First deliveries are scheduled for Q4 2022.
"Partnerships, such as the agreement with Hedin Mobility Group, are the foundation to providing comprehensive services and localised support for BYD customers as the brand continues to evolve its new energy passenger car business in Europe," the automaker said in a statement.
Hedin will now recruit dealers from various regions in Germany to sell and service the BYD passenger car brand.
It is one of Europe's largest privately owned dealership groups, operating over 230 outlets in eight countries, including Germany, with a "significant dealership footprint" across Scandinavia. It sold 125,000 vehicles in 2021.
It will sell BYD vehicles in Sweden through its dealership group Hedin Bil and via the newly developed network in Germany.
Michael Shu, general manager and managing director, BYD Europe, said: "We believe the timing is perfect to meet consumer demand for more eco-friendly solutions. Our partnership with the well-respected Hedin Mobility Group has exciting potential."
Anders Hedin, owner and CEO of Hedin Mobility Group, added: "This underscores our aspirations to be a leading mobility provider and a contributing force in the electrification of the European car fleet. Growing our distribution business is central to our strategic plans."