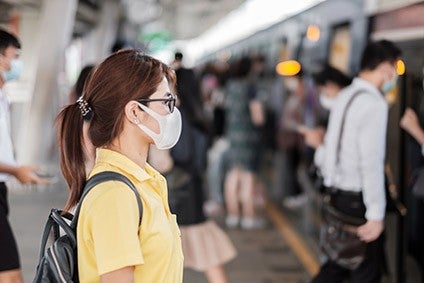 There seems to be no end in sight for the time being concerning the spread of the coronavirus sweeping around the world, with the National Health Commission of the People's Republic of China confirming 1,380 fatalities so far (14 February).
The highly contagious malady has seen multiple manufacturing businesses forced to temporarily suspend production in China, with no real certainty if work will restart on Monday.
China was already experiencing challenging market conditions before the coronoavirus outbreak, with new vehicle sales plunging by more than 18% to 1.94m units in January, 2020 from an already weak 2.3m units in the same month of last year, according to wholesale data released by the China Association of Automobile Manufacturers (CAAM). Vehicle output was also down by 27.6% at 1.78m units.
Beijing has taken some extraordinary measures to effectively put some 56m people in lock-down, particularly in the Hubei Province in which the city at the epicentre of the crisis, Wuhan, is situated and where so many car manufacturers and suppliers have bases.
Striking images show deserted mega-cities and giant machines spraying huge amounts of disinfectant, while the return of 400m people from the extended Lunar New Year has posed headaches for Chinese railways anxious to contain any further spread.
China ordered businesses in Hubei Province to extend the already lengthened New Year holiday to 14 February, although at the time of writing it is not clear how many manufacturers will be able to resume operations. PSA for example has just told me: "We have set up a working group to analyse the development of the situation and manage logistics issues accordingly.
"Manufacturing activity in China for all carmakers and suppliers are linked to Chinese authorities' decisions. Until now outside China, PSA, our modular manufacturing sites and our multi energy platforms give us flexibility for the allocation of production between ICE and LEV versions." That would appear to indicate any imminent production resumption is unlikely, but as ever with the outbreak, the situation is highly fluid.
Foreign automakers in China, including Toyota and Volkswagen said they planned to extend some plant closures in China until 17 February, while Hyundai and Kia restarted production at their South Korean domestic plants after component shortages began to ease. We've grouped automakers' latest plans here.
The carmakers have been among the worst affected by the coronavirus outbreak, having been forced to shut down their domestic plants last week due to shortages of components from suppliers in China, where economic activity remains severely disrupted by the ongoing health crisis. A lack of wiring harnesses and other electrical parts in particular were blamed for production shutdowns.
Roof specialist, Webasto was directly affected in its home Bavarian hometown of Stockdorf, after staff contracted the coronavirus, but has thankfully now reopened its doors after a two-week shutdown. The supplier closed its administrative and development centre on 29 January as a precaution after the first employees had tested positive for the coronavirus.
Huge repatriation efforts by Western governments have seen all those wishing to exit Wuhan now back in their respective countries, but the British Foreign Office also advised all its citizens to leave China, a logistically challenging problem especially for those with ties.
Meanwhile, in China itself, epicentre of the coronavirus, new energy vehicle manufacturer, BYD has set up a production line for medical masks and disinfectants in response to the growing health crisis in the country caused by the outbreak. They're not alone either: everyone from those involved in clothes, phones and even nappy producers are reportedly turning their attention to face mask output.
Away from the coronavirus, Russia posted its second consecutive monthly rise in sales of passenger cars and light vehicles, although this comes on the back of seemingly endless drops in numbers last year.
One blot on that particular horizon though, is also linked to the coronavirus, with the oil price dropping sharply as predicted demand falls with China in particular, likely to see reduced consumption. Russia is particularly susceptible to energy price fluctuations, given its huge output of oil and gas, so the nonetheless welcome sales up-tick, may be relatively short-lived.
Staying with the numbers, Western Europe car registrations fell by 7.7% year-on-year (YoY) in January, according to data released by LMC Automotive. LMC said new EU emissions regulations, coming into effect at the start of 2020, caused a pull-forward of some sales into December, which led to a weaker January. The annualised selling rate for the region fell to 13.4m units a year in January, compared with 15.3m units a year in December.
The new vehicle market in Japan continued to decline sharply in January 2020, by almost 12% to 360,103 units from 407,975 units a year earlier, according to registration data released by the Japan Automobile Manufacturers Association (JAMA).
There are even concerns starting to be aired as to whether or not the Olympic Games due to be held in Tokyo this summer will be affected by the coronavirus, while China announced it was to postpone the Shanghai Formula 1 race in April to an undisclosed date.
The Geneva Motor Show will shortly be upon us and vehicles from Aston Martin, Bentley, Czinger and Hyundai are the latest additions to just-auto's list of Geneva Salon world premieres. More information about future models can be found by searching PLDB, just-auto's global vehicle database and today's update here.
Brexit – remember that? – has thankfully receded from the front pages of British newspapers but the government's highly controversial decision to bring forward a ban on the sale of new petrol and diesel cars and vans from 2040 to 2035 has ruffled feathers at the UK's Road Haulage Association (RHA).
"Of course we all want to tackle climate change, but it has to be done in a realistic and manageable way," said RHA chief executive, Richard Burnett. "Changing the UK's car fleet to electric is one thing. They are increasingly available, with improving range and infrastructure that will work for users. For vans this is less clear cut because payloads and duty cycles are much more demanding.
"The changeover process for heavy goods vehicles is different again. Research into alternative fuels is already widespread. However, because of the nature of the road freight industry and the distances covered, there is still a very long way to go before an efficient, cost-effective alternative to diesel-powered trucks can be found." Burnett may be even more concerned however, by reports circulating the UK government could even accelerate that process yet further, with a date of 2032 mooted, although there is as yet no confirmation of that.
Volvo Car and Geely Automobile announced they are considering combining their businesses to 'create a strong global group, which would accelerate financial and technological synergies between the two companies.'
Still with Geely, the automaker and Volvo Cars-owned EV sports-car brand, Polestar is eyeing new ways to cut plastic content and reduce waste material with innovative natural and recycled source materials. Bcomp's powerRibs and ampliTex technology "could turn natural fibres into lightweight and safety-conscious interior panels for future production models," the automaker said.
It has undoubtedly been a news-heavy week, but the agenda is still utterly dominated by the medical fall-out from China. How it evolves is exercising everyone's minds from the World Health Organisation to the European Union as proof of how quickly these 'runway' epidemics can spread rapidly.
The world is watching as Beijing flexes its considerable power to mobilise against the coronavirus.
Have a peaceful weekend.
Simon Warburton
Business editor – just-auto.com