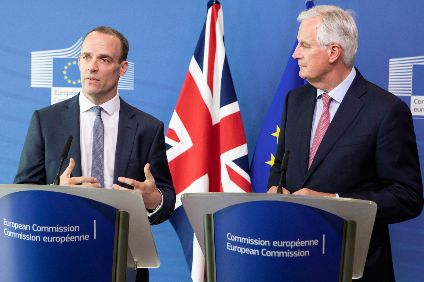 "So, how was just-auto's week?" I think "varied" might be the best answer as a wide variety of different articles on many different subjects drew readers' eyeballs over the seven days. Brexit was the mot de la semaine * after Ford, again, chimed in, warning, if the current state of UK/EU exit negotiation play (and it has already moved, but not on enough, since the statement was issued) led to a 'hard Brexit', that was a 'red line'. The automaker's message was stark and simple, and reiterated what is has said before of its UK operations (now confined to R&D, dealer network and engine making as vehicle assembly was long ago moved to the European continent) – a no-deal Brexit would 'severely damage the UK's competitiveness' and it would take 'whatever action is necessary to protect our business'.
Ford told the British government as much back in August yet Theresa May and her Conservative government have since made little headway. May is a known pro-Remainer, apparently dragged reluctantly into delivering 'what the electorate voted for' and I get the firm impression her administration is only now realising the whole process of negotiating the UK's detachment from a customs union/free trade area, shared courts and regulatory bodies, common rules governing trade and much of the rest of daily life, all built up over some 40 years, should (a) have begun back in 2016 as soon as possible after the 'out' referendum and (b) is way more complicated to achieve than anyone imagined. Quite apart from trying to reach the deal industry, including automotive, wants of frictionless free trade there is the Irish Border Question, the EU's insistence that free trade should include free movement of workforce and many other factors. Things, unrelated to autos, like the question of the rights of EU and UK airlines to continue flying in each other's airspace post-Brexit, or the rights of UK-based, US-owned satellite broadcaster Sky to continue broadcasting channels across the EU, just keep coming up – "whatarewegoingtodo"? Short answer: "Not negotiated yet".
Type "Brexit" into the 'search' box on just-auto's home page and you'll see the depth and breadth of the frustration the UK auto industry – home to multiple engine plants and component makers, all currently dependent on frictionless UK/EU components and finished goods movement – is expressing with some Japanese firms perhaps a little less concerned, particularly if only dependent on shipments of cars from outside the EU. For the rest, the message to the government is clearly "give us something definite to plan with now" as an industry used to dealing with crisis and political unheaval across the globe still needs time to plan for major change. While the politicians obfuscate and dither, it seems the automakers are doing just that essential contingency planning, as I'd expect.
Elsewhere, we learned the China car market dropped a further 12% in September. New vehicle sales fell 11.6% to 2.39m units from 2.71m, the third consecutive monthly decline for the globe's largest market, at a time when some key economic indicators have shown slowing growth and with rising uncertainty due to rising trade tensions with the US. Import tariffs on vehicles were cut from 25% to 15% in July, but were increased to 40% on US imports as part of rising protectionism. The IMF recently cut its GDP growth target for China to 6.2% in 2019 from 6.4% previously. Worth watching.
I was interested to see parent company Tata Motors launch its new Harrier SUV for India on the Jaguar Land Rover D8 platform which, according to our production life database, PLDB, dates back to Ford's Land Rover ownership and the original Freelander (which I recall seeing running around my rural shire in early test mule form, over 20 years ago). I have been waiting for any squawks from Japan because Toyota has used the Harrier nameplate there for years, initially on a Toyota branded variant of the then export-only Lexus RX SUV and, since the launch of Lexus in Japan (initially excluding SUVs), on a subsequent Toyota branded model derived from an older Lexus RX design. Can't see any likely same-market clash so maybe the trademark/copyright lawyers aren't too worried?
Speaking of new mid-size SUVs and re-using nameplates, Ford has launched the Territory in China. We covered it earlier but this was the official 'announcement' ahead of sales starting. The model is interesting because it was developed with lots of local-knowledge input by Ford's local light commercial vehicle joint venture partner Jiangling Motors (the JV builds models like the Transit for local sale) and it revives the Territory badge which died along with its Falcon basis when Ford Australia axed local manufacturing back in 2016.
Our house analysts produced plenty this week – we are compiling a debut list for the upcoming LA show (new Mazda 3 anyone?), ran a jaundiced eye over the much (needed and) improved Ford Mustang RHD interior (yes, we know the pic's LHD) and had a pedal in the latest electric, range extender London taxi (BMW is, we hear, about to axe its range-extender i3 having improved the battery-only versions' range). Do, too, pull up a coffee and enjoy our interview with French suppliers association FIEV CEO Jacques Mauge.
*word of the week
Have a nice weekend.
Graeme Roberts, Deputy Editor, just-auto.com