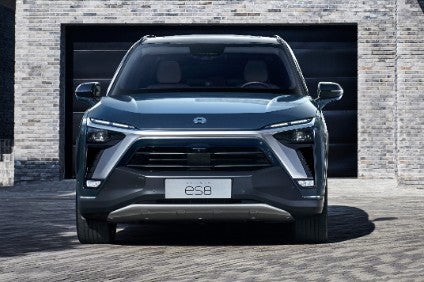 Might China's Nio rise from a series of faltering starts to really challenge Tesla? For a startup, April's sales results looked ok, as does the product. J'approve an electric SUV which can seat six or seven and run 330 miles or so before you need to start wondering where you left the power cord. Our analyst took a look at Nio this week: "It's the company that has seemed to promise so much but every time the promise of greatness appears, the former NextEV, now Nio, seems to be hit by yet another bout of misfortune. Might it finally be out of the woods now, coronavirus behind it and a healthy looking line of future electric cars and SUVs within sight?"
It appears new top management at Nissan Motor is going to give the struggling automaker a huge post-Ghosn shakeup. I suspect they might have been looking at GM chief Mary Barra's playbook – forget Global Motors, scrutinise market performance carefully, cut your losses, get out from where you are struggling and focus resources on countries where you can do well. Hence the exit from Opel/Vauxhall, India, South Africa, Australia, etc. Now Nissan looks to be doing likewise. Reuters reported this week a new post-COVID-19 strategy would see the automaker retreat somewhat from Europe and other markets to focus on the United States, China and Japan. An "operational performance plan" was due to be announced on 28 May – the automaker has confirmed nothing so far. After a policy of chasing market share, particularly in the US, led to steep discounting and a cheapened brand, the new, three year plan reportedly aims to restore dealer relations and renew model ranges to regain pricing power and profit. Here in UK, there'll be fretting about the future of the Sunderland car and battery plant in north east England. The report said Nissan would try to maintain a presence in Europe with the Qashqai and Juke crossover SUVs currently built at Sunderland. The factory also builds the Leaf EV and its battery packs and, though alliance partner Renault is slated to be the future EV expert in Europe, I can't see Nissan abandoning the investment in the plants and the successful Leaf markets like EV-friendly Norway when a source plant (more or less, post Brexit) in Europe, building cars to specs European buyers like, is already established. At least for the life of the current model.
The virus – I couldn't dodge that forever this week. A reminder we have all our coverage handily packaged here or here. An interesting tale from the US West Coast popped up this week – Nissan Motor's Jupiter Spirit car carrier, laden with about 2,000 Armada SUVs, Rogue crossovers and Infiniti sedans arrived recently at Los Angeles harbour after a three week journey from Japan to face a full 'parking lot' and had to anchor a mile offshore. According to local reports, the ship, which should have sailed straight into a berth for its wheeled freight to drive off in half a day, remained offshore for almost a week as nearby storage lots covering hundreds of acres overflowed with vehicles Americans suddenly have little desire to purchase. Just shows one of the many knock-on effects of COVID-19. I imagine, when things return to what we will call 'the new normal', there'll be some juicy incentives at dealerships to shift that stockpile – and others around the country – but, with a phenomenal number of people now out of work, finding buyers with the ability to make the payments may be a challenge. I'd expect some good finance deals, too.
Although new cases and deaths are beginning to subside across most of Europe, we are still nowhere near the end of the pandemic and a vaccine is only in early testing phases. But economies are creaking back, slowly, and we in UK are expecting some loosening of the leash to be announced on Monday. Automakers and suppliers are either back at work, with limited output, or making plans. Europe's automotive industry is proposing a 25-point action plan to ensure a strong restart of the sector and the economy at large. The plan was issued by the four associations representing the full automotive supply chain: from equipment and tyre suppliers, to vehicle manufacturers, dealers and workshops (ACEA, CECRA, CLEPA and ETRMA). As part of the action plan, the sector calls for coordinated vehicle renewal schemes for all vehicle types and categories across the EU. The four associations claim this will boost private and business demand, support economic recovery across the board as well as accelerate the rejuvenation of the vehicle fleet on Europe's roads.
Ford has cranked up its Romanian plant in Craiova which makes the EcoSport and had only recently started on the just-launched Puma crossover. So there'll be pent-up demand from the off. We didn't make the media launch but one of us managed to snaffle an early build press demonstrator before the virus shut everything down. Just before the big markets of Europe fell apart, the new Puma got off to a very strong start, particularly in Italy and Britain. Might that stand this new crossover in good stead once a regional recovery begins?
Bank of England reckons the virus will hit the UK economy the worst in living memory but the recovery will be faster and steeper than the rebound from the great financial crisis a decade or so ago. We'll see. In the second of a series of conversations, just-auto editor Dave Leggett and GlobalData lead automotive analyst Calum MacRae discuss some of the big questions prompted by the coronavirus crisis and its potentially lasting impact on the automotive sector. This time, they consider impacts on the supply-side of the business.
You may be wondering why my weekly 'wrap' is on a Thursday, instead of a Friday. This year, the May Bank Holiday has been moved from next Monday to tomorrow, as that's the 75th anniversary of VE Day, Victory in Europe signifying the end of World War Two on the continent. So we're having the day off. If you are, enjoy the long weekend, commiserations if you have to work Friday.
See you Monday.
Graeme Roberts, Deputy Editor, just-auto.com