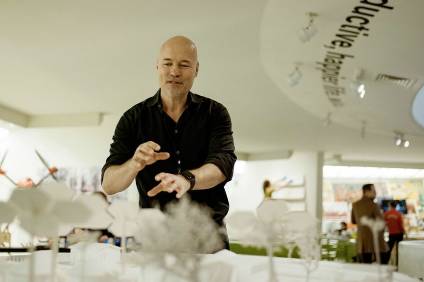 A car company is obviously a social enterprise of considerable scale and economic importance. The collective aim of the many thousands of company employees is to sell as many cars as possible, naturally. The products are out there on the streets, an integral part of our daily lives. And it is a hugely competitive business, as we all know. But with that scale comes a degree of social responsibility and, occasionally, looking a little beyond the immediate operational and business horizons can also bring additional cheer. Hell, it is nice to see people looking a little beyond the usual work boundaries and seeing a bigger picture, maybe thinking about innovative solutions to societal problems that require a bit of a mental leap.
Corporate Social Responsibility (CSR) and activities such as sponsoring charities and encouraging employees to raise funds for good causes are, of course, a good thing. But there is so much more that many companies are involved in that doesn't often get into the spotlight.
These thoughts were prompted by news of a Volkswagen rural mobility study as contribution to major exhibition in New York. It is the first public presentation as part of 'Countryside, The Future' now open at the Solomon R. Guggenheim Museum in New York.
Volkswagen has developed an e-tractor study and corresponding e-tractor ecosystem responding to economic and social challenges in rural areas, targeted in particular at helping small-scale agriculture in Africa. It is a research partnership between Volkswagen and AMO, OMA's (Office for Metropolitan Architecture) think tank co-founded by architect Rem Koolhaas.
The e-mobility project was developed by Volkswagen Group Innovation and Volkswagen Group South Africa. It is a study of an electric tractor developed in and for Africa to facilitate small-scale agriculture and to increase the productivity of subsistence farmers while also improving power supply and mobility in sub-Saharan Africa.
The project study will be on display at the Solomon R. Guggenheim Museum in New York as part of the Countryside, The Future exhibition, until August 14, 2020. Created and curated by Rem Koolhaas and AMO's director Samir Bantal in partnership with international universities and scientists, the non-art exposition addresses 'urgent environmental, political and socioeconomic issues and allows visitors to understand the radical transformations taking place outside urban areas and the required new responses'.
Next, the e-tractor project will set up partnerships between Volkswagen Group South Africa and different African collaborators, universities and stakeholders. As a result of their cooperation they will gain knowledge on technical aspects of the sharing system and its implementation in local contexts.
VW says the research partnership between Volkswagen and AMO has aligned their interest in 'developing the discourse on the countryside through research and future rural mobility narratives'. It will extend to China, with the Volkswagen Group Innovation Centre Beijing researching perceptions of the Chinese Countryside, and to Eastern Saxony, where the company is pushing the transformation to e-mobility.
Shared, multifunctional and environmental-friendly mobility for rural areas
Based on an idea from the Volkswagen innovation department, an interdisciplinary team created the e-tractor study. The idea is that the vehicle will not be sold to individuals, but rented by communes and shared by villagers and farmers, enabling people who could never afford to buy a tractor to use one. Tractor-sharing, if you like. The design of the electric tractor ecosystem taps into the extremely high solar radiation in Africa: it comes with a network of solar charging stations, producing clean energy for free. These stations are inspired by village squares, the most important social space where people come together (this is where the architects come in).
Modularity is key in the design of the ecosystem, embracing sustainability and re-usability. The battery can be swapped and used as an independent power source when its performance is in decline; modular parts allow for different configurations where the tractor could be assembled with different plows, or even as a drill to drill wells, or just as a people mover. Flexibility of use is key.
The e-tractor 'at the heart of an ecosystem'
Peter Wouda, Design Director of Volkswagen Group Innovation Center in Potsdam, Germany, and responsible for the design of the study, says: "This project was about creating a meaningful and holistic system, which if done right, has the potential to bring people together and support a community. The beauty of the design will be in its simplicity and in the joy of using it."
Thomas Schäfer, Chairman and Chief Executive of Volkswagen Group South Africa, adds: "Mobility is a social right, as it provides access to different economic and political realities – regardless of where you were born or where you live. If we want to provide mobility for all, we must understand the countryside. The sub-Saharan countryside is a good example. I am very excited that we could link our researchers, Future Heads, and designers on gaining insights through research leading to the e-tractor project."
Rem Koolhaas, architect, writer and urbanist, explains: "When I saw the study of the e-tractor for the first time I realised it was a really fundamental moment: This machine can change a lot."
So there you have it. I have shined a little light on something that is a little off our usual beat, but which impressed me: An e-tractor and a whole ecosystem that could make a real difference to subsistence farmers in Africa, possibly beyond. Well done Volkswagen for being involved in such a study and partnering with others. I wish the project well for the future.