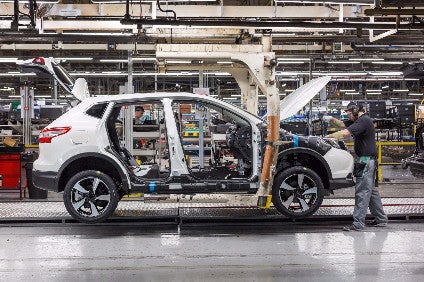 Back in the 1980s when Nissan started to assemble the Bluebird (a worthy Ford Sierra fighter) model in the UK, there was much head scratching over the true status of the car. It was seen quite widely as a Japanese brand seeking to move more aggressively into Europe and circumvent the national restrictions applying to Japanese imports at the time (now long gone, but there was, for example, a "gentlemen's agreement" between SMMT and JAMA to keep Japanese fully built-up car imports at 10% of UK car market; that was a relatively liberal arrangement compared with some other countries unilaterally imposing share limits such as 1%).
Nissan, naturally, sought to highlight the UK content of the UK-made vehicles and the jobs and economic activity that would be generated here and, eventually, in Europe more widely. Simply assembling a vehicle with all the plant and site overheads accounts for quite a bit when you look at the ex-works or transfer price of a vehicle and break down what comes from where; assembly can account for as much as 20% of the total. But obviously, assembly in a country only gets you so far. And there are, quite rightly, rules of origin that apply to products being circulated freely in a customs union to prevent common external tariff barriers being unfairly sidestepped through the assembly of kits and very little local parts sourcing.
Nissan clearly set up car manufacturing in the UK as a gateway to many more sales in Europe (look at Nissan's UK operation now; 80% of output exported, mainly to other European countries). I recall then PSA chief Jacques Calvet pointing accusingly at the UK as a 'Japanese aircraft carrier' threatening European companies and jobs. There was certainly some hostility around, protectionist sentiment not far beneath the surface. Anyway, Nissan worked very hard indeed to raise UK and European content and get over the percentage content line at which the cars would be considered European and therefore eligible for tariff-free export to other countries in the EU (or EEC, back then). Some key suppliers in Japan would move to Europe eventually, but Nissan Sunderland would also be sourcing from European-based suppliers from the outset, wherever it could. A look at the current Nissan Qashqai's supplier list shows how 'European' and diverse it is: Magna, Ficosa, Faurecia, Mahle. ElringKlinger, Edscha and Plastic Omnium as well as Calsonic Kansei, BorgWarner and TRW. It's a wide range reflecting the nature of the European supplier industry base.
I was reminded of the European supplier industry landscape and the 'science' of automotive local content measurement this week at the SMMT's Open Forum conference in Birmingham, where the state and progress of the UK supply chain was very much on the agenda. GKN CEO Nigel Stein, representing the Automotive Council, said the UK average content for a UK-built car stands at 41% (up from 36% in 2011 – I wonder how much of that rise reflects more JLR volume in the mix…) and that the UK auto sector should be aiming – in the medium-term – for 60% to get closer to where Germany is with its local sourcing. Brave words, to say the least.
The UK's supply chain is undoubtedly doing very well, but needs to be viewed in context. Europe's automotive supplier centre of gravity is firmly situated on the continent. And OEMs manufacturing in the UK don't exist in a bubble; they are part of a European automotive landscape and there are plenty of components being shipped from the continent to vehicle assembly plants in the UK. Those entrenched supply routes are there for a range of competitive and cost reasons and don't change easily. OEM situations differ. Jaguar Land Rover is UK-based, has a relatively high UK local content and has an engine plant here. However, Vauxhall's Ellesmere Port plant that makes the Astra (lead plant) has relatively low UK local content (around 25% I was told last year). And that's not really too surprising when you think about it. Vauxhall is part of the European operating division of a big US-based global OEM, General Motors. The car is also made at Gliwice, in Poland and GM in Europe (think Opel/Vauxhall – Vauxhall is just the UK component), of course, has a pan-European supply network. Any raising of UK content at Ellesmere Port would have to make competitive sense for GM at a European level; there would have to be good reasons to source more locally, if indeed, that was even possible (for a whole range of components, there is no option but to source from plants or suppliers in other countries). Engines – a major value item – are shipped in from Opel plants on the continent and those plants represent a huge investment by the OEM.
In short, there are some areas where more UK localised content cannot realistically happen. When engineering and manufacturing capability migrates over a timescale of decades, for whatever reasons, it's a huge task to get just some of that back. I like what the Automotive Council is doing, but their focus on what can be done for the UK in new and emerging automotive technologies – in areas like alternative powertrain and connectivity – is surely the right one. The example of the UK-made Astra is a stark one in terms of what can realistically be done with the industry as it is; if the UK can get to 60% average content on cars I will eat my hat (that's not to say I don't understand the need to set ambitious targets). In an alternative dimension there might still be an 'indigenous' volume maker in Britain that would support a much larger, deeper and diverse UK-based supply chain, but we know what happened there and it's history.
Another thought is on measurement of local content going further down the supply chain. The measurements are currently conducted to the source of Tier 1 level parts. The absolute origin of all content can only be determined by knowing who supplies at Tier 2 and Tier 3 to the modules that the systems integrator Tier 1s ship to the OEMs. Is it difficult to measure? It's certainly another level of effort, but the point was well made at the Open Forum that if we want to properly inform policy and strategy, accurate measurement and understanding of the whole picture would be very helpful.
It was good to see more discussion of the UK supply chain at Birmingham this week. Kudos to the SMMT for making that happen and effectively working with Automechanika to get an event that created the right conditions for that. Even greater transparency on the state of the UK supply chain, where the gaps are and where the realistic opportunities are should be a goal now. Will it happen?
See also: Automotive Council aims for 60% UK content on cars
UK supply chain – Fast facts
78,000 people employed in UK automotive supply chain
UK automotive suppliers contribute an annual GBP4.3bn to the UK economy
There are more than 2,000 automotive component manufacturers in the UK
80% of components in a car can be made in Britain
There is a GBP6bn automotive supply chain opportunity in the UK, according to the SMMT