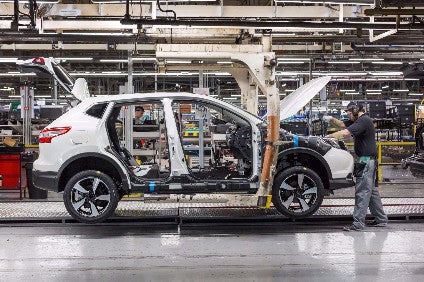 Brexit has been in the news again this week, its implications stretching far and wide, sometimes confounding expectations. On the plus side, the UK economy is performing relatively well according to the latest data. In the auto sector, there was also the welcome announcement from Nissan that it will invest in future new models at Sunderland.
This follows concerns strongly expressed by Nissan chief Carlos Ghosn over the competitive situation at the plant if, in the future, the UK finds itself outside of the EU single market and facing additional costs on UK-EU trade (including, for example, 10% tariffs on UK car exports under WTO rules). A hastily arranged meeting happens with the prime minister and he then seems reassured that Nissan won't be bearing additional costs that will impair the competitiveness of its European plant, a plant – as he sees it – that happens to be in the UK. This week's announcement follows shortly afterwards, rubber stamped in Japan.
Naturally, there is plenty of speculation about the nature of the assurances Ghosn was given. I would imagine it was made fairly clear that the UK government is well aware of the scenarios facing the UK auto industry and will do everything to ensure that the competitive position – for the whole industry – is unchanged, post-Brexit. Regarding that recent amicable meeting between the prime minister and Carlos Ghosn, I am picturing this, as Mr Ghosn is making his all-smiles exit from Number 10. He puts his raincoat on, very satisfied with the way the meeting has gone, and politely thanks Mrs May for the tea. Mrs May leans in to Mr Ghosn and gently whispers, steely eyed: "Whatever. It. Takes." No chequebook needed.
The Sunderland news may well lift confidence in the UK economy and help to support the weak pound. The devaluation of sterling is good news for exports, though, right? Well, yes, at last initially, but it's a mixed bag. Imports become more expensive, inflation can go up. UK car prices are already edging upwards and there was a reminder last week that carmakers can be at the sharp edge of the double edged sword because of how much componentry, as well as finished vehicles, flows across borders. GM said it is allowing for a US$400m Brexit hit in the second half of this year – US$300m of that in Q4.
The Brexit impacts and uncertainties will persist for a while yet. And the negotiations on the terms of Brexit may not even commence until March of next year. It's still early days and many, many more column inches (or web pages) have yet to be written on the subject.
Returning to General Motors, it posted a very healthy looking set of results this week. Ford was less so, but still pretty good. One thing that will be on investors' minds is the outlook for financial performance given the plateauing of the US market (well, it can't keep growing forever) and the slowdown of the Chinese economy and market (a slow train coming). It looks like US vehicle sales in October will be down, but still running at a very healthy rate.
Related to Brexit and the importance of cross-Channel trade (vital to the auto industry), we've seen the 'Jungle' – an informal open air migrant camp – in Calais, northern France, dismantled this week. There were an estimated 10,000 pour souls staying there in terrible conditions, future unclear. It's a horrible human tragedy on so many levels (hopefully, the people there now get a better future), but we've been keeping an eye on what the freight industry makes of it.
Also this week, there was some curious politics at Tata, Cyrus Mistry unexpectedly shown the door. Cue speculation. And then cue a long letter from Mistry defending his position and taking aim at the way the company has been run. It's worth a read. We're used to people in that situation signing non-disclosure agreements, but he's really let rip.
On the product front, I found myself hankering for a pickup. A pickup with a Mercedes badge on it, that is. I wonder if it might make it beyond the few markets being talked about. Still on product, we have published another OEM Product Strategy feature – this time looking at Volkswagen. Essential reading if you want to understand VW's new product strategy, segment by segment. Keep an eye out for other VW Group brands, which will follow.
And I was intrigued by GM's tie-up with IBM to create 'OnStar Go', the "auto industry's first cognitive mobility platform". The on-board assistant 'Watson' will learn the driver's preferences, apply machine learning and sift through data to recognise patterns in their decisions and habits. Connectivity while inside the vehicle is rapidly developing way beyond the elementary. Just so long as Watson doesn't eventually morph into Hal.
Have a good weekend.
Dave Leggett
Editor, just-auto