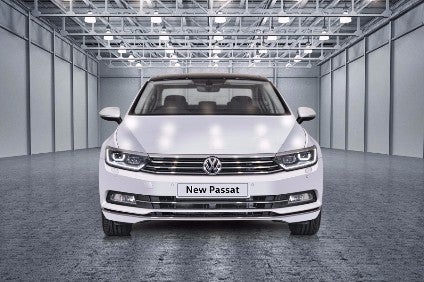 Future models are always a top read on just-auto and our resident futurist currently has his crystal ball set on Volkswagen Group. Attention of this article was on MPVs/minivans, pick-ups, crossovers and SUVs and followed an earlier one on EVs: Polo, Golf, Passat. These have been best sellers in VW's home region for decades, while in China it's Bora and Lavida, with Gol a household name in South America and Jetta the brand's cornerstone in the US. Many SUVs have been added in the 2010s to supplement the global car line up, plus an onslaught of EVs has begun. As the ID family expands during the next decade, might some famous car names vanish?
With the end of the pandemic seemingly in sight as a slew of vaccines produce encouraging results from phase-3 trials, GlobalData has taken a look at the leading OEMs and assessed which are best placed to recover quickly from the coronavirus induced slowdown. Aside from a dose of good fortune a company's success is invariably linked to a variety of factors which tend to either fall into the tactical or strategic categories. As even the best-laid plans can often go awry, it is necessary to add to the mix how well those plans are executed and how they rate in comparison with competitors.
Is a long, long running VW nameplate toast? Reports indicate that Volkswagen is preparing to cease production of its Passat sedan in response to falling sales. VW manufactures two versions of the Passat – one for European markets and a slightly larger, more affordable version for the North American market – and both versions are expected to be axed after this generation. In addition, VW is also expected not to renew the Arteon Liftback or Arteon Shooting Brake for another generation. Passat was launched in 1973 and there have been eight generations.
Still in lockdown? Us, too. As anticipated, restrictions imposed on many European countries in November to curb rising coronavirus cases in the region brought down light vehicle sales in the month. With the majority of West European countries now having reported sales the market looks to have declined by 12.7% to 1.09m, 160,000 fewer than the same month of 2019.
Volkswagen AG has completed the acquisition of an additional 25% stake in its Chinese electric vehicle (EV) joint venture JAC Volkswagen Automotive Company, according to a filing with the Shanghai Stock Exchange by its Chinese partner Anhui Jianghuai Automobile Group Holdings (JAC Motors). The joint venture, based in Hefei, the capital city of Anhui province, was established in December 2017 with Volkswagen and JAC each holding 50% of the equity. VW plans to acquire an additional 25% stake in the joint venture at a cost of CNY1.6bn (US$245m), according to JAC Motors, originally came to light last May. The purchase takes Volkswagen's stake in the joint venture to 75%, making the German company the second foreign automaker to own a majority stake in a Chinese vehicle manufacturing company after Tesla's wholly owned Shanghai plant.
To maximise the opportunities for hydrogen in Europe, Toyota Motor Europe (TME) has established a Fuel Cell Business Group to oversee its hydrogen activities across the region. Based in Brussels, it will strengthen the business case for hydrogen and support its introduction into mobility and other fields, making it accessible to new commercial partners. This will support the company's long-term sustainability strategy. Speaking at Toyota's Kenshiki forum, Thiebault Paquet, director of the fuel cell group said: "The benefits of hydrogen are clear. That's why we expect our global sales of fuel cell systems to increase by a factor of 10 in the short term, and why we have dramatically increased our production capacity."
Chips with that? China's car industry reportedly is struggling with a shortage of semiconductors used in advanced automotive systems, according to local media citing industry insiders. The report suggested vehicle production could be disrupted in the coming months due to shortages of semiconductors in the automotive supply chain, with high end cars affected particularly due to their high electronic content. A local executive at chassis systems supplier Continental was quoted saying companies within the electronics supply chain "are working together to find solutions, but the shortages may continue well into 2021". The shortages were blamed on a lack of investment in new capacity due to the COVID-19 pandemic, combined with a stronger than expected rebound in vehicle production in the country following a sharp decline in the first quarter of 2020.
Every level of the automotive industry has felt the impact of the coronavirus outbreak that began at the very end of 2019. Through the first half of 2020, factories shuddered to a halt, customers were locked down in their homes, dealerships were unable to sell cars and supply chains faced disruption like never before. Although the industry has moved on from the mass shutdowns of six months ago supply chains are still struggling to adjust. The availability of certain critical components is being called into question, forcing automakers to make tough decisions – either slowing or shutting production lines down until parts supply can restart, finding an emergency alternative supplier often at significant extra cost, chartering planes for emergency supply or even adjusting a vehicle's design to make it less dependent on supply of one particular component.
The UK's new car market was down a hefty 27.4% in the month of November (at 113,781 units) as coronavirus-induced population restrictions hit the retail sector hard, according to data released by The Society of Motor Manufacturers and Traders (SMMT). November's big market contraction is no surprise given the imposition of a second lockdown in England that shuttered dealers during the month (it has now lifted). The overall market decline was however, softened by 'click and collect' capabilities.
Denso has unveiled changes to its organisation, executive structure and personnel, effective 1 January, 2021. The supplier launched Reborn 21 an internal plan to change operations. By the end of March, 2021, Denso aims to recommit to maximising its pillars of 'green,' (environmentally friendly) and 'peace of mind' (safer world for all) and transition to a leaner and more robust corporate structure. Denso has instituted a Core & Customisation Strategy, which plans products and services in response to the needs of customers around the world. The supplier maintains this allows the company to respond to diverse needs while achieving operational efficiency thorough standardisation. In addition, Denso will continue to promote the digitalisation of its business operations.
Last week, Michigan's House of Representatives voted to pass House Bill 6233 concerning the legality of direct vehicle sales – those that bypass third-party dealerships – on to the Senate and State Governor for approval. This not only impacts Tesla's preferred sales model in the state, but could set a precedent for other EV developers such as Rivian, Lucid and Bollinger – all of which are currently headquartered in Michigan due to its traditional strength in automotive manufacturing.
Have a nice weekend.
Graeme Roberts, Deputy Editor, just-auto.com