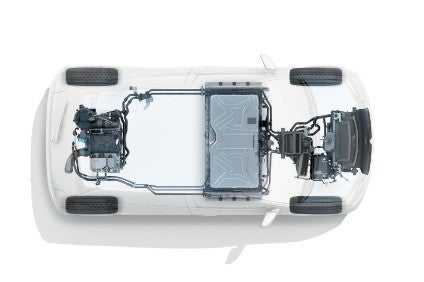 Global light vehicle sales figures in January 2020 should make for alarming reading, we reckoned earlier this week. Mining our own in house data, supported the point. Just 6.2m units were sold in January, the lowest since January 2012 when 5.9m units were delivered, according to GlobalData, the data and analytics company which owns just-auto.com.
Driving the drop in sales was the emergence in December 2019 of the coronavirus (COVID-19) in Wuhan, China. The disease had spread rapidly and had – at the time or writing (an update from the original article) – already infected 100,300 people and caused at least 3,408 deaths worldwide. To avoid becoming infected, consumers in China and other exposed regions had employed strict outbreak control measures with many barricading themselves at home until the danger subsided.
Which, in some places, it hasn't. This has created a knock on effect for both vehicle sales and production with dealerships devoid of customers and factories at a standstill with no one to operate them. GlobalData automotive analyst Mike Vousden said: "While the drop in January vehicle sales on a global scale is alarming, sinking 13.9% compared with the same month in 2019, it is positively disastrous in China itself. Sales in the world's single largest vehicle market sank 33.1% compared with January 2019 to just 1.66m units. Adding insult to injury is the fact that January 2019's figure was already 8% down on the same month in 2018, following a decade long period of strong increases."
Anecdotal reports suggested sales declines were likely to accelerate into February. Domestic sales were said to be down 96% year on year in the first week of February. Cui Dongshu, secretary general of the China Passenger Car Association, said: "There was barely anybody at car dealers in the first week of February as most people stayed at home."
It wasn't good in South Korea last month, for sure. Our own data compiler there noted domestic sales by the five largest automakers plunged by over 20% to 81,772 units from 102,285 units in February 2019, according to preliminary tallies released individually by the companies. February sales were held back by plant closures at most of the vehicle manufacturers, as the outbreak of the virus in China disrupted component supply. This affected both domestic sales and exports.
After the Swiss government imposed edict banning gatherings of over 1,000 people caused the cancellation of the Geneva show scheduled to open this week, automakers were left to pick up the pieces. Can you imagine the atmosphere in which this video was recorded? The time and money wasted? Plans B were quickly rolled out in digital reveal format and, according to Our Man on Show Reveals, all but about three expected new models made a virtual debut.
Away from shows and viruses, not a good combination in any case, electrification attracted plenty of reader interest this week.To what appeared to be largely a collective 'meh' from analysts, General Motors shared its electric vehicle (EV) strategy at a special gathering of "hundreds" of employees, dealers, investors, analysts, media and policymakers.
The automaker has developed a modular propulsion system and a flexible, third generation global EV platform powered by proprietary Ultium batteries which, GM said, would "allow the company to compete for nearly every customer in the market today, whether they are looking for affordable transport, a luxury experience, work trucks or a high performance machine". It claimed its new Ultium batteries are unique in the industry because the large, pouch style cells can be stacked vertically or horizontally inside the pack so battery capacity and layout can easily be tailored to each vehicle design. Ultium pack sizes range from 50kWh to 200 kWh which, GM estimated, "could" result in range up to at least 400 miles on a full charge with 0 to 60mph acceleration in as little as three seconds. Motors designed in house will support front and rear wheel drive plus regular and "performance" all wheel drive. The Ultium EVs are designed for Level 2 and DC fast charging. Most will have 400 volt battery packs and up to 200kW fast charging ability while the truck platform will have 800 volts and 350 kW.
GM said its flexible, modular approach to EV development would drive significant economies of scale and create new revenue opportunities, including continuous improvement in [lowering] battery costs. The joint venture with LG Chem will drive battery cell costs below $100/kWh (Kia Europe recently told just-auto such pricing was needed to enable 'parity' pricing of ICE and EV vehicles). The cells use a proprietary low cobalt chemistry and ongoing technological and manufacturing breakthroughs will drive costs even lower.
All good but, y'know, it doesn't sound a million miles different to what VW Group, Daimler, BMW, the Koreans, Japanese, et al are all also doing. Working hard on driving down battery costs to narrow the yawning gap between ICE and all-'lecky powered vehicles, developing flexible platforms on top of which can sit a wide variety of body styles, some, hopefully one day, fully autonomous but, battery chemistry apart, GM's written summary of its presentation read a bit 'us-too' – with everyone piling into EVs under threat of the likes of the ginormous EU fines for not meeting fleet average CO2 emissions, standing out as a real innovator is a challenge.
As GM said, the good bit is automakers can spend less capital to scale EV business because they are able to use existing land, buildings, tools and production equipment such as body shops and paint shops. GM's vehicle and propulsion systems were designed together to minimise complexity and part count beyond current EVs which are less complex than conventional ICE vehicles. The automaker plans 19 different battery and drive unit configurations initially, compared with 550 ICE powertrain combinations available now.
GM also noted third party forecasters expect US EV volume to more than double from 2025 to 2030 to about 3m units on average. It believes volume could be "materially" higher as more EVs are launched in popular segments, charging networks grow and the total cost of ownership to consumers continues to fall. By vertically integrating the manufacture of battery cells, the company can reach beyond its own fleet and licence its technology to others. GM claimed the first generation of its future EV programme "will be profitable" and the first projects would pave the way for further growth. Best of British.
EVs have moved on in leaps and bounds since the launch of the first Nissan Leaf – 88 miles of range on a good day. I recently went for a pedal in Kia's latest Soul EV (3G car, 2G electric version) which claims a 280-mile range. One thing was abundantly clear at the UK media launch – the days of charging from a domestic socket are pretty much over unless you have a lot of time to spare – Kia supplies a domestic wallbox anyway but an away-from-home strategy would be well advised.
Battery materials are an ongoing challenge for cell suppliers. This week Eurasian Resources Group (ERG) said it was assessing the construction of a battery material plant to produce nickel-cobalt-manganese (NCM) precursor materials for electric vehicles. The group was evaluating technical solutions offered by engineering firms BGRIMM Technology Group from China and Outotec from Finland, which would allow for the production of both NCM 6:2:2 and NCM 8:1:1 precursors depending on market conditions.
Ford, which recently trialled a fleet of medium size (Custom) PHEV Transit vans in London, now plans to offer BEV versions of the ICE powertrain-powered Big One (multiple lengths and heights) it already sells in North America (and over here but they are way outsold by the Custom, the UK's top van model). The EV variants will launch in the US and Canada for the 2022 model year (expect sales by autumn/fall 2021). Built at the Kansas City Assembly Plant, the electric Transit will be smart and connected, arming fleet owners with technology solutions like in-vehicle high-speed data architecture and cloud-based services to offer new ways to optimise fleet performance.
EVs need easy access to charging (duh) and automakers are piling into value-added packages supplying chargers and associated energy deals. This week, ahead of the European launch of its first full electric car, Honda also announced its new 'commercial energy management service' branded e:Progress. This package will offer smart charger, tariff, and charge control system. The smart tariff is claimed to be the first flexible energy contract tailored specifically for EV owners in Europe, optimising electricity use from renewable sources such as solar power, wind farms and hydropower.
'White van man' doesn't miss out, either. Though Ts&Cs apply, Renault UK is offering a (limited quantity) charger package to buyers of its rival to that monster Transit, the Master.
Have a nice weekend.
Graeme Roberts, Deputy Editor, just-auto.com