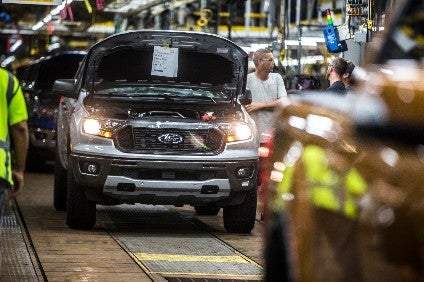 US sales for April surprised a lot of industry watchers this week as volume and SAAR came in below analysts' expectations. Volume dipped again in April, down 2.3% year on year to about 1.33m cars and light trucks. After four months, deliveries were 3% behind the January-April period in 2018. The seasonally adjusted annualised rate (SAAR) slumped to 16.41m units and both total volume and SAAR were well below the predictions.
Rising interest rates and restrained incentives reduced consumer appetites. Loan terms are also increasing as average transaction prices climb to new records. The estimated average is now roughly 69.5 months, about three months longer than the average five years ago. Kelley Blue Book estimated that Ford had the highest average transaction prices in April, up 5.8% from April 2018 to about US$42,125 (GBP32,263).
An update on Continental's reorganisation this week attracted a lot of just-auto reader eyeballs. The supplier said its powertrain business had become the first part of the group to complete its realignment, with the management team fully in place since 1 April. It now operates as an independent business that will trade under the name of Vitesco Technologies with the introduction of this new name is planned for the second half of 2019. The transformation of the division into a largely independent group of legal entities took place as planned at the start of 2019. Headed by Andreas Wolf, the new company's management team is preparing for a planned partial IPO. Continental said the conditions necessary for informing the capital market of further details are likely to be in place by the end of the second half of 2019. The company would be ready to complete the partial IPO once further required technical and regulatory measures have been implemented, which means it can be expected from 2020 onward "depending on the market situation".
The move to transform the Powertrain division into an independent company was prompted by the rapid changes that are expected to occur in the powertrain market over the next few years – the way the market evolves will largely be determined by government targets for emission limits.
Chery, Cowin, Karry, Jetour and Exeed came under our future models scrutiny this week. We noted Chery Auto was bucking the trend and doing very well in China while rival state-run OEMs floundered. Its secret? The new Jetour brand, soon be joined by another, Exeed. This report examines the model ranges and looks at future vehicles for the Chery, Cowin and Karry divisions too. Well worth a weekend read.
It looks like handbags-at-dawn as South Korean electric vehicle (EV) battery manufacturer LG Chem filed a complaint against SK Innovation with the International Trade Commission (ITC) of the US and the District Court of Delaware over allegations of infringement of trade secrets. LG Chem said it had requested the ITC to completely ban imports into the US of any SK Innovation products and samples relating to battery technology. It is also seeking compensation from its domestic rival through a lawsuit filed with the district court of Delaware which is where SK Innovation's US battery headquarters are located. LG Chem said it also chose to file the lawsuit in the US because it is "harder to conceal evidence there". LG Chem alleges it has found "specific evidence" key technologies relating to its EV batteries have been leaked to SK Innovation. It said it found that SK had poached 76 key employees from LG Chem from its R&D, production, quality management and sales operations since 2017 and that these had downloaded a combined 1,900 documents containing information on LG Chem's key technologies before they left the company. LG Chem also criticized SK Innovation's recruitment process which it alleges requires applicants to provide the names of colleagues along with the specific technology and projects they have been involved with which the company claims has helped its competitor obtain confidential information. I imagine that'll keep the lawyers tied up for quite a while.
Seems like we've been waiting forever for Tata Motors' Jaguar Land Rover to launch the Defender replacement. The drip feed of information continued this week and the 'news' it would also be built in Slovakia – alongside the Discovery – got the pro-Britain media all excited. Like the automaker isn't going to use a multi million euro brand new factory to the max, asap. It's all about cost. Build of more profitable, higher priced Range Rovers stays at Solihull, for now at least.
We also had analyst comment on Ford's big investment in EV maker Rivian, the latest on the unfortunate Carlos Ghosn, another EV plant for BYD, and a better than expected Q1 result from GM.
The UK is heading for another 'Bank Holiday' weekend this Monday so we're looking forward to three days off. I'd like to say beach and BBQ beckon but this is England, it's 14C and I live inland. See you Tuesday.
Graeme Roberts, Deputy Editor, just-auto.com