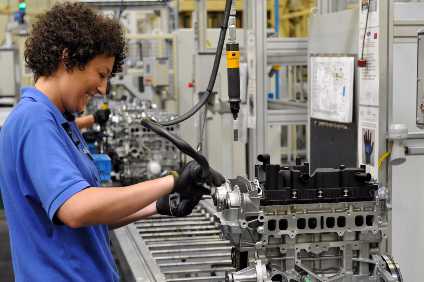 A confluence of factors, many of them rooted in history, are behind the expected decline in output at Ford's Bridgend plant which will lead to the loss of 1,100 jobs over the next five years.
Firstly, the much-talked about megatrend of engine downsizing has had a marked effect on the addressable market of Bridgend's bread and butter engine of recent years, the Sigma or Zetec-SE, and its proposed successor the Dragon engine (understood to be a 1.2 and 1.5L petrol engine family). The Sigma engine family was introduced in 1995 and produced at both the Bridgend and Valencia, Spain engine plants initially (latterly it's been built further afield). The petrol engine spanned 1.25-1.6L capacity (with a special 1.7L variant developed for the Ford Puma by Yamaha) and its performance was sufficient to make some members of the bigger capacity (1.6-2.0L) Zetec petrol engine family redundant. They do say what goes around comes around and this became apparent in 2011 when the three-cylinder Fox engine, built in Cologne, Germany and Craiova, Romania was introduced. The Fox engine, necessary to support the required reduction in fleet CO2 emissions under European rules, epitomises downsizing and eroded much of the Sigma's addressable market.
The second major factor is the programme consolidation, known as One Ford, that Ford embarked upon as its signature strategy under Alan Mullaly. While singular global vehicles and platforms may be the visible front for One Ford, it's also a back-office operation for significant components like powertrains. Therefore, whereas in the past, Ford might have been happy to let legacy and older engine programmes continue manufacturing past their European or US market sell-by date in developing markets it is no longer the case. Also, it's the case that regulatory standards in emerging markets are rapidly converging on those in Europe thus enabling a consolidated global approach like One Ford. Thus, the Dragon engine will not only be built in Bridgend but also in India (the lead plant), Brazil, China, Russia and Mexico.
One Ford has had, and will have, other ramifications for Bridgend. It prompted Ford to disband PAG (Premier Automobiles Group) comprising Volvo, JLR and Aston Martin with the first two providing Bridgend with incremental volumes through Volvo's SI6 engine and also JLR's AJ126 and AJ133 engine. The dissolution of PAG saw that the newly independent Volvo and JLR had to develop their own engine programmes. This first saw Bridgend stop building the SI6 engine for both Volvo and JLR. While volumes for the JLR engines have climbed in recent years it was confirmed on 28th September 2017 that the JLR contract will end in September 2020. At around that time it is thought that JLR will replace the AJ126 V6 with an inline six engine derived from its Ingenium engine programme (inline sixes are understood to be less costly to produce than a V6 as engine ancillaries are not duplicated, although they do bring packaging restrictions). Whether the V8 AJ133 will continue manufacture somewhere else is unknown but it's not hard to conceive that boosted (either mechanically or with an e-machine or both) versions of the Ingenium inline six could supersede it. One bright spot on the UK jobs front is that any jobs lost at Bridgend will at least partially compensated by an increase in employment (and capacity) at JLR's EMC in Wolverhampton where the I6 will be built. Already the plant is expanding beyond four-cylinder Ingeniums (or AJ200s) with the plant expected to start manufacture of a 3-cylinder petrol engine next year. The engine's existence was more or less confirmed earlier in September when the Australian magazine Wheels published photos showing plans for a 3-cylinder crank machining facility that were taken during a tour of the EMC.
Finally, the uncertainty that Brexit brings over future tariff and trade arrangements will not have helped. In a single European market this is not such a problem. Sure, there is some ForEx risk being outside the Eurozone but the uncertainty brings an added complication that Ford could do without on top of the issues outlined above. Of course, this factor is amplified for Ford in the UK as it no longer manufactures vehicles in the country after shuttering the Dagenham vehicle plant in 2001 and the Southampton Transit plant in 2013. While Dagenham continues to be Ford's centre of excellence for diesel engine manufacture the mounting opposition to diesel in European cities, together with the pressures of manufacturing in a global environment, do start to raise some questions about its longevity after the disclosure of phased job losses at Bridgend.
JLR engine sourcing blow for Bridgend