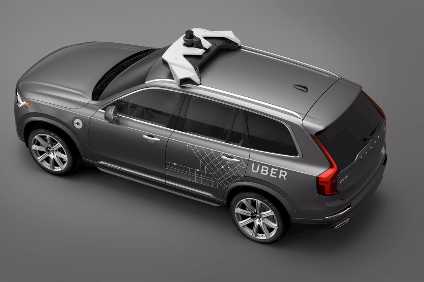 US ride-hailing giant Uber Technologies has confirmed that it will sell its Advanced Technologies Group (ATG) to autonomous vehicle developer Aurora. The Advanced Technologies Group was responsible for developing self-driving vehicles that could be deployed across Uber's ride-hailing network but a range of factors led the company to seek a buyer for the division.
Aurora is a fast-growing autonomous vehicle startup founded by Chris Urmson and Drew Bagnell, previously of Alphabet's Waymo and Uber's ATG respectively.
In addition to offloading the ATG to Aurora, Uber Technologies will invest $400m into the start-up, giving it a 26% stake in Aurora and two seats on its board – one of which is confirmed for Uber CEO Dara Khosrowshahi. The deal will see the value of Aurora jump to around $10bn, with Uber's ATG accounting for roughly $4bn of that – although that is less than Uber's valuation for the group in 2019 that valued it at a little more than $7bn. The deal also confirms that, when Aurora's self-driving vehicles launch, they will be available for use on Uber's ride-hailing network.
The main driving force behind the sale is the impact of COVID-19. Ride-hailing by definition involves shared spaces where users and drivers could expose themselves to infection. Combined with local lockdowns and a significant jump in the number of people working from home, use of Uber's ride-hailing network has dropped significantly since the outbreak. The company recorded $13.5bn worth of ride-hail bookings in Q4 2019, but this sank to just $3bn by Q2 2020. Considering the company was yet to achieve a profit prior to COVID-19, this sudden drop in usage has led to a shortage in cashflow. The sale of the ATG had reportedly already been suggested by large Uber investors including Japan's SoftBank, and should help reduce expenditure and shore up finances at a time when Uber's main income stream is facing disruption.
While COVID-19 has forced Uber's hand, the ATG already had a somewhat bumpy existence prior to the outbreak. In March 2018, an autonomous Uber ATG test vehicle struck and killed a pedestrian in Tempe, Arizona – the first ever case of a self-driving car killing a human. While a report by the NTSB determined that the main cause was the fact the human safety driver was distracted and failed to override the car, it also blamed lacklustre safety precautions at the ATG and the group's decision to deactivate the Volvo test car's standard collision avoidance system in order to test its own software. The crash impacted public confidence in the company and self-driving cars in general, and saw Uber halt all testing for a time.
The sale also demonstrates another trend at play in the autonomous vehicle space – the consolidation of smaller companies into fewer, large groups. This process reflects movements in the automotive industry as a whole where mergers help groups share R&D resources and achieve greater economies of scale. It is likely that, in the future, only a handful of well-funded self-driving developers will remain as smaller groups become unable to supply the cash necessary to compete, forcing smaller companies to merge or risk bankruptcy. This trend has emerged as the industry has realised that AV development is likely to be much longer and more expensive than initially thought due to the sheer difficulty of the task involved.
The sale is likely to be beneficial to both parties. For Uber, it allows it to sell a division that was costing roughly $500m per year to run with no immediate return on investment likely any time soon. This gives it more financial insulation to ride out the worst effects of the COVID-19 pandemic, while also retaining the guarantee that it will have access to self-driving vehicles for its fleet once Aurora makes them available. For Aurora, the injection of cash, expertise and employees gives it significantly more resources to compete will rivals including Waymo and Cruise as the autonomous vehicle industry faces consolidation.