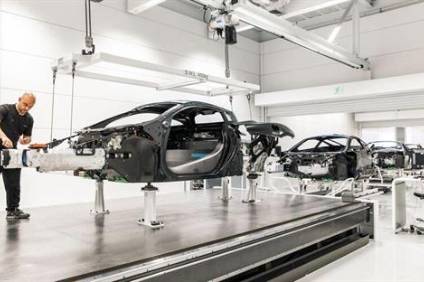 I can only wonder what the late, great, racing driver Bruce, THE McLaren behind the well known Formula 1 team owning and supercar constructing enterprise, would make of today's news the company is selling and leasing back its distinctive southern England HQ to strengthen its balance sheet in a deal that could raise GBP200m. The initial report said the deal, expected to draw interest from international property investors, would be part of a broader strategy to restore company finances after months of disruption caused by the coronavirus pandemic. McLaren had already raised hundreds of millions of pounds in equity from existing shareholders this year and also arranged a GBP150m loan from the National Bank of Bahrain. London financial circle sources reportedly told a broadcaster the company had appointed Goldman Sachs and HSBC to advise it on a further equity raising and debt refinancing expected next year. McLaren was also reportedly planning the sale of a minority stake in its racing division which was likely to tempt offers from wealthy individuals in the wake of the Williams Formula 1 team's recent sale to US investor Dorilton Capital.
COVID-19, eh? Not, perhaps, the time to be flashing about in a brand new, six figure price tag, hand crafted supercar capable of warp top speed and reeling in the horizon in nanoseconds. At short notice, the best stat I could find, assuming McLaren is lumped in with 'Other British' in the SMMT data, is 1,135 units year to date across all such brands, off, vs YTD 2019, by 41%.
As if automakers weren't already under enough pressure to meet stringent new emissions rules and electrification edicts and buried under mountains of debt. Of course, the official message emailed to us from Woking today, no doubt fettled by comms and legal specialists, is: "The proposed sale and leaseback mirrors best practice among leading companies and will have no impact on our day-to-day operations. The McLaren Campus, comprising the McLaren Technology Centre, McLaren Production Centre and the McLaren Thought Leadership Centre, is an iconic, world-class facility that will remain our home in the future." Good. But it'll still be owned by someone else now, and we have seen this sort of 'selling off the family silver' before, notably in the dying years of MG Rover. Longbridge is now housing, a hotel and shops, bar a tiny bit still occupied by MG and, let's be clear, I do not for a moment wish the same fate on McLaren, one of many auto companies here in the UK which is proudly part of our 'new car industry', developing and productionising new vehicles, powertrains, technology, materials and build techniques, rather than the production-focused, mostly-departed metal bashers of old. Most assembly can be done anywhere, given good equipment, products designed for easy construction and properly trained workers; the intellectual property bit is not so easy, and Olde Englande is good at it. Cash is king, liquidity is essential and times ahead will be difficult. Best of British, McLaren.
Unsurprisingly, West European new car registrations fell 15.5% year-on-year (YoY) in August 2020 although underlying demand was strong, helped by government incentives designed to boost sales in the wake of the COVID-19 pandemic. Analysts noted the annual comparison was against a high base; August 2019 was a strong month, inflated by new European emission testing rules (WLTP). The annualised selling rate maintained its upward trajectory in recent months, climbing to 15.1m units a year, as the market continued to recover from the effects of the coronavirus. The positive effect of incentive measures and reopening economies helped to boost markets, although there remained a backdrop of the still-present threat of future containment measures (the UK's quarantine-on-return list of countries increased this week).
Future models: China is where SAIC's MG does best yet this is becoming ever more of a global brand. India and Thailand are steadily becoming high growth territories, market share is above 1% and rising in the UK, while a return to selected EU and EFTA countries is also underway. There is much new product to come too. Have a read. And, when you're done, SAIC's best performing own brand continues to be Roewe, a division created just shy of 15 years ago. Mostly restricted to China, the model range continues to be expanded, with a handful of new vehicles still to be launched this year.
General Motors has told salaried workers in the US to continue to work from home until at least 30 June, 2021, according to local reports in Detroit. The source cited an internal GM email stating the "current outlook is to continue operating as we are today". It also said GM was working to create "a more flexible work culture" after the pandemic. The report noted GM had been considering bringing some employees back later this year but said the revised schedule was the latest sign US business leaders think we're a long way from having the pandemic under control, either with treatments or a widely available vaccine.
Schaeffler is cutting its net workforce by 4,400 in Germany and Europe by the end of 2022 focusing mainly on 12 locations in Germany and two elsewhere on the continent. The company said sites in Herzogenaurach, Bühl, Schweinfurt, Langen and Höchstadt were to be strengthened by clustering technology and production capabilities and investing in future growth areas. The supplier has identified potential annual savings of EUR250m–EUR300m (US$296m-US$355m) to be 90% realised by 2023, with "transformation" costs of around EUR700m.
General Motors has received an 11% ($US2bn) stake in EV startup Nikola and gained the right to nominate one director as it announced a deal to engineer, develop and build BEV and FCEV versions of the Nikola Badger truck in return. Nikola expects to save at least $4bn in battery and powertrain costs over 10 years and over $1bn in engineering and validation costs as a result of the collaboration with GM, both automakers said. GM helping Nikola, Ford, Rivian – is there a developing pattern here?
Developments in vehicle seating have been taking place much faster than may be apparent on the surface. OEMs are demanding greater differentiation in their seat designs, customers want ever more luxury, and ergonomists are understanding more and more about what the human frame needs, in order to be comfortable. Continuing just-auto/AIC's series of research snapshots, we reviewed some market and technical trends in the automotive seat sector.
Volkswagen has revealed the interior of its new electric ID.4 SUV. It said the new model has "ample space, purist design, high effect lighting and sustainable upholstery materials [and] is a modern feel-good lounge that opens up the new character of the brand's first fully electric SUV to all the senses". The first vehicles will be delivered before the end of 2020. The ID.4 will be built in Europe, China and, later, the US.
Have a nice weekend.
Graeme Roberts, Deputy Editor, just-auto.com